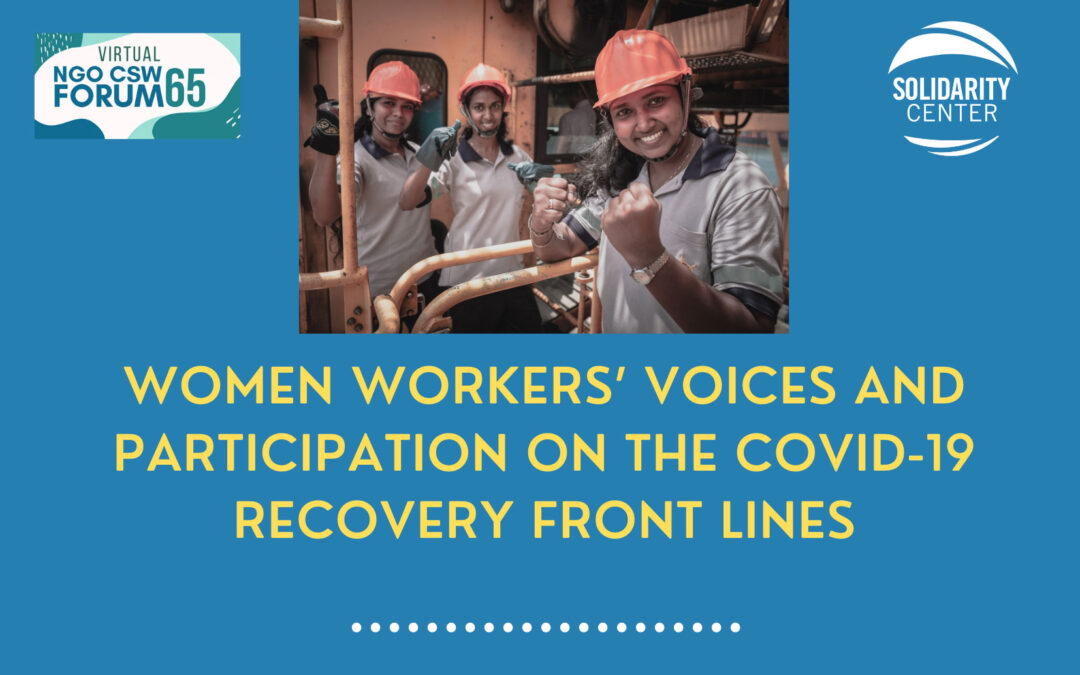 The COVID-19 pandemic has hit workers hard—but women have especially suffered compared with men, experiencing higher rates of unemployment, discrimination and exposure to the virus, and skyrocketing rates of gender-based violence and harassment (GBVH), speakers said this week at a Solidarity Center panel. Unions are organizing to demand that government responses to the pandemic's economic and social effects center on the needs and experiences of women workers, ensuring safety and respect for all workers.
"Women have suffered because most of the work they do is precarious—they are informal workers, frontline workers," said Rose Omamo, general secretary of the Amalgamated Union of Kenya Metalworkers. Omamo explained how COVID-19 has shown the need to extend social protections like paid sick leave and health care to all workers, and to address issues affecting women in Kenya and worldwide. She shared that rape and sexual assault in the world of work has increased because of economic stress caused by the pandemic, including an increase in domestic violence and increased demands for sexual favors in order to obtain or keep a job. Kenyan unions are organizing to demand that social protections include access to reproductive health services in light of increased sexual violence, and are bargaining with employers to increase protections against GBVH in the workplace.
Omamo was among five women union leaders and Solidarity Center partners who took part in "Women Workers' Voices and Participation on the COVID-19 Recovery Front Lines," a virtual parallel event during the United Nations Commission on the Status of Women (CSW) as part of the NGO CSW65 Virtual Forum.
Employers, Government Failing Women Workers in the Pandemic
Employers have taken advantage of the pandemic to exploit, abuse and lay off workers, panelists said. "Labor rights have been violated during COVID-19 as employers used the opportunity to exploit the system," said Ou Tepphallin, president of the Cambodian Food and Service Workers Federation.
Retail, hospitality and garment workers in Cambodia, the majority of whom are women, have not been provided adequate personal protective equipment (PPE) or measures to ensure their safety, and unscrupulous employers have taken advantage of the crisis to exploit and abuse workers. For example, workers in the hospitality sector report that entertainment venues have opened illegally during lockdown and forced workers to return to work. Some companies deliberately targeted older or less conventionally attractive workers for layoffs. Unions have been organizing to hold employers to account, negotiating for better protection measures, including protections from GBVH.
In Honduras, the impact of the pandemic collided with ecological and social crises. The devastation caused by two hurricanes in November 2020 left many women homeless and    struggling to support their families, said Iris Munguía, women's coordinator of the Honduran Federation of Agro-industrial Unions (FESTAGRO). In addition, women experience extremely high rates of GBVH, which is treated with impunity in Honduras. More than 30 women have been murdered in 2021, and "there are no investigations of these murders," Munguia said.
The combined crises have left women workers more vulnerable than ever to exploitation and abuse. The majority of workers laid off during the pandemic were women, and unions have been organizing to ensure women workers are at the bargaining table to win protections from employers, including access to childcare, adequate protective equipment and protections against GBVH at work. Unions in the agricultural sector are demanding that multinational companies do more to ensure greater safety on the job. Munguia discussed the power of union organizing, stressing that women in trade unions had the ability to speak out against mistreatment and come together to create solutions.
In Honduras, Munguía is part of a campaign for C190 ratification, while also training women to be part of negotiations with employers so they can advocate for contract clauses that benefit them, such as childcare and a violence-free workplace.
"We have a great advantage by being unionized," she said. "Whenever we face discrimination, harassment, we can report it, denounce it, talk about it—and that opportunity is there because we are part of a union."
'We Have a Great Advantage: We Are in a Union'
In the face of such challenges, women have stepped up their efforts to achieve justice at the workplace, according to the panelists, including efforts to push their governments to ratify Convention 190. Adopted by the International Labor Organization in 2019, the convention seeks to end violence and harassment in the world of work, including gender-based violence.
Across Tunisia, where 500,000 women work in the informal agricultural sector, the Federation of Agriculture and the Tunisian General Labor Union (UGTT) are working to end gender-based violence through awareness-raising programs that ensure women know their rights on the job and can speak out for safe conditions, especially on the dangerous transport to and from work, said Nadia Bergaoui.
Bergaoui, general secretary, media officer and women's affairs officer of the Federation of Agriculture, said a union survey in 2020 found that more than half of women said they have faced verbal or physical abuse on the job, and lack access to paid time off, sick leave or health care. The union is organizing workers to demand safe transportation, protections against GBVH, PPE and access to social protections.
Gulnara Derbisheva, director of Insan Leilek, discussed how unions in Kyrgyzstan are advocating for protections for women workers, including demanding that the government address the increase in GBVH during the pandemic by ratifying Convention 190. Unions, with Solidarity Center support, opened a women migrant worker center in Bishkek, where workers have reported increases in GBVH and other abuse on the job. She shared how she is working with unions to advocate for greater protections for women migrant workers, including ratification of C190.
"Unless we keep advocating, we will be in a standstill," she said.
Watch a recording of the event, simultaneously translated for Arabic, English, Khmer, Russian and Spanish speakers.