From its office in São Paulo, Brazil, the Solidarity Center works with unions, associations and allied worker organizations in Brazil, Paraguay and the Southern Cone to advance worker rights with a variety of partners, including the two largest trade union centers in Brazil, Unitary Workers' Central (CUT) and General Union of Workers (UGT), one of the largest in Paraguay; the Authentic Unitary Workers' Central (CUT-A); and the Trade Union Confederation of the Americas, based in Uruguay.
Solidarity Center partners with unions in Brazil to improve representation for historically marginalized groups—among them Black, Indigenous, women, LGBTQ+ and migrant workers, and workers with disabilities—helping to build democratic processes and tools that promote leadership and representation among minority workers. In 2018, it began connecting migrant workers and unions via meetings and workshops in cities with high migrant flow, which led to the 2022 creation of the Network of Unions for the Protection of Migrant Workers' Rights. The network comprises 83 unions, union federations and centrals, and worker organizations engaged in migrant organizing, advocacy with local governments, professional and worker rights training, and affiliation campaigns. In the newest cycle of the program, the Solidarity Center is continuing to organize migrant workers to connect them to unions, focusing on regional integration within Southern Cone countries.
The Solidarity Center also works with unions to mobilize and lead cross-organizational movements with rural workers and campesinos, migrant and Indigenous workers, riverside communities, fisherfolk and quilombolas, in the Amazon and beyond. This has included a multi-year mobilization campaign to advocate for greater participation of community groups in construction projects along the country's second largest river, the Araguaia-Tocantins. The Solidarity Center also has a longstanding commitment to support domestic worker unions in both Brazil and Paraguay, and participates in regional actions throughout Latin America.
The 2017 Brazilian labor reform law made vast changes to the nation's labor code, liberalizing the labor market, incentivizing nonstandard contracting and weakening unions' ability to collectively bargain. In this context, the Solidarity Center works with unions to modernize and implement new union organizing practices that can provide greater institutional, political and financial sustainability. This has involved mapping and reaching misclassified and informal workers in the construction and textile sectors, with the National Confederation of Construction and Wood Industry Workers (CONTICOM) and the National Confederation of Apparel Industry Workers (CNTRV).
In 2022, the Solidarity Center began a four-year, multi-country project to strengthen unions and worker associations in Brazil's digital platform and manufacturing sectors, with support from the U.S. Department of Labor. This includes supporting workers' participation in tripartite spaces where regulation of digital platform work is considered as well as worker efforts to collectively negotiate for better working conditions and wages.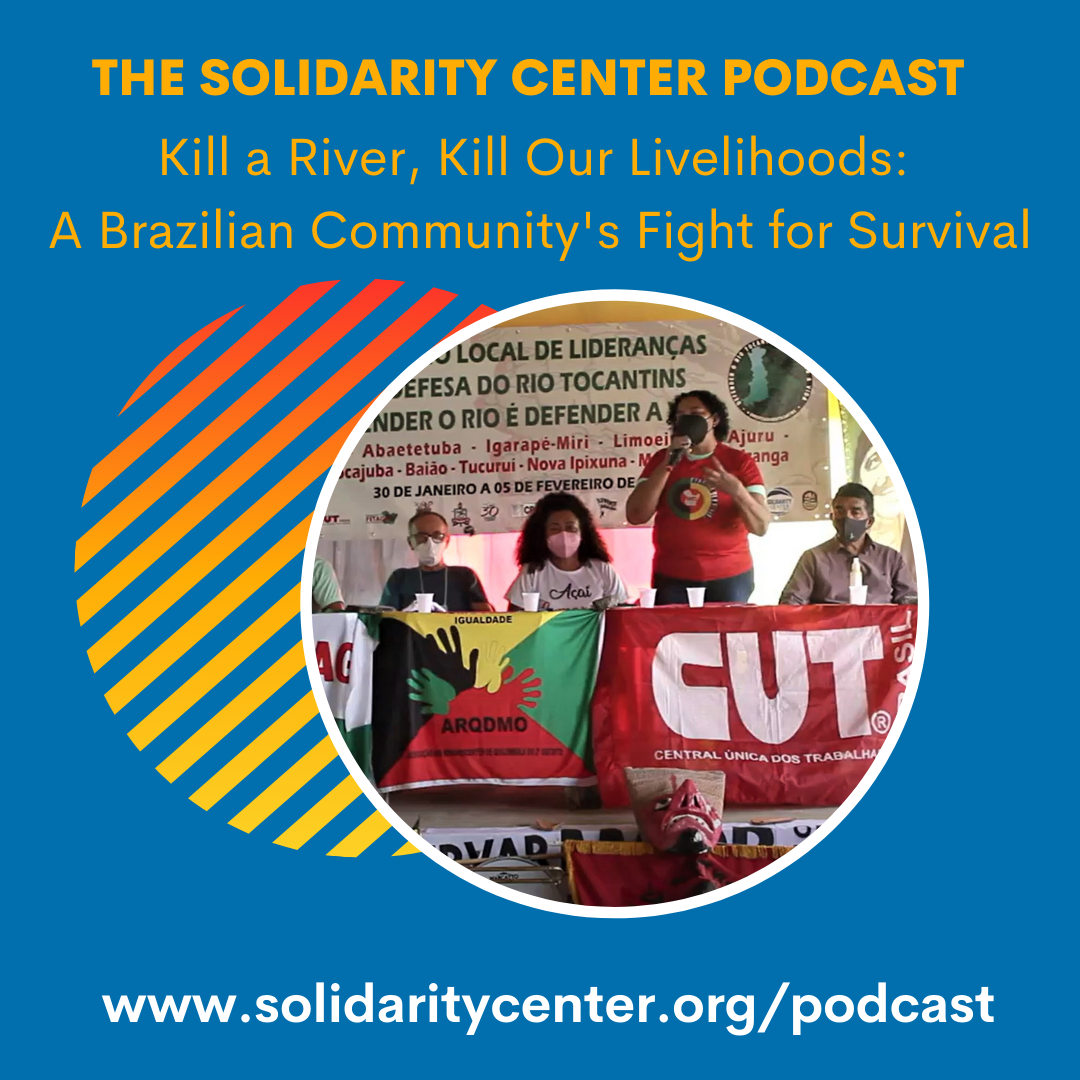 A community that makes its livelihood from the Amazon is standing up to the Brazilian government that, without consulting the people most affected, is on the verge of undertaking a blasting and dredging project along a river waterway that would destroy their...