We are the largest U.S.-based international worker rights organization partnering directly with workers and their unions, and supporting their struggle for respect, fair wages, better workplaces and a voice in the global economy.
We value the dignity of work and workers. We know how all the work everyone depends on gets done–who picks the food for your table, cleans your home so you can go to the office, makes your clothes, keeps your streets clean. And at our core is every worker's right to solve issues through collective action and to form unions.
In an historic judgment, the South African Constitutional Court in mid-November recognized that injury and illness arising from work as a domestic...
read more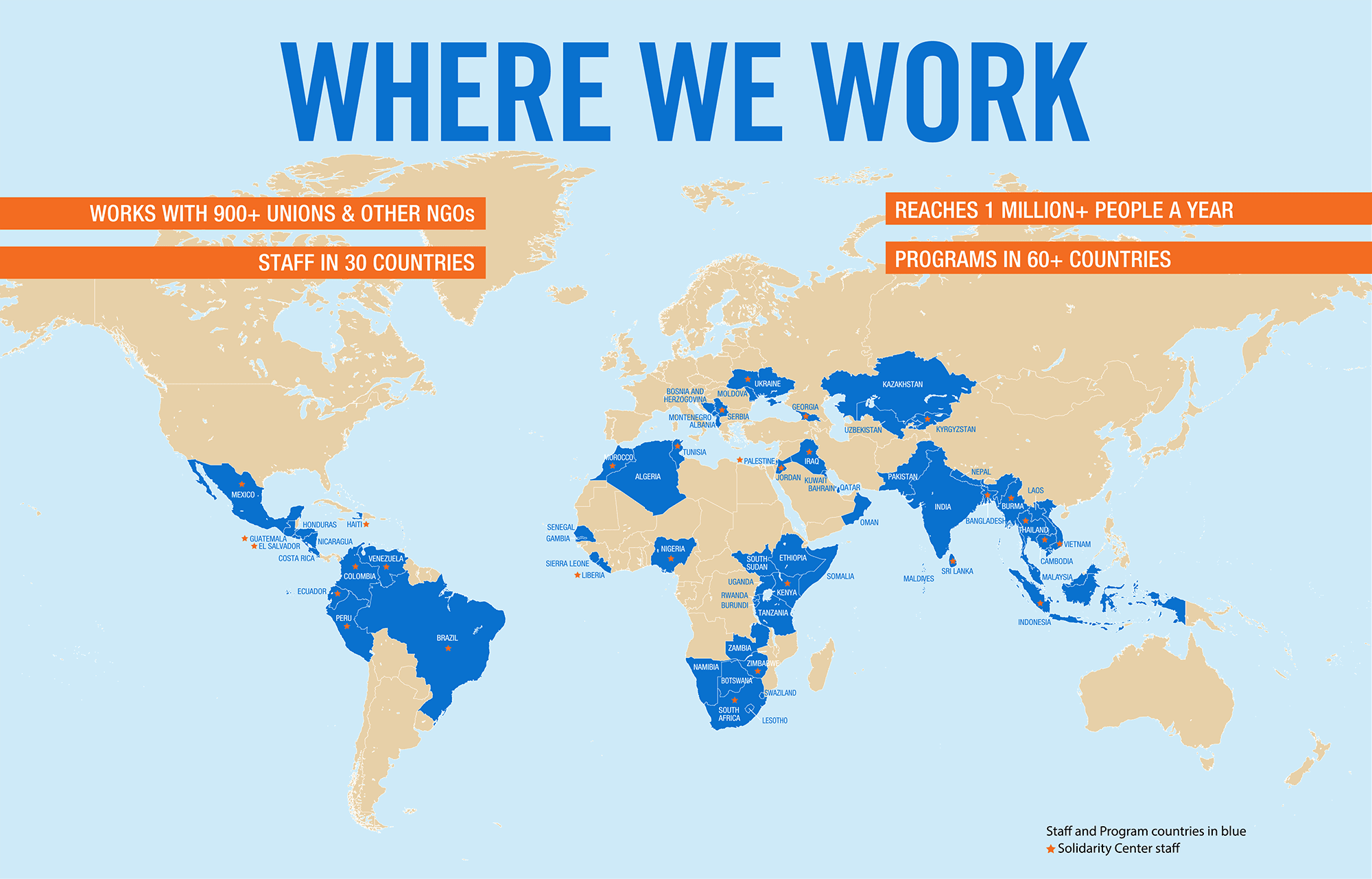 Reaching Over One Million People worldwide
Solidarity Center in the News
"We're really hopeful that there'll be more attention that's brought to the issue of forced labor again," said Neha Misra, senior specialist on migration and human trafficking at the Solidarity Center, a workers rights' advocacy group.
read more
"The new accord [USMCA] also includes provisions to permit collective bargaining and to close loopholes allowing Mexican employers to profit by mistreating their workers ... On paper, the Mexican reforms would allow workers to organize unions outside of the...
read more
Fashion's unpaid bills have been catastrophic for garment workers. A September report co-written by the European Center for Constitutional and Human Rights, the WRC and the Solidarity Center's ILAW network showed that these debts have led to mass layoffs (at least 1...
read more
February 20, 2020 The United Nations' (UN) World Day of Social Justice is annually observed on February 20 to encourage people to look at how...
Date: Friday, July 17, 2020 Time: 9:00-10:30 a.m. New York A discussion moderated by the Solidarity Center's Jeffrey Vogt with Clément Voule,...