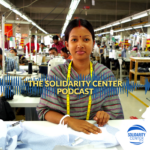 Excessive heat, flooding and pollution are some of the negative environmental effects a majority of garment workers in Cambodia say they have experienced in their factories, resulting in lost pay, illness and other hardships, according to a new study examining the toll of climate change on workers in the garment industry.
"Hot Trends: How the Global Garment Industry Shapes Climate Change Vulnerability in Cambodia" finds that 55.5 percent of those surveyed report experiencing at least one environmental impact in their factory in the last 12 months, with air pollution the most common (30.5 percent), followed by extreme heat (25.5 percent) and flooding (9 percent).
"What we're seeing now is that during the rainy season, factories will be flooded, and floods cut off roads so workers cannot commute to the workplace," says Sina Pav, president of the Collective Union of the Movement of Workers (CUMW), which represents more than 30 local garment worker unions. CUMW negotiated an agreement with employers in which workers receive 50 percent of their pay when factories close due to flooding, but nonunionized workers typically receive no wages for the days or even weeks a factory is closed.
Lost pay is especially burdensome for workers in precarious jobs: Even before the recent surge in inflation, garment workers' wages failed to keep up with the cost of living, with their minimum wage at $194 per month.
Climate Change: Far-Reaching Effects on Workers
While the impact of climate change is more obvious for agricultural workers and others who make their living outdoors, the report makes clear that escalating heat, pollution and rain adversely affect workers in a range of jobs.
"It was not sizzling like this in the past, 10 years ago," says Sarath, a union representative in a Kandal factory, quoted in the report. "Nowadays, it is burning from 9 a.m. In Cambodia, we have flooding and many other things … the weather has changed dramatically."
Some 22 percent of Cambodian garment workers experiencing heat stress reported that it compromised their ability to work, and 6 percent said they had missed work as a result of excess heat, according to the report. As workers suffer, the survey finds a 2.75 percent reduction in overall productivity which, if extrapolated across the country, would translate to an average annual $290 million reduction in Cambodia's value of export goods.
In fact, some 2 percent of total working hours will be lost each year by 2030, either because it is too hot to work or because work must continue at a slower pace, according to an International Labor Organization report.
Climate Change Harshest in Poor Working Conditions
Poor working conditions exacerbate the effects of climate change. In a key finding, the report says workers on fixed-term contracts are substantially more likely to perceive temperature changes than workers on unlimited duration contracts (85 percent versus 47 percent).
Employers frequently keep workers on short-term, fixed-duration contracts, in many cases using loopholes to allow them to do so for longer than the legally permitted time, or firing workers before they would be legally required to move onto undetermined duration contracts. With no job security, workers on short-term contracts fear they will lose their jobs if they join unions, which have worked to address health and safety issues related to climate change long before issues of excessive heat and flooding had a name.
"Climate change put a label on what we understood. These are not new issues for the union," says Pav. "I think people can generally agree it is getting quite hotter, but more important, we want the employer to be aware of and address the issues."
CMUW has been working with garment employers to address heat by adding exhaust fans, insulation and cooling systems to factories. Government also has a role, he says, in providing proper infrastructure such as functioning sewage systems. Key to moving solutions are the fashion brands that contract with factories.
"Brands have an important role to urge implemention and prevent climate change," he said, citing how the recent involvement of a fashion brand sped up what had been protracted negotiations with a garment factory owner over heat mitigation.
"Hot Trends" was published by Royal Holloway, University of London and University of Nottingham, with funding from The British Academy and Solidarity Center support. The report builds on a Solidarity Center-supported study of climate change on Bangladesh, "The Intersection of Climate Change, Migration and the Economy."
Recognizing that addressing the climate crisis is critical to ensuring decent work and a strong labor movement, the Solidarity Center supports workers and their unions, including partners in Brazil and Kenya and Honduras and allied organizations working to address the often dire effects of climate change on workplaces and communities.