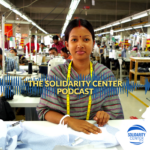 For the second time this year a leader of the Tunisian General Labor Union (UGTT) was arrested, this time for suspicion of insulting a public official at a protest outside the country's Ministry of Culture building. The arrest of the UGTT's secretary for culture, Abdel Nasser Ben Amara last month—who has since been acquitted in court—is having a chilling effect on union work in the country and their efforts to represent workers' interests, say unions.
The UGTT with civil society organizations last year convened a national initiative for the restoration of democracy after more than 90 percent of the country's voters stayed away from Tunisia's widely criticized December 2022 parliamentary elections. Workers last month took part in a series of rallies across the country to protest the government's increased aggression against the union and its members, including arrest of general secretary of the highway workers' union, Anis Kaabi. On Saturday more than 3,000 people joined a UGTT-organized rally calling for the government to accept "dialogue."
Anis Kaabi's January arrest after leading a strike by toll booth workers was denounced by a coalition of 66 human rights groups and Tunisian political parties as a "desperate attempt to criminalize union work." European Trade Union Confederation (ETUC) General Secretary Esther Lynch was ordered in February to leave the country after having addressed UGTT rally goers and called on Tunisia's government to negotiate with workers to stabilize the economy. 
Union members who legally exercise their rights in Tunisia, such as the freedom to strike, have been increasingly targeted, according to data from the UGTT, which found that the percentage of cases filed against union members rose in 2022, with a quarter of them directed against women. The government through February had filed more than 60 cases against union members for exercising their internationally recognized labor rights, according to UGTT, which says the numbers indicate a stepped-up effort to diminish the union's power and turn public opinion against it.
The UGTT, which represents more than 1 million members, in 2015 shared a Nobel Peace Prize with three other civil society groups for promoting national dialogue in Tunisia.