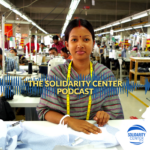 Global labor unions and the international human rights community are denouncing the arrest in Tunisia of a top leader in the Tunisian General Labor Union (UGTT).
Anis Kaabi, general secretary of the highway workers' union, was arrested January 31 after leading a strike by toll booth workers. A coalition of 66 human rights groups and Tunisian political parties denounced the action, calling it a "desperate attempt to criminalize union work."
Kaabi was charged with causing financial loss to a state-owned company because of the strike. A court hearing is set for February 23.
Toll booth workers walked out to urge the government to renegotiate the contract for the biggest highway link in the North African country, which is mired in economic crisis.
For months, the Tunisian government has been negotiating a bailout from the International Monetary Fund (IMF) to shore up the country's rapidly deteriorating economy, but the IMF often conditions such support by demanding curbs on state spending and austerity measures like cutting subsidies for the country's poorest.
Workers in the 1 million-member UGTT say they should not bear the cost of the IMF's conditions for the $1.9 billion financial aid package, and public employees repeatedly have gone on strike to demand the government address the rising cost of living and sinking wages rather than negotiate steep cuts to secure a loan.
Arrest Part of Larger Assault on Union Freedom
Union members who legally exercise their rights in Tunisia, such as the freedom to strike, have been increasingly targeted, according to data from the UGTT, which found that the percentage of cases filed against union members rose in 2022, with a quarter of them directed against women.
Already this year, the government has filed more than 60 cases against union members for exercising their internationally recognized labor rights, according to UGTT, which says the numbers indicate a stepped-up effort to diminish the union's power and turn public opinion against it.
Workers are taking part in a series of marches across the country through March 11, after the UGTT approved the actions to protest Kaabi's arrest and in light of the government's increased aggression against the union and its members.
In January, UGTT, the Tunisian Human Rights League and two other organizations launched a National Salvation Initiative to offer a "rescue initiative" to the president to find solutions to the economic and political crisis in Tunisia, including the growing consolidation of the presidency and the closing space for civil society.
Following Kaabi's arrest, UGTT Secretary General Noureddine Taboubi said President Kaid Saied is "trying to divert attention" from the election result and "the utter failure of his economic and social decisions."
Only 11 percent of Tunisians voted last month in the second round of legislative elections that were seen as the final pillar of Saied's overhaul of the country's post-revolution political system.