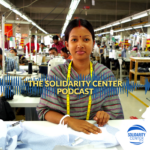 The expulsion of European Trade Union Confederation (ETUC) General Secretary Esther Lynch is the latest sign of an anti-union, anti-democratic crackdown in Tunisia. Lynch was forced out of the country after speaking at a rally to show solidarity with the Tunisian General Labor Union (UGTT), whose members the government has subjected to a campaign of harassment. 
Lynch met with UGTT General Secretary Noureddine Taboubi on Friday prior to taking part in a Saturday rally organized by UGTT in eight cities to protest the stifling "of basic rights, including union rights." In her speech, Lynch called for the release of Anis Kaabi, general secretary of Tunisia's highway workers union, who was arrested for organizing a strike of toll booth workers. 
Following the protest, authorities posted an article accusing Lynch of breaking the law by threatening the country's security. Authorities confronted Lynch, giving her 24 hours to leave the country and ordering her to inform them of her activities and anyone she spoke to during that period. 
After arriving safely in Brussels, Lynch drew a parallel between her expulsion and the harassment of trade unionists in Tunisia. 
"The decision to expel me for taking part in a peaceful protest is typical of the harassment and intimidation faced by trade unionists in Tunisia every day," she said. "In the past few months, members of the UGTT have been arrested, sacked and spied on simply for carrying out entirely legal trade union work."
The European Trade Union Confederation issued a statement that decried "the campaign of intimidation and harassment being waged against trade unions," including arrests, firings, malicious lawsuits, the monitoring and restricting of trade union activity by law enforcement, and the promotion of yellow trade unions. The International Trade Union Confederation noted the "enormous damage to Tunisia's economy, society and the daily life of working people" resulting from the president's policies.
Lynch's expulsion is the latest in a series of anti-union and anti-democratic actions including the arrest of Anis Kaabi and the weaponization of the country's courts against union members for exercising their rights, such as the freedom to strike.