In Ukraine, as workers face employer efforts to shortchange their pay, lay them off or take other adverse actions during the COVID-19 crisis, many are turning to Labor Initiatives, a Solidarity Center-supported Ukrainian NGO that provides legal assistance to workers.
Teleworking from home under Ukraine's COVID-19 quarantine, the six-member staff, along with eight legal student interns, are fielding questions from e-mail, Facebook, Viber and the organization's hotline.
"We are working until 1 or 2 a.m. each day," says George Sandul, Labor Initiatives legal director.
In the first week of the quarantine, Labor Initiatives lawyers provided some 100 consultations, and the organization's FAQ page on labor rights during the quarantine now has more than 60,000 views. The website, Our Kyiv, also posted the FAQs and reports 100,000 views, says Sandul.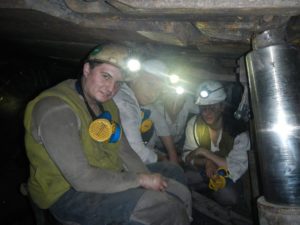 Labor Initiatives staff are addressing questions from many workers reporting their employer is not providing safeguards against the novel coronavirus. Railroad drivers, grocery store workers and health care workers, especially in small cities, say they have no personal protective equipment. Ukraine's occupational safety and health law stipulates that if working conditions could result in employees becoming sick or injured, an employee may refuse work if the employer does not provide safe conditions.
Yet many employers are not abiding by the law, says Sandul—unless workers are represented by unions. For instance, at Nova Poshta, a logistical company where 14,000 of the 30,000 workers are union members, the union successfully pushed the employer to provide antiseptics and protective masks and gloves, in addition to paid leave.
All Nova Poshta delivery offices are now equipped with special transparent barriers to better protect operators working with clients. In addition, Nova Poshta provided one month's health insurance for all employees, telework options and paid leave. Labor Initiatives lawyers provided legal assistance to workers during an organizing campaign at the company in 2018, and also helped them negotiate a strong collective bargaining agreement.
Although Parliament passed a temporary law effective during the quarantine that provides for telework and unlimited vacations, Sandul says the measures are implemented at employers' discretion, and the law does not offer guidance on how to implement it. The varying company policies that result, and the challenges in ensuring employers honor requirements for some paid leave, mean the calls, messages and Facebook posts keep pouring in for Labor Initiatives staff.
Shutdown Hits Ukrainian Workers Hard
Up to 40 percent of workers in Kyiv, Ukraine's capital, could end up unemployed due to COVID-19. Gig workers—the informal sector comprises up to 35 percent of Ukraine's economy—are especially vulnerable, and are not covered under the emergency legislation. Many will continue working through the quarantine, risking their health, without any protective guarantees from their companies.
The coronavirus crisis "showed the giant systemic problems with informal work," says Sandul. While the government is fining employers $1,700 for each informal worker who lost a job, "informal workers are very vulnerable in this situation because they have no wages," he says.
Another government move also may make it more difficult for workers to get by. Small employers received a moratorium on their required contributions to the country's social insurance fund through April 30, along with tax breaks. The new policy may reduce the insurance fund and make it more difficult to pay sick leave and even pensions, says Sandul.
A 'Tragic Situation' if Proposed Labor Law Was Enacted
The COVID-19 crisis brings into stark relief the potentially harsh outcome of labor law revisions the Ukrainian Parliament has considered in recent months, one that Sandul and other legal experts say will be back on the table after the pandemic is contained.
"The [proposed] law doesn't cover OSH [occupational safety and health] at all," says Sandul. If the proposed law were in place now, "the front-line workers who keep critical services running during this crisis would have no way to protect their own lives. It would be a tragic situation."
One draft law, still in Parliament, would create an at-will employment system with no collective bargaining in which employees may be fired at the employer's whim. It has been denounced by the International Trade Union Confederation (ITUC) and other global bodies as violating the freedom to form unions. It also would result in short-term individual labor contracts and zero hours contracts; and overtime paid at a fifth of current rates.
"We need to provide people with wages to eat something, literally," says Sandul. "If this law was passed, Ukraine would be vulnerable."