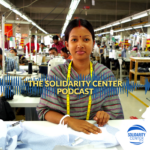 App-based drivers worldwide work long hours for often minimum wages while facing safety risks every day—and these issues are compounded for women platform workers, according to speakers at a Commission on the Status of Women (#CSW67) side event, Women Workers Organizing: Transforming the Gig Economy through Collective Action.
"Not just in Colombia, but worldwide, women are always the ones that are the most vulnerable and paid the worst," said Luz Myriam Fique Cardenas, president of Unión de Trabajadores de Plataformas (UNIDAPP) in Colombia. "We suffer harassment. We don't have security in the streets because we're women."
Cardenas joined three women app-based drivers from Kyrgyzstan, Nigeria and the Philippines who are mobilizing platform workers to form unions and stand up for their rights. The March 7 Solidarity Center panel, spearheaded by the organization's Equality and Inclusion Department, was co-sponsored by the International Trade Union Confederation (ITUC).
Although most countries have hard-won labor laws in place, app-based workers are among 2 billion informal sector workers with few legal protections. Women platform workers experience sexual harassment and other forms of gender-based violence on the job along with the risks of injuries from traffic accidents, yet the multimillion dollar companies employing them provide no workplace injury or health coverage.
In Nigeria, where one app-based driver is killed each month, "you are your own security. Every trip you go on, you are at risk," said Ayobami Lawal, an app-based driver, business graduate and mother of three. Earlier this year, Lawal and other drivers in Nigeria won the country's first union covering platform-based workers, the Amalgamated Union of App-Based Transport Workers of Nigeria (AUATWN). (Nigerian platform drivers' campaign for rights on the job is highlighted in this Solidarity Center video, part of the panel presentation.)
"Taxi drivers are seen as informal employees and we have no protections whatsoever," says Gulmayram Batirbekova, a platform taxi driver in Kyrgyzstan. A single mother of five, she has become an active leader in Kabylan, a platform worker union she says is named after an animal "that is fiercely independent, a leader."
"Our main effort now is to become recognized as employees so we are entitled to all the protections enshrined in the law, to make sure we make enough money for ourselves and our children." (Kyrgyz platform drivers' campaign for rights on the job is highlighted in this Solidarity Center video.)
On the Frontlines of a Tech-Driven Revolution
Hearing from each others' struggles, panel participants noted the similarities of their experiences trying to support themselves while working within an exploitative employment model that updates what panel moderator Emily Paulin called the "grinding nature" of the work in the industrial revolution.
"You are on the front lines of shifting this tech-driven industrial revolution to shift the perspective that working 14,16 or even 18 hours is even remotely appropriate for us in the 21st century," said Paulin, Solidarity Center senior organizational development and labor education specialist.
While mobilizing to form unions, platform workers also are pushing for legislation and changes to labor laws in their countries, urging lawmakers to ensure app-based workers have the same rights and protections guaranteed by international law for all workers. Some, such as in Nigeria, are filing class-action lawsuits against platform companies for wage theft and other worker abuses—all part of broad-based campaigns to achieve workplace dignity and respect.
Company Calls the Shots—but Doesn't Call Them 'Employees'
Throughout their discussion, panelists homed in on two areas: classification of app-based workers as "independent contractors"—meaning platform companies are not required to follow labor laws such as ensuring a minimum wage and providing basic health and safety coverage—and the lack of transparency and unpredictability of algorithm-based employment.
Whether the companies are global, such as Uber or Glovo, or regionally based, like Deliveroo and Yandex, their business models are the same: Maximize profit by moving operating costs onto workers by calling them independent contractors.
Panelists cited a long list of company requirements they must fulfill to keep their jobs—demonstrating the extent to which they are employees of platform companies and not independent contractors. For instance in the Philippines, where Mary Rose Evardone is a delivery driver for GRAB, the company "has denied we work for them, but they have full control on us. First and foremost they can control the fare. Grab can make it higher or lower anytime.
"Wearing a uniform and bag with Grab logo is compulsory—you need to do that to be identified as a Grab rider," she said, noting that the company deducts the uniform and bag expenses each month from their paychecks."
Evardone, a union leader and organizer with the United Delivery Riders of the Philippines (RIDERS-SENTRO) and single mother of five, says she was suspended from the app for organizing her co-workers but has been reinstated while waiting for a court decision on her firing. RIDERS-SENTRO has organized workers in four chapters across several Philippines islands.
Said Batirbekova: "They tell us what to do and we must do that but they won't give us anything in return. For instance, if we reject a fare, we are blacklisted. When they block your account they do not give you the details, they just lock you down. For you to re-open the account and get reinstated is a real struggle."
"The fact that we are not recognized as employees is the problem."
An Algorithm Boss
Not only are app-based drivers directed by employers, the "employer" directing them minute-by-minute is an algorithm.
"Companies want to make everyone think, and even the government think, the algorithms are independent. We all know there is someone programming these conditions and this affects us. Why? Because they're giving us orders constantly through the algorithm," says Cardenas.
"It affects women because we often have to accept trips to risky areas. They don't give us the address where we are going. After we accept the trip we realize we are going to a risky area and we have to go or otherwise we will be blocked."
Cardenas and others described the unrelenting demands of the algorithms that "make all the decisions on our orders, the distance, but us drivers don't have any opportunities to choose the order or to assign a value to that order. The algorithm decides on temporary or permanent blocks on drivers. These temporary blocks can last hours or days and don't allow us to work so we can't generate income."
Says Lawal: "We have increase in oil prices, it doesn't change our fare. We have increases food, it doesn't change our fare."
But working through their unions, panelists were optimistic they are improving work for all app-based drivers. "I am sure that this union we have now will be able to talk about this so we all can have a good working environment," said Lawal.
"Without us, they can't be an app company. Without drivers, the company won't function."
Part of the United Nations, the CSW is the main global intergovernmental body exclusively dedicated to the promotion of gender equality and the empowerment of women. This session's focus is Innovation and Technological Change Education in the Digital Era for achieving gender equality and the empowerment of all women and girls.