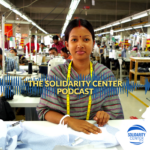 Drivers in Nigeria won the country's first union covering platform-based workers, a victory that shows it is possible for "unions to organize workers in the gig economy," says Ayoade Ibrahim, secretary general of the Amalgamated Union of App-Based Transport Workers of Nigeria (AUATWN).
The Ministry of Labor's recognition of AUATWN empowers it to have a say in determining the terms and conditions of drivers working for Uber, Bolt and other app-based transportation companies in the country, and covers drivers who deliver food and passengers or engage in other services. The union worked with the Nigeria Labor Congress throughout the campaign for recognition.
In a statement approving AUATWN as union representative of app-based workers last week, the Labor Ministry pointed out that while the freedom to form unions and collectively bargain are internationally protected rights, workers in the informal sector, such as app-based workers, often are not included.
"Today, we are breaking new ground with those in the informal sector who are employing themselves," the Labor Ministry said. Some 80 percent of Nigerians work in informal sector, as the lack of good jobs—the official unemployment rate is 33 percent, with youth unemployment at 43 percent—leaves workers with few options beyond selling goods in the market, domestic work or taxi driving.
In Nigeria, as in countries around the world, app-based drivers often must work long hours to support themselves and pay for expenses like vehicle maintenance, insurance and car leasing. Excessive hours lead to accidents, says Ayoade.
"I work 15 to 18 hours a day. Long hours working is actually not safe for drivers," says Ayobami Lawal, a platform driver in Lagos. "That is why you see in the news that the driver had an accident. It is because of fatigue, because there is no time to rest." Drivers also risk being assaulted and even killed on the job, as platform companies do not screen riders. By contrast, riders have access to drivers' name and personal phone numbers.
In April 2021, platform drivers and their associations in Nigeria went on strike, demanding that Uber and Bolt raise trip fares to make up for the increased cost of gas and vehicle parts. They also launched a class action suit in 2021 against Uber and Bolt, seeking unpaid overtime and holiday pay, pensions and union recognition. Following the protests, Uber increased fare costs on UberX rides and UberX Share in Lagos, a move that did little to improve drivers' pay and nothing to improve conditions.
'We Must Be United'
App-based drivers in Nigeria began seeking union recognition in 2017, after drivers' income was slashed by 40 percent, says Ayoade, a father of three who that year was forced to drive 10-hour days to make the same income he had previously earned for fewer hours. When Uber and Bolt first launched, drivers were paid enough to work without putting in long hours. But the companies' price wars to lure passengers and increased driver fees, including commissions up to 25 percent per rider, slashed driver pay.  
As the process to register a union with the government dragged, platform worker associations made key gains in mobilizing workers through Facebook, WhatsApp and, most recently, Telegram. The campaign also includes legal action and lobbying Parliament to extend labor laws and social protections to workers in the informal sector.
Three worker associations engaged in the campaign—the National Union of Professional App-based Transport Workers (NUPA-BTW), the Professional E-hailing Drivers and Private Owners Association of Nigeria (PEDPAN) and the National Coalition of Ride-Sharing Partners (NACORP)—last year joined together to form AUATWN.
"We cannot go to war with a divided mind," says Ayoade. We must be united before we can achieve. The fact that we are united now, we are fierce. We're trying to involve everybody."
App-Based Workers Making Gains Worldwide
Unions face unique challenges organizing app-based workers, but by mobilizing members through online apps, unions also have the ability to involve more workers in meetings, education and other opportunities.
"Everybody is included," says Ayoade. "It's a more democratic process. We have delegates for unit leadership. If the delegates can't join for a physical meeting, they can join anywhere."
Members' questions can be quickly answered on social platforms and the union operation is more transparent. For instance, he says, members "will see how the money to the union is moving from the app to the account. Every member knows how the money will be used."
Platform workers in countries worldwide are joining together to better wages, job safety and other fundamental rights guaranteed by international laws. In Kyrgyzstan, gig workers at Yandex Go formed a union and won better wages, while a new report finds that workers on digital platform companies who are pursuing their rights at work through courts and legislation are making significant gains, especially in Europe and Latin America. The Solidarity Center is part of a broad-based movement in dozens of countries to help app-based drivers and other informal sector workers come together. Members of the International Lawyers Assisting Workers Network (ILAW), a Solidarity Center project, have assisted platform workers in many of these cases.
While celebrating the new union, Ayoade also is mindful of the cost some workers paid for a lack of decent work.
"Some of the people we started together with in this campaign, they lost their life along the line," he says. The lack of insurance or social benefits mean that if drivers are attacked or robbed or even die on the job, they and their family are left all on their own. "They have children, they have parents, who received nothing," he says.
Although he is bullied and even threatened for his work, Ayoade says such tactics only make him see his efforts are effective. "God gave me the opportunity to help people in this struggle. I am doing something that is improving people's lives."