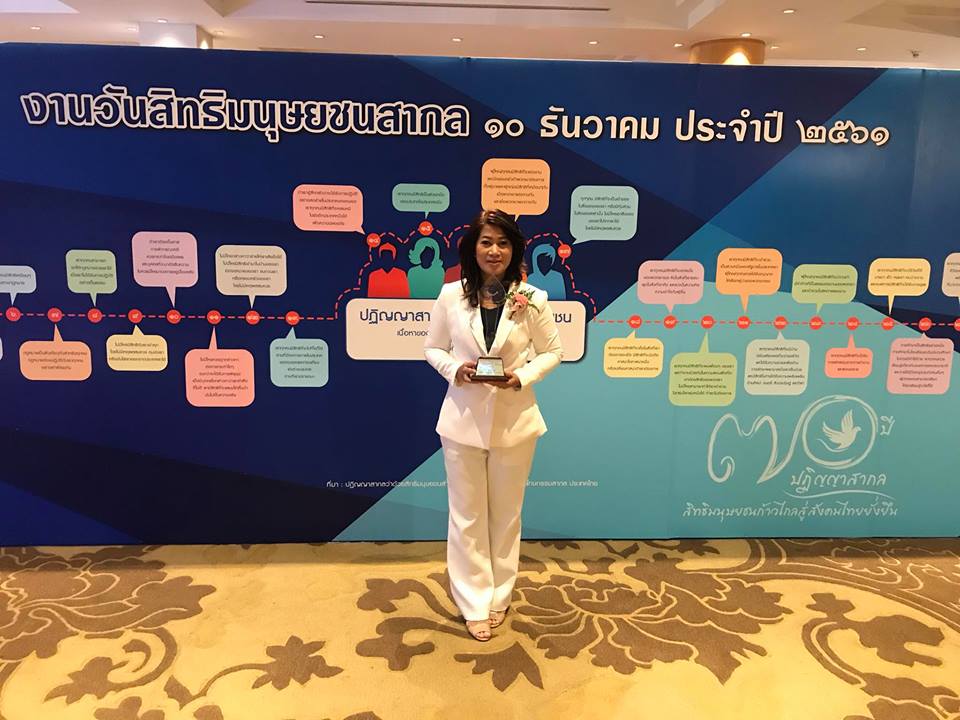 Worker rights advocate Apantree Charoensak, vice chair of the Thai Labor Solidarity Committee, Women's Division, was honored this week for her work protecting and promoting human rights by Thailand's National Human Rights Commission (NHRC).
Charoensak led the successful 2017 struggle for collective bargaining rights for collective bargaining rights for fast food workers at one of Thailand's largest KFC franchises, in which 3,100 workers won a contract that includes an early retirement program, 23 meals provided by the company per year and motorcycle maintenance funds for delivery workers. The workers are among 2,400 members represented by the Cuisine and Service Workers' Union, a Solidarity Center partner and IUF affiliate.
"I am proud to have advocated for human rights for the past seven years," Charoensak said in a statement on the award, granted to 13 human rights defenders as part of International Human Rights Day December 10.
Charoensak has been leading the struggle for fast food workers across Thailand for nearly a decade. During negotiations at KFC, she was fired from her position at Yum! Thailand, which operates some of the KFC franchises.
As a manager at the corporation where she supervised up to a dozen restaurants, Charoensak says she began union organizing to rectify what she saw as a large pay disparity between front-line workers and managers. Ultimately two unions formed, one covering front-line employees and one for supervisors. Over the years, she says management also tried to end her union activism by offering her large sums of money, which she refused, and isolated her at work, giving her little to do—time she filled by completing a master's degree in political science and addressing union members' concerns.