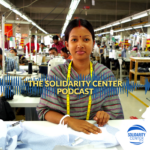 After a coalition of unions and human rights organizations successfully campaigned for Nigeria's government to ratify a global treaty on violence and harassment in the world of work, including gender-based violence and harassment (GBVH), they knew that was just a first step toward ensuring violence-free workplaces in the country.
Now, the hard work begins to implement the protections in International Labor Organization Convention 190, (C190), speakers said during a panel sponsored by the International Lawyers Assisting Workers (ILAW) Network.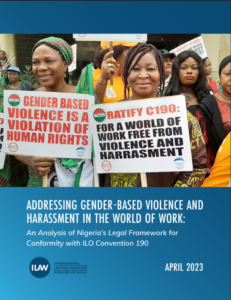 "The campaign does not stop at ratification. It must grow at the grassroots level, at the [factory] floor level, at the [union] branch level," said Rita Goyit, head of the Nigeria Labor Congress (NLC) Department of Women and Youth and secretary of the NLC's National Women Commission. "The struggle continues."
Goyit was among speakers at a June 21 event launching a new ILAW Network report that analyzes the current legal framework regarding violence and harassment at work, particularly GBVH, and the status of international treaty obligations in Nigerian law. The report identifies key areas of reform to bring Nigerian laws and policies in line with C190 provisions and how legal practitioners can utilize existing law to seek justice for survivors of GBVH and other abuses at work.      
The report, Addressing Gender-Based Violence and Harassment in the World of Work: An Analysis of Nigeria's Legal Framework for Conformity with ILO Convention 190, was authored by Chioma Kanu Agomo, a preeminent legal scholar and the foundation Dean of the National Universities Commission (NUC).
It finds that "the government should work with trade unions, women's right organizations and other human rights organizations to create safe, gender-responsive, effective complaints procedures, including measures to address barriers to reporting. There is a critical need for strong mechanisms to protect workers who report violence and harassment from retaliation."
Speaking on the panel, Agomo advocated holistic legislation "that mainstreams health and welfare issues, safety issues, to include issues arising from gender-based violence and harassment." She noted that C190, which the ILO adopted four years ago last week, is broad enough to ensure that all workers achieve violence-free workplaces, including while commuting to work and at related events. The convention covers workers in the formal as well as informal economies. Thirty-one countries have ratified C190, with the Nigerian government ratifying it in November.
Mobilizing Workers, Union Members to End GBVH
Even before Nigeria ratified C190, union leaders, together with the Solidarity Center, began training workers at the sprawling Mile 12 market in Lagos, seeking to put into practice C190's extensive provisions on preventing and GBVH in the world of work.
Union leaders trained 25 vendors to form and lead a task force on GBVH in the market. The task force developed a code of conduct to prohibit GBVH and create a mechanism for reporting cases. They distributed information leaflets and helped raise awareness among vendors about their rights to a violence-free workplace. This resulted in the identification of multiple cases of rape and sexual assault against minors, who often assist their parents in the market. Five people have been arrested and now are awaiting trial for allegedly violating the rights of children between 9 and 14 years old, said Agnes Funmi Sessi NLC Lagos State Council chairperson.     
"People are now being able to know their rights, there are mechanisms to report GBVH and there are people trained in the market for emergency response," she said. The effort is now expanding to another large market in the area.
The NLC also is reaching out to unions to ensure their constitutions and collective bargaining agreements adequately address sexual harassment and other forms of gender-based violence at work and are training gender officers to educate union members on their rights to violence-free workplaces.
The campaign urging the government to ratify C190 involved a broad, union-led coalition, said Afusatu Shaibu, national chairperson, Trade Union Congress of Nigeria (TUC) Women Commission. Among those organizations is the Advocacy for Women with Disabilities Initiative. Women workers with disabilities face multiple hurdles when confronted with GBVH at work, said Patience Ogolo-Dickson, the organization's executive director.
"It's very difficult for a person with a disability to get a job, and when you are faced with speaking out, you fear losing your job and think it's better to keep silent. Many don't know about the need to access to justice and need to be educated on C190."
The online panel was moderated by Jacquline Wambui Wamai, ILAW Network regional coordinator for sub-Saharan Africa, and a recording will be available in coming days.