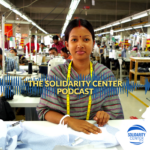 Hundreds of thousands of public employees across Tunisia waged a one-day strike today after talks with the government failed to address the rising cost of living and sinking wages, even as it increases taxes and cuts social programs.
"The strike on June 16, 2022, is an opportunity for workers to affirm their unity, hold on to their rights, and defy the usurpation and threats, including unconstitutional and illegal burdens," the Tunisia General Labor Union (UGTT) says in a statement.
At least 96 percent of public employees from 159 state institutions and public companies took part in the strike, according to the UGTT, which says the strike enabled workers "to express their anger at the deterioration of their working and economic conditions, the low wages and the threat to their livelihoods." The UGTT, which represents nearly 1 million workers, says the government is "undermining the principle of negotiation and backtracking on previously agreed deals."
Flights were cancelled as members of the Transport General union observed the strike. In Tunis, the capital, striking workers rallied at the UGTT building where they staged a sit-down strike, waving signs, "Do not neglect public institutions!" and "I love the country!" Members of organizations such as the Tunisian League for the Defense of Human Rights, Democratic Women, and the Economic Forum turned out to support striking workers.
Government Bailout at Workers' Expense
The government is seeking a $4 billion loan from the International Monetary Fund (IMF) in exchange for cuts in food and energy subsidies, wage freezes and privatization of state-owned enterprises.
The UGTT has rejected proposed spending cuts and, with year-over-year inflation at 7.8 percent in May, is seeking wage increases for public-sector workers. UGTT also is demanding that state-owned companies, including electricity and fuel, not be privatized and wants the government to adhere to a December 2021 agreement in which it will negotiate with unions on policies affecting workers. UGTT also is calling for the immediate, case-by-case review and reform of public institutions.
"The current government is determined to make [workers] bear the consequences of its choices," UGTT says, citing  the current and previous governments' failure to address its financial crisis.
Global union organizations are backing the UGTT in its efforts to end the impasse with the government, with the AFL-CIO, the European Trade Union Confederation, IndustriALL and others sending letters of support.
UGTT's last general strike in 2018 was part of a weeks-long wave of mass actions that resulted in a salary increase for public employees.