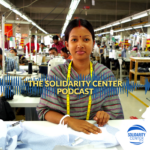 As governments and employers move to address the effects of the climate crisis and toward a sustainable future, workers and their unions must be part of the discussions to ensure the creation of decent jobs and respect for workers' fundamental rights, panelists said today in the opening plenary of the International Lawyers Assisting Workers Network (ILAW).
Panelists in the Right to a Just Transition plenary sought to explore how workers can bargain with employers and governments over adaptation mitigation measures to transform economies in a way that "does not undermine worker rights but that does the opposite—builds a new economy that's better than one we have today, one that incorporates all the social protections we have been fighting for," said Jeffrey Vogt, Solidarity Center Rule of Law director and ILAW chair.
The term "just transition" signifies a process based on fairness, rights for workers and their communities, said Bert De Wel, an economist at the International Trade Union Confederation, which included it as part of global trade union demands in the ITUC New Social Contract.
More than 130 labor lawyers from 42 countries are meeting in Brussels October 7–9 for the second global conference of the International Lawyers Assisting Workers (ILAW) Network, where members set an ambitious agenda for advocacy, litigation and education.
The Solidarity Center launched the ILAW Network in December 2018 as a global hub for worker rights lawyers to facilitate innovative litigation, help spread the adoption of pro-worker legislation and defeat anti-worker laws.
The Climate Crisis: A Worker Rights Issue
"Trade unions have played a special role in adapting and transforming to a greener and more sustainable future," said Clément Voule, special rapporteur on the Rights to Freedom of Peaceful Assembly and of Association for the United Nations. Voule cited the example of unions in the Philippines taking a key role in the transition to clean energy within a just transition framework.
"A sustainable future will only come true if states harness the power of civil society, including unions, to ensure those fighting for climate justice receive the respect they deserve, including peaceful freedom of assembly and association," Voule said.
The ITUC has incorporated the notion of just transition as part of its New Social Contract, said De Wel, while standards set by the International Labor Organization (ILO) offer worker rights lawyers a framework for moving to a just transition, said Claire LaHovary with ILO Bureau for Workers' Activities (ACTRAV).
LaHovary outlined applicable ILO standards and resolutions, including Resolution 205 on Employment and Decent Work for Peace and Resilience Recommendation (2017) that, in part, addresses the need to consider "the impact and consequences of conflicts and disasters for poverty and development, human rights and dignity, decent work and sustainable enterprises. The ILO also created a user's manual to the ILO's Guidelines for a just transition towards environmentally sustainable economies and societies for all, a key tool for worker rights advocates.
Two Solidarity Center staff offered grassroots view of the challenges ensuring worker voices are heard in sustainable transition discussions, including the need to educate workers about how the effects of the climate crisis on their livelihoods and health.
In Bangladesh, which has been identified as the seventh most vulnerable country to climate change, worker awareness of the issue is minimal, said AKM Nasim, Solidrity Center Bangledesh director.
"The Solidarity Center is trying to raise capacity of unions to negotiate agreements addressing climate change," he said, but worker face strong resistance from employers on so many other workplaces issues their unions often are struggling to survive.
Carlos Gaurnizo at the Solidarity Center in Colombia, described the difficulties of shifting to a sustainable model from an extractive economy while ensuring worker rights. One key is to connect unions with the diverse groups affected by the climate crisis, he said.
"We have been working with communities and trade unions and work with all the international movements," he said. It is also essential to consider cultural differences, including those of Indigenous communities that have a closer relationship with nature, he said. The recent election of a government that supports sustainable policies has opened new avenues for progress, he said.
"We need an ecological vision so we can understand we are only one small part of nature. We need to live together and co-exist harmoniously."
Innovations in Arbitration
At the second plenary panel, International Arbitration for Labor Rights, UNI Global Union General Secretary Christy Hoffman, Katerina Yiannibas at the Columbia University School of Law, discussed unique innovations in the arbitration process that better address the needs of workers and others seeking remedy.
Following the negotiation of the legally-binding Bangladesh Accord on Fire and Buiding Safety with fashion brand corporations to protect garment worker rights, UNI and IndustriALL moved to streamline the arbitration process to better serve workers, said Hoffman. The new framework reduces time to 180 days in part by combining arbitration and concilliation.
Yiannibas described the Model Arbtration Clauses for the Resolution of Disputes under Enforceable Brand Agreements 2020 that advances a streamlined arbitration system with a rapid timeline that protects impartiality and due process while avoiding excessive litigiousness, promoting transparency, alleviating burdensome costs, and providing final and binding enforcement.
Yiannibas and worker rights attorney Lance Compa led the team of lawyers who created the model dispute resolution system, which was narrowed down from the Hague Rules on Business and Human Rights Arbitration that Yianniba spearheaded in 2019.