Some 65 percent of countries now exclude entire categories of workers from labor law protections, while 81 percent of countries deny some or all workers collective bargaining, as democratic space for workers closes around the world, according to a new report.
Released today, the International Trade Union Confederation (ITUC) Global Rights Index 2018 reports that over the past year, trade unionists were murdered in nine countries—Brazil, China, Colombia, Guatemala, Guinea, Mexico, Niger, Nigeria and Tanzania—as the number of countries in which workers are exposed to physical violence and threats increased by 10 percent, from 59 to 65. In Colombia alone, 19 trade unionists were murdered last year—nearly double the 11 murders of the previous year.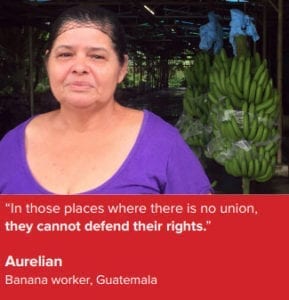 The number of countries where workers are arbitrarily arrested and detained increased from 44 in 2016 to 59 in 2017. Some 87 percent of countries violated the right to strike. Of 142 countries surveyed, 54 deny or constrain free speech and freedom of assembly.
The 10 worst countries for overall worker rights violations are Algeria, Bangladesh, Cambodia, Colombia, Egypt, Guatemala, Kazakhstan, the Philippines, Saudi Arabia and Turkey.
"Democracy is under attack in countries that fail to guarantee people's right to organize, speak out and take action," says ITUC General Secretary Sharan Burrow.
The Middle East and North Africa was again the worst region for treatment of workers, with the kafala system in the Gulf still enslaving millions of people. "The absolute denial of basic workers' rights remained in place in Saudi Arabia," according to the ITUC.
Haiti, Kenya, Macedonia, Mauritania and Spain have all seen their rankings worsen in 2018, with a rise in attacks on worker rights in law and practice.
The 2018 ITUC Global Rights Index rates 142 countries from one to five according to 97 internationally recognized indicators to assess where worker rights are best protected in law and in practice. The Index assigns an overall score placing countries in rankings of one to five.
1 Sporadic violations of rights: 13 countries, including Ireland and Denmark
2 Repeated violations of rights: 23 countries, including France and Estonia
3 Regular violations of rights: 26 countries, including Spain and Macedonia
4 Systematic violations of rights: 38 countries, including Haiti and Kenya
5 No guarantee of rights: 32 countries including, Honduras and Nigeria
5+ No guarantee of rights due to breakdown of the rule of law: 10 countries