In Honduras, where nearly all 19 union organizations in the garment sector have negotiated collective bargaining agreements that significantly boost wages and provide benefits like free transportation to and from work and educational funds for workers and their children, these successes were achieved "with active women's participation and leadership," says Eva Argueta, coordinator of organizing maquila workers for the General Workers Central (CGT) union confederation.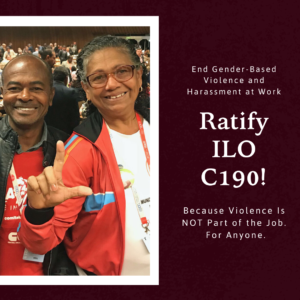 But ensuring women have the skills and opportunities to take active and leading roles in their unions has required 10 years of intensive training, with programs designed to fit women's schedules that include up to 11 hours of factory work per day in addition to second full-time jobs at home, she says.
Argueta was one of three panelists who shared how union women are leading, building power and cultivating values of feminism, inclusion and equality in the April 2 online discussion, "Unions Leading the Creation of a Feminist World of Work." Hosted by the Solidarity Center, the discussion was originally set to take place as a parallel event in conjunction with the 64th session of the Commission on the Status of Women (CSW) last month in New York City. The panel, featuring  Solidarity Center partners from Bahrain, Cambodia, Honduras and South Africa was rescheduled online when the conference was cancelled to prevent spread of COVID-19.
Across Bahrain, members of the General Federation of Bahrain Trade Unions (GBFTU) are urging the government to ratify a new landmark International Labor Organization (ILO) treaty (Convention 190) addressing violence and harassment in the work of work, including sexual harassment and gender-based violence, says GBFTU Assistant General Secretary Suad Mohamed. C190 must be ratified by individual governments before it becomes effective.
Raising Awareness About the Right to Safe Workplaces
As in Bahrain, women and their union allies around the world are mobilizing to ratify ILO Convention 190, crafting a feminist world of work centered on achieving equality and inclusion for all workers and creating new models of leadership. In campaigning for ratification, union women leaders also are advocating for changes in law and policy to address and prevent gender-based violence and harassment.
But "Convention 190 cannot be successful without our extended efforts to raise awareness of all women in society" about their rights to workplaces free of violence and abuse, Mohamed said in the panel discussion.
Although Bahrain recently amended its labor law to penalize sexual harassment and abuse at the workplace, women in Bahrain fear reporting such incidents because their family may force them to leave their jobs and remain isolated at home. "We also are trying to raise awareness that a woman who is a victim of harassment is not the perpetrator, she is a victim. These are small steps we can take to actually reduce level of fear of women," Mohamed said, speaking through a translator.
"Educating women to understand violence is not part of the job" also is a key focus in Cambodia, where many of the country's 800,000 garment workers face bullying, sexual harassment and verbal and physical abuse on the job, said Sar Mora. Mora is full-time adviser to the Cambodia Alliance of Trade Unions (CATU), the only female-led garment worker union in the country.
In Honduras, Argueta says raising awareness of women's right to safe workplaces must be part of all labor trainings. "What we think is important is that any time there is a training it should mainstream women's rights," she said. With 342 women graduates who have gone on to take leadership roles in their unions and communities, "we are really satisfied with the success and growth of unions thanks to our very deep investment in women as leaders."
The Solidarity Center has worked in close coordination with Argueta's union federation, FESITRATEMASH, for more than 12 years, training organizers, building collective bargaining capacity, and educating workers on addressing worker rights violations through international bodies. The Solidarity Center also has supported FESITRATEMASH's intensive women's leadership courses since 2011, including mainstreaming women workers' concerns in organizing, collective bargaining and union capacity building, and direct support for women organizers.
Also among the panelists, Gertrude Mtsweni, gender coordinator for the Congress of South African Trade Unions (COSATU), was unable to participate due to technical issues.
Solidarity Center partners AWID, the International Trade Union Confederation, Global Fund for Women and Just Associates co-sponsored the webinar.