Workers rights—and the freedom to form unions and freely assemble—are key to achieving human rights, according to a new report by UN Special Rapporteur on the rights to freedom of peaceful assembly and of association Maina Kiai. The Solidarity Center is among organizations contributing to the research.
"This report is a clear call to action to governments and employers to immediately recognize worker rights, and for the broader human rights community to advocate for them," says Solidarity Center Executive Director Shawna Bader-Blau.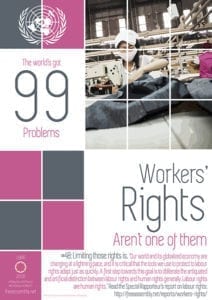 As the report finds: "The rights to freedom of peaceful assembly and of association are … key to the realization of both democracy and dignity, since they enable people to voice and represent their interests, to hold governments accountable and to empower human agency."
The report, which will be presented to the UN General Assembly on October 20, highlights how the vast majority of the world's workers are disenfranchised from their rights to assembly and association—rights that are fundamental to all other human rights—either by exclusion or outright oppression.
Among the findings:
Without assembly and association rights, workers have little leverage to change the conditions that entrench poverty, fuel inequality and limit democracy.
Millions of informal workers labor in global supply chains, where some of the worst abuses of freedoms of association and peaceful assembly are found—and where migrant workers are often concentrated.
Discrimination, abuse and relegation to jobs at the bottom of the global economy undermine women workers' ability to join and form organizations that defend their interests.
October 21 UN Report Launch Event in New York
On October 21, following the official presentation of the report, human rights activists, trade unionists, representatives of UN agencies and other members of civil society from around the world will gather at UN headquarters in New York to discuss this seminal report with Kiai.
(RSVP at [email protected])
Panelists at the launch event at the UN will discuss freedom of association in the global economy against the backdrop of government and employer repression of trade union rights and freedoms, attacks on the right to strike and the disenfranchisement of the vast majority of the world's workers from their fundamental human rights to organize—with a special focus on women workers, migrant workers, the business and human rights agenda and governance in an era of global supply chains.
Kiai will keynote the event, which will include speakers from unions in Swaziland, Honduras, Mexico  and beyond, along with representatives from Human Rights Watch, ITUC, the ILO, UN Women, and members of the business and human rights communities.
The event is co-sponsored by the AFL-CIO, Ford Foundation, Human Rights Watch, International Trade Union Confederation and the Solidarity Center, among others.