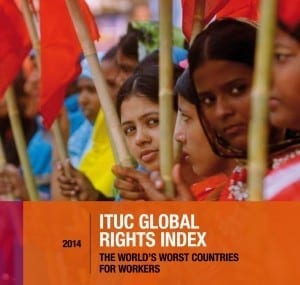 Uruguay, South Africa and Germany are some of the countries with the best worker rights records in 2013, while Cambodia, Guatemala and Nigeria are among the worst, according the 2014 Global Rights Indexreleased this week by the International Trade Union Confederation (ITUC).
The annual index, which documents violations in 139 countries recorded between April 2013 and March 2014, found that in the past 12 months:
Murder and disappearance of workers were commonly used practices to intimidate workers in at least nine countries.
Governments of at least 35 countries have arrested or imprisoned workers as a tactic to resist demands for democratic rights, decent wages, safer working conditions and secure jobs.
Workers in at least 53 countries have either been dismissed or suspended from their jobs for attempting to negotiate better working conditions. "In the vast majority of these cases," the report notes, "national legislation offered either no protection or did not provide dissuasive sanctions" to hold abusive employers accountable. Rather, "employers and governments are complicit in silencing workers' voices against exploitation."
Laws and practices in at least 87 countries exclude certain categories of workers from the right to strike. At least 35 countries impose fines or even imprisonment for legitimate and peaceful strikes.
The most frequent violation of worker rights occurred when workers went on strike, followed by violations of the rights of workers who sought to join unions.
The survey notes that because countries such as Qatar and Saudi Arabia exclude migrant workers from labor rights, more than 90 percent of the workforce effectively has no recourse for addressing forced labor practices which exist under archaic sponsorship laws.
"The World Bank's recent 'Doing Business' report naively subscribed to the view that reducing labor standards is something governments should aspire to," said Sharan Burrow, ITUC general secretary. "This new Rights Index puts governments and employers on notice that unions around the world will stand together in solidarity to ensure basic rights at work."
The index assigns each country a score ranging from one to 5+, with 5+ indicating no guarantee of worker rights due to a complete breakdown in a country's rule of law (for example, the Central African Republic and Ukraine), five indicating no guarantee of worker rights (for example, Bangladesh, Colombia, Malaysia) and "one" signaling that collective labor rights are generally guaranteed.
The report also offers a detailed look at six countries, one from each of the rankings: the Central African Republic, Cambodia, Kuwait, Ghana, Switzerland and Uruguay.
The ITUC Global Rights Index ranks the 139 countries against 97 internationally recognized indicators to assess where workers' rights are best protected in law and practice.