Migrant workers worldwide have been especially hard hit in the pandemic, suffering reduced pay, lost jobs and little access to social support programs like unemployment insurance. In Thailand, migrant rights groups estimate that since COVID-19, 700,000 workers are either unemployed or not receiving full pay.
But as migrant rights attorney Preeda says on this week's episode of The Solidarity Center Podcast, Thai unions are standing up for migrant workers, helping them organize to better advocate for their rights and negotiate with their employers to improve working conditions. And, throughout the COVID-19 crisis, unions have helped connect jobless migrant workers with aid organizations and other vital support.
"Before the pandemic of COVID-19, we already connected with the labor unions, especially for those sectors that have migrant workers in the workplace," Preeda tells host and Solidarity Center Executive Director Shawna Bader-Blau. "We can work with the Thai partners and the unions to continue to promote labor rights and human rights in Thailand. We help and ensure that the workers get respect."
Billions of Us, One Just Future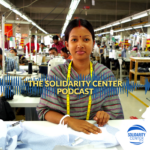 The Solidarity Center Podcast, "Billions of Us, One Just Future," highlights conversations with workers (and other smart people) worldwide shaping the workplace for the better.
Be sure to catch last week's episode in which Bader-Blau talks with worker rights advocates in Belarus and Brazil about how workers are standing up for their democratic freedoms in repressive regimes.
Join us for a new episode each Wednesday on iTunes, Spotify, Amazon, Sticher or wherever you subscribe to your podcasts.
SOLIDARITY CENTER PODCAST SCHEDULE
April 7: Francia Blanco, a domestic worker and trans rights activist reaching marginalized workers through her all-trans domestic workers union
April 14: Adriana Paz, an advocate with the International Domestic Workers Federation who understands firsthand the power of unions in ensuring domestic workers have safe, decent jobs
April 21: International Trade Union Confederation President Ayuba Wabba, who explores the Nigerian labor movement's response to the COVID crisis on workers and discusses the global labor movement's plans to build back better for workers around the world