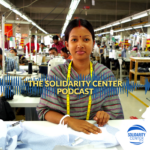 A survey of more than 600 workers with disabilities in Nigeria's formal and informal sectors, conducted by the Trade Union Congress of Nigeria (TUC) Women Commission and the Solidarity Center in collaboration with Nigerian unions and disability rights organizations, finds that most workers with disabilities cannot access decent work as defined by the UN International Labor Organization (ILO).
"It provides evidence for what we have been saying for so long [and is] a powerful tool for advocacy," says Nigeria disability advocate and FAECARE Foundation Executive Director Ndifreke (Freky) Andrew-Essien."
"Securing Equal Access to Decent Work in Nigeria: A Report by Workers with Disabilities," reports quantitative data collected from 322 men and 338 women workers with disabilities across seven geopolitical zones and the Federal Capital Territory in Nigeria, supported by qualitative data collected from union members. The study—for its sample size and breadth, as well as for the collaboration between trade unions and disability rights organizations—is the first of its kind. An estimated 1 billion people experience disability worldwide, the majority in developing countries. According to the World Health Organization's 2011 World Report on Disability, between 25 million and 27 million people experience a disability in Nigeria, the majority of whom live below the poverty line. Indeed, disability, gender and low socioeconomic status interact to keep people in poverty.
The survey found that, regardless of legislation aimed at addressing diversity in the Nigerian workplace, disabled workers do not experience the same access to employment opportunities as their counterparts without disabilities and often face physical, social, economic and/or environmental barriers to participation.
Findings and Recommendations
Most of the 660 workers surveyed are self-employed and in the informal sector. Almost half of respondents earn less than Nigeria's minimum wage and say their work environment is not accommodating to their disability. Most (62 percent) cite transportation as the most significant obstacle to accessing work, followed by a lack of disability-friendly facilities (33 percent) and poor communication with or unsupportive co-workers (19 percent). Nearly a quarter of disabled workers say they work more than eight hours without overtime pay. A similar number had experienced gender-based violence or harassment (GBVH) during the previous two years.
Researchers conclude that a variety of actions—by the Nigerian government, employers and unions—could build an inclusive working environment that respects, includes and accommodates disabled workers. This includes the revision of laws to outline reasonable accommodations in employment and the creation of a disability tax fund to provide adequate social security benefits. In addition, unions, along with disabled workers, should work together to demand reasonable accommodations at work and greater accessibility.
The ILO defines decent work as work that is available to all equally, is productive and delivers a fair income and security in the workplace, provides equal access to social protections—such as pensions, and adequate and affordable healthcare—and affords workers freedom to participate equally in decisions affecting their work lives.
Download a summary booklet here.