Some 600 Maldivian fishers from the Bodukanneli Masveringe Union (BKMU) protested offshore from the capital, Male, December 10, demanding that the government of the island nation address 11 demands.
Fishers say the government must address job safety and health concerns and stop environmentally damaging practices that impact fisheries, such as land reclamation projects, and introduce penalties for those who dump plastic in the ocean.
Protesters also are asking the government to reconsider a previously rejected proposal on educating and training fishers on sustainable fishing practices. BKMU submitted a proposal to the government for funding to conduct education programs for fishers on sustainable fisheries, safety at work and fishing for "A grade" fish, but the government rejected the proposal.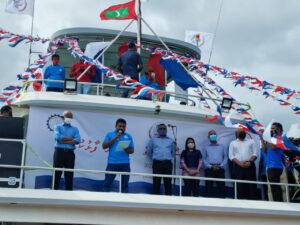 Maldivian President Ibrahim Mohamed Solih, who was present at the protest, addressed the gathering.
"The government will listen to workers voices, and workers from all sectors, be it fishermen, tourism workers, agriculture workers or any other sector. They have the right to have these protests and raise concerns and demands."
The president welcomed the protest and said he would fulfill fishers' demands by incorporating them into the government's long- and short-term goals.
Unions affiliated with the Maldives Trade Union Congress (MTUC), a Solidarity Center partner, took part in the protest.
The fishers also are asking the government to:
Provide incentive pay for sustainable, clean catch
Set prices that do not harm to the environment
Revitalize the tuna industry—prioritize the fisheries industry as much as the tourism industry
Take steps to protect the environment, for example, by banning the dumping of plastics in the sea
Enact the Industrial Relations Act and Occupational Health and Safety Act.