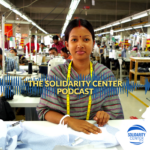 More than a hundred Grab food delivery riders launched the Iloilo Grab Riders Union (IGRU) in Iloilo City, Philippines, on November 24, then staged a unity ride around the city, located on Panay Island. Some 200 drivers joined in the ride, with more riders taking part from the streets, organizers said. The newly formed union's demand is for just fares, paid sick leave and other social protections, and union recognition.
"The increasing price of gasoline and of commodities and the decrease in base fare delivery fees makes Grab riders work twice their normal hours to get the same wage they earned before the pandemic," Archie, one of the Grab drivers who helped organize IGRU, said on the local radio show DZRH News. Archie is also a member of the Partido ng Manggagawa (Labor Party).
Preceding the launch of IGRU, gig drivers from Grab and other platforms such as Food Panda and Maxim had begun to form unions across the Philippines. On August 15, some 300 delivery riders from General Santos City organized under the union, United Delivery Riders of the Philippines (RIDERS). RIDERS is composed of delivery riders from Food Panda, Maxim and Grab. Unity rides have also been conducted in the cities of General Santos and Cebu. Elsewhere in the country, local chapters of RIDERS also have begun to organize. 
Their aim is to formally establish the United Delivery Riders of the Philippines (RIDERS) as the national union for the riders. "During the pandemic, when Grab suspended the GrabCar service, Grab food delivery drivers became the lifeline of the company. Is it wrong to ask them to be fair?" asked John Jay, a multi-app driver and organizer from Metro Manila. He attended the IGRU launch to express support for his fellow Grab drivers.
In addition to the decrease in earnings, delivery drivers in the Philippines have little or no job security or basic benefits as they are part of the gig economy. Under Philippine labor laws, delivery riders are classified as "independent contractors," which does not provide an employee-employer relationship. As gig economy workers, delivery riders are not entitled to social protections such as health insurance and income security, among other basic protections.
"Our interests will be protected only through the passing of laws," said Mark, a driver and organizer from Pampanga. Like John Jay, he also traveled to Iloilo to share a message of solidarity for his fellow riders.
Philippine Senator Risa Hontiveros proposed the Protektadong Online Workers, Entrepreneurs, Riders at Raketera (POWERR) Act, which would protect workers in the gig economy. A committee currently is working on the bill. 
The IGRU launch was supported by the Solidarity Center, the global union IUF, RIDERS, the Center of United and Progressive Workers (SENTRO), Partido ng Manggagawa (Labor Party) and the Brotherhood of Two Wheels (Kagulong).