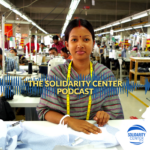 The Nigerian working group of a campaign led by the Organization of Trade Unions of West Africa (OTUWA) is collaborating on a regional campaign demanding more investment by governments in the health of their citizens. OTUWA represents trade union national centers in the 15 West African countries comprising the Economic Community of West African States (ECOWAS).
Addressing journalists at a public event in Abuja, Nigeria working group coordinator Dr. Ayegba Ojonugwa, last month warned that governments must increase health workers' wages and improve their working conditions—including safety—to staunch the outflux of health workers from the beleaguered sector.
"We are here today to further advocate that healthcare is a human right," said Ojonugwa, who noted that West Africa's governments are not implementing the 15 percent minimum annual budgetary health allocation to which African heads of state agreed in the landmark 2001 Abuja Declaration. Currently, no country in the region achieves this percentage and Nigeria's healthcare indicators are some of the worst in Africa—in part because medical professionals are in such short supply there.
In Nigeria, OTUWA's "Healthcare Is a Human Right" campaign—launched in Abuja in March 2021—is supported by the International Federation of Women Lawyers (FIDA), the Medical and Health Workers Union of Nigeria (MHWUN), the National Association of Nigeria Nurses and Midwives (NANNM) and labor federations Nigeria Labor Congress (NLC) and Trade Union Congress of Nigeria (TUC).
In the region, the campaign is supported by OTUWA's affiliates together with many of their health sector unions. A 2020 survey of 700 health workers living in Gambia, Ghana, Nigeria, Senegal, Sierra Leone and Togo provides a window into the region's health-sector shortcomings and presents a raft of recommendations for ensuring the protection of health worker rights and effective, accessible healthcare for all.