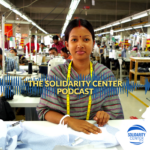 The global labor movement lost a bright light and a pioneering leader on January 16 when Myrtle Witbooi, general secretary of the South African Domestic Service and Allied Workers Union (SADSAWU), and president of the International Domestic Workers Federation (IDWF), passed away after a long and valiant battle with cancer. 
Myrtle began her career in the 1960s as a domestic worker in apartheid South Africa. A newspaper article about domestic workers moved her to write a letter to the editor. Myrtle was just 18 when, with the help of a local journalist, she convened the first meeting of domestic workers in Cape Town in 1965. 
"As I entered, I saw about 350 workers all looking at me, and I said to myself, 'Oh Lord, what now?'" Myrtle recalled in an interview. 
"And I went up to the stage and I said, 'Good evening. I am a domestic worker, just like you. I think we need to do something for ourselves because nobody is going to do anything for us.' And they all started clapping and said, 'You are going to lead us.'" 
It was the beginning of a lifelong fight to secure rights and protections for domestic workers. 
At that time, domestic workers in South Africa were not allowed to move freely and needed identification to enter the White neighborhoods where they worked. 
"We needed an ID to identify that we were allowed to come to the White area to work. But we could go to church," Myrtle said. The workers formed a committee in 1979 because they could not form a union. Their church meetings served as cover for committee meetings, even after the government banned all labor organizations in 1986 for fear they were ANC-affiliated.
As general secretary of SADSAWU, Myrtle fought for a national minimum wage increase and compensation for domestic workers injured on the job. In 2011, she helped lead an international coalition of domestic workers to secure passage of the ILO Convention on Decent Work for Domestic Workers (C 189), which ensured domestic workers the same basic rights as other workers. The convention marked the unprecedented involvement of informal women workers in setting ILO standards.
Myrtle became the first chair of the International Domestic Workers' Network—and when the network formalized as a federation, Myrtle was elected the first president of the International Domestic Workers' Federation, the only global union founded and led by women of color.
Myrtle was often recognized for her work on behalf of domestic workers. In 2013, she accepted the AFL-CIO's George Meany–Lane Kirkland Human Rights Award, which recognizes international leaders and organizations who have overcome significant hurdles in the fight for human rights. In 2015, she was awarded the Fairness Award, which honors outstanding leaders dedicated to bringing economic justice, fairness and equality to poor and marginalized communities.
Myrtle was serving her second term as IDWF president when she passed. Under her leadership, the federation expanded to 87 affiliates in 67 countries, representing 670,000 domestic workers. Their "nothing about us without us" motto that achieved ILO Convention 189 served as the clear model for the fight to eliminate violence and harassment in the world of work, resulting in the passage of ILO Convention 190 in 2019—an effort led by affected workers, largely women workers and informal workers.
Upon news of her passing, tributes came in from domestic workers around the world, sharing stories of how Myrtle inspired courage among workers who have been made invisible by employers and governments to raise their voices and stand firm together in their demands for dignity and respect.
"Myrtle was bold, had a clear moral vision and was relentless in building up alliances to see a vision of equal rights for domestic workers to fruition. Myrtle's legacy of courage, justice and sisterhood will live on for generations," said Alexis De Simone, global lead for domestic worker rights at the Solidarity Center.