In isolated rural areas across El Salvador, thousands of women work from their homes hand-embroidering intricate patterns on pieces of cloth they later return completed to factories to be sewn into finished garments.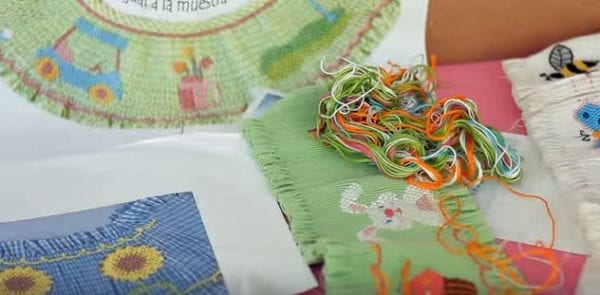 To meet the factory's production deadlines, the women typically work 16 hours a day, seven days a week, and those who do not have electricity, embroider in the dark by candlelight. Often their children, who begin learning the craft at age seven, must assist them after school or even stay home from school to ensure their mothers complete the week's work.
Yet they are paid less than poverty wages. The embroidery workers receive $2.25 per piece, which involves a day or a day and a half of constant work. Seventy cents of that payment goes to another craftswoman to add cording, and the employer deducts more if the final product is not perfect.
"Sometimes we spend the whole day or two days to earn $1 a day," says Isela Evelia Beltran Palacios, a 17-year embroidery worker.
Not Even Poverty Wages
In a country where a living wage is $416 per month, in-home embroidery workers (bordadoras a domicilio) generally are paid between $55 and $80 a month. "Women who have been doing this work for 30 years have nothing," says Beltran Palacios, speaking through an interpreter. "We don't have pensions. Women get no vacation, no sick leave."
Women who embroider at home also face repetitive motion injuries and suffer from eyestrain. "I have suffered a lot doing this job," says another member of the SITRABORDO union, who has worked as an in-home embroiderer for 26 years. "I have severe headaches and vision problems from squinting at the work." Most women cannot afford chairs or work tables, and spend their days on small plastic stools. Some women return to the stools days after giving birth because they must support their families, says the union member.
Together with the Association of Women Transforming (Asociación Mujeres Transformando), some 300 women have formed an embroiderers' union, SITRABORDO, affiliated to FEASIES, a union federation and Solidarity Center partner. The women join the union at great personal risk. When employers learn the workers have attended a union meeting, they pull their contracts, often relocating to another town.
"Women have gone sobbing to the supervisor saying, 'I have kids I need to feed,' and the supervior says, 'No' (contract)," Beltran Palacios says. "They (employers) will go to another municipality and give the work to them." Some of the women who have formed the union and lost contracts launched an embroidery cooperative as a pilot project to pool their resources and sell their goods directly to customers.
Local, International Campaign for Embroidery Workers' Rights
FEASIES and SITRABORDO are pursuing a multi-pronged campaign in assisting embroidery workers to improve their working conditions. While maquila workers won a 29 percent wage increase last year and now are paid $295 a month, those in the informal economy, like the embroidery workers, are not protected by the minimum wage law, and are denied the right to safe workplaces, pensions, paid sick leave or paid vacations. FEASIES, which also represents maquila workers, tried unsuccessfully to include embroidery workers in last year's wage increase.
So the unions are campaigning to change the country's labor code to ensure informal economy workers have decent wages and working conditions, and are urging the government to sign on to International Labor Organization Convention 177 which sets labor standards for home-based workers.
They also are reaching out to retailers in the United States, where all the goods are sold. The campaign is focusing on retail chains because factories are locally owned and unlike big brands, are less responsive to international pressure, says Roberto Zaldaña, FEASIES secretary of international relations.
At the same time, Women Transforming is educating women about their rights. The organization holds trainings twice a month in the small towns where women embroider. Employers purposely target isolated areas for their embroidery contracts because women in these areas often do not know their rights, says Marilyn Sánchez, a lawyer and feminist activist with the organization. Women Transforming also brings together embroidery workers to discuss their concerns, where they often meet each other for the first time, creating a much-needed support network.
As part of the union's international outreach, Beltran Palacios, Zaldaña, Sánchez and two other embroidery workers traveled to the United States recently, where they met with lawmakers, labor leaders and representatives from allied organizations in Washington, D.C., and New York.
Zaldaña says there is no collective bargaining agreement in the maquila sector because each time the union organizes a workplace, the factory closes. So his hope for the embroidery workers is for the government and employers to acknowledge the need to improve their working conditions.
"The most fundamental thing we want is dialogue for the embroiders," he says.