Across the Middle East and North Africa, unions and worker associations are mobilizing to educate workers about their rights during the COVID-19 crisis, provide them with resources to protect themselves and their families, and push for fair treatment at the workplace.
The Kuwait Trade Union Federation (KTUF) convened a meeting in recent days with leaders of migrant worker associations and the Solidarity Center to discuss such issues as expired residency, late salaries and unsafe living arrangements—migrant workers there, as in many countries, are housed in crowded conditions, with eight to 12 people per room, or even dozens sleeping in dormitory settings. KTUF, which is hosting an office of migrant community volunteers and educators (MOVE), plans to work closely with the Public Authority for Manpower to solve urgent issues.
Participants then donned gloves and masks and fanned out to grocery stores to help distribute some of the 100,000 copies of "Healthy Measures to Protect Yourself from Coronavirus," a brochure available in Tagalog, Hindi, and Bengali. KTUF now is translating it into Sinhala and French to distribute among the more than 3 million migrant workers in Kuwait who are engaged in construction and as domestic workers.
Teachers Union Creates Fund to Help All Workers
In Jordan, where the government suspended all public and private enterprises, the Teachers' Union in Jordan created a $705,218 fund—half of the union's liquid assets—to assist workers throughout Jordan, and called on the government to launch a health fund to combat the pandemic, urging unions, affiliates and business to donate. During a televised speech from the union's emergency meeting, union Deputy Director Nasser Al-Nawasrah offered the union's unlimited assistance to the government to combat the pandemic.
Speaking on Jordan's Radio AlBalad, Hamada Abu Nijmeh, the director of the Workers' House, a Solidarity Center partner organization, discussed the necessity for employers to take protective procedures in the workplace, and to ensure no worker is terminated or forced to take annual leaves or unpaid leaves during the crisis.
"This 'holiday' should not be counted toward employees' annual vacation days, or considered as unpaid leave, nor should any actions be taken that would detract from his/her labor rights, or the termination of his/her services," Nijmeh said in a statement.
Sadaqa, a Solidarity Center partner, urged the Jordanian government to allow flextime for parents who must care for their children with schools closed, and the Phenix Center, an economic research organization and Solidarity Center partner, urged employers and the government to ensure workers are protected at the workplace, called for workers to receive wages when infected with the coronavirus, and urged employers to allow teleworking to limit spread of the disease.
Palestine Union Members Assist Workers in Staying Safe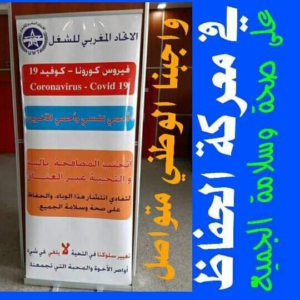 Beginning in early March, the Palestinian General Federation of Trade Unions (PGFTU) undertook an array of outreach to safeguard workers' health. The PGFTU distributed sterilizers, masks, and informational fliers to Palestinians at areas where they cross to Israel to work, including Qalandia, Tarqomya, Al-Thahriya, Qalqilia, Burqan, Al-Khan Al-Ahmar, Ne'elein, Al-Taybeh and Dir Al-Ghsoun. The federation launched a long-term campaign to sterilize commercial buildings, taxi stations and institutions in Ramallah and union members sterilized public transport vehicles and taxi stations in partnership with the Ministry of Health in Jericho.
Union members visited the Barta'a barrier and conducted medical examination for workers and distributed fliers on coronavirus prevention, and the PGFTU also distributed food packages and sterilizers to families in Bethlehem. The PGFTU urged employers to pay workers normal wages during the emergency in accordance with labor law.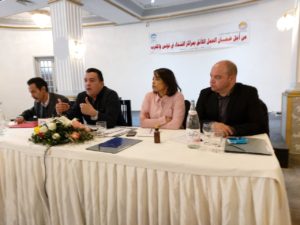 Probationary workers in Tunisia won back their jobs at a Dutch-owned call center after an employer fired them under the pretext of the novel coronavirus. The General Federation of Information Technology and Services, the union that represents the workers, enlisted the Tunisian General Labor Union (UGTT), which sent a letter to the CEO and conducted a Facebook campaign to ensure the workers were reinstated. Together with the technology workers union, the UGTT, which has called for all call centers to be closed, and is demanding workers be paid and teleworking be implemented.
The UGTT has pledged 100,000 Tunisian dinars ($32,240) toward a fund to combat the coronavirus and support workers who lost income due to the virus. UGTT is calling on workers to donate a work day, and their pay will be directed to the special fund, which it says could be as much as 90 billion dinars ($31 billion). The UGTT and various government agencies will oversee the fund. The federation plans to postpone all planned strikes.
The UGTT is demanding the government continue social protections during the crisis, and guarantee the wages and rights of private-sector workers and in hard-hit businesses, such as restaurants and tourism.
Elsewhere:
Kurdistan United Workers Union (KUWU) leaders discussed COVID-19 in interviews on popular satellite channels as Rudaw and K24 and encouraged union members to follow the prevention procedures to avoid spreading the infection.
Employers and two unions, the Democratic Labor Confederation (CDT) and the Moroccan Labor Union (UMT), are committed to working closely to counter the effects of coronavirus.