Delivery employees in Colombia who work for the online platform Rappi joined protests across Latin America today calling for decent wages, job safety and health protections for gig economy workers. Largely migrant workers from Venezuela, they provide essential services delivering food from restaurants and grocery stores to homes, including during the COVID-19 lockdowns.
The Rappi workers began to organize in response to fluctuating pay rates for individual delivery jobs, unexplained fines levied by the company, and the arbitrary barring of workers from the platform to accept jobs. Workers are seeking to unionize to address these issues and collectively defend their labor rights. Some 81 percent say their only source of income is by working for Rappi.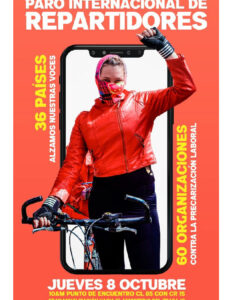 Riding motorcycles and bikes through Bogotá, Medellín, Pereira, Cali, Barranquilla, Bucaramanga and Cartagena, the workers culminated their protest at the offices of the Labor Ministry in each city, where they presented a petition to form a union, Union of Platform Workers (UNIDAPP), to secure their fundamental rights on the job.
"These platforms derive their profits from the exploitation of hundreds of thousands of men and women around the world who work without rest or protection. for miserable income," UNIDAPP said in a statement today. "We are workers without rights who go out to the streets day by day to meet the primary needs of this society."
Even as workers at Rappi struggle to support themselves, Rappi last month raised more than $300 million in a new round of investment involving international funds, such as T. Rowe Price Associates. Rappi operates in nine countries in Latin America. On Mother's Day in May, more than 4 million Colombians used the Rappi app, as delivery services benefited from increased demand due to social distancing and lockdown restrictions.
Of the 50,000 Rappi workers, almost none are covered by the nation's safety and health laws, according to a 2019 study, which found that 63.2 percent had suffered work-related accidents and 67 percent contracted occupational diseases in the past two years. At least three workers at Rappi were killed on the job so far in 2020, two from traffic accidents and one during an attempted robbery.
Like gig workers around the world who struggle with low pay, dangerous working conditions and arbitrary treatment, Rappi employees seek passage of laws protecting their rights on the job and labor contracts to ensure those rights are enforced.
Although several bills are now in the Colombian Parliament to regulate digital platforms and require gig economy corporations to provide some basic workplace protections, UNIDAPP rejects the efforts because they were not drafted with worker input and fall far short of the basic protections they need.
The National Movement of Digital Platform Workers (MNRPD) is filing suit on behalf of the workers, seeking recognition of labor contracts that ensure labor rights. The SC collaborates with the MNRPD and provides technical and legal assistance to reinforce the union organizing effort.
UNIDAPP is an affiliate of the Central Workers' Union (CUT), which heralded the new union, saying "we have a duty to fight for what we want, full workers' rights, decent conditions of employment and social protection."
"Today, a new stage begins for platform workers in the country," UNIDAPP stated. "We are a strong trade union organization ready to bring our demands to all judicial, legal and administrative bodies, until we have labor rights!"