As the number of workers in the informal economy increase around the world, the result is that more and more workers are low paid, with few or no social benefits or job security. In the Dominican Republic, where many in the informal economy are Haitian migrants, the union movement successfully organized those who work in construction and, in the case of domestic workers, played a key role in pushing for passage of the International Labor Organization Domestic Worker Rights Convention 189.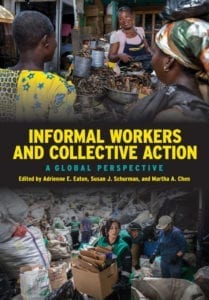 The Dominican Republic labor movement's strategies for success will be among the examples discussed November 15 during the Solidarity Center launch of the new book, Informal Workers and Collective Action: A Global Perspective. (The event in Washington, D.C., is free. RSVP here.) The book collects case studies from union campaigns in such countries as Brazil, Cambodia and Colombia, bringing together in one volume a compendium of academic field research and concrete grassroots examples
U.S. Rep. Pramila Jayapal (D-Wash.), AFL-CIO Executive Vice President Tefere Gebre, Solidarity Center Executive Director Shawna Bader-Blau and international worker rights advocates will explore how unions are using social and economic justice tools to organize workers and share their successes with others seeking dignity on the job, justice in their communities and greater equality in the global economy.
Celebrate Solidarity Center's 20th Anniversary!
The book launch is part of the Solidarity Center' daylong 20th Anniversary events, which include a festive celebration at Longview Gallery from 6 p.m. to 9 p.m., in Washington, D.C.
RSVP for the book launch here. Buy a ticket to the celebration here.
You also can become an event sponsor or make a donation to support the Solidarity Center's next 20 years and stand with us to assert the fundamental rights of people at work!
Informal Workers and Collective Action was edited by Adrienne E. Eaton, Susan J. Schurman, Martha A. Chen and produced by Rutgers and WIEGO with support from the Solidarity Center.