In mid-December, a strike in Ashulia, an industrial suburb of Bangladesh's capital, Dhaka, and a ready-made garment sector hub, quickly snowballed into widespread unrest. Garment workers abandoned their factories to call for a living wage in response to ever-rising costs. Mass arrests and firings ensued.
The minimum wage for a Bangladeshi garment worker is $68 a month, an amount last fixed in 2013. When they took to the streets in December, workers were demanding the minimum be increased to $191 a month. Dhaka is the 71st costliest city in the world, in line with Montreal, Canada.
The strike started in Windy Apparels and rapidly spread to other units resulting in 60 factories suspending operations. On December 20, the Bangladesh Garment Manufacturers and Exporters Association (BGMEA) ordered owners to reopen factories and resume operations after a five-day break. However, upon their return, more than 1,600 workers were notified that they had been laid off due to their alleged involvement in the unrest. Labor leaders and activists collectively demanded the reinstatement of all workers but received no response.
Windy Apparels is the same factory that denied a worker sick leave in October despite a very serious illness. She collapsed on the factory floor and died upon reaching the hospital. Her body was left at the factory gate for her husband to retrieve.
Since the factories reopened, union leaders and worker rights advocates have been detained or arrested on charges related to their alleged involvement in the strike. Union activists from different federations and from different areas of Dhaka—and unrelated to the Ashulia unrest—also have been swept up by police. Many have been charged under the Special Powers Act, 1974, which provides police with sweeping power to detain individuals. The act has been used to suppress political opposition and peaceful demonstrations, as well as to retaliate against individuals engaged in personal disputes with people in positions of authority.
Journalists and nongovernmental organizations that focus on worker rights are also being targeted and intimidated by security services. Ekushey Television Journalist Nazmul Huda, was arrested on December 23 and held in police custody for two days−during which time he was allegedly tortured−on charges of inaccurate reporting on the strike.
Last week, police arrived at a community center operated by the Bangladesh Center for Workers Solidarity, an ally of the Solidarity Center, and ordered its closure.
As a result of this and the arrests of union leaders who had no role in the unrest, a chilling effect has taken hold with some other union federations closing offices even though they have not been ordered to.
International worker rights organizations, including the Solidarity Center, are monitoring the situation, and the Solidarity Center continues to track the registration of garment-sector unions in the country.
Donate now!
---
---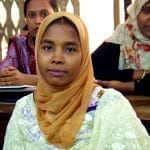 Your tax-deductible contribution to the Bangladesh Worker Rights Defense Fund will support Bangladesh garment organizers and worker-activists as they help workers who toil in unsafe factories for unfair—or unpaid—wages and who, without a union, cannot exercise their rights.
Activities your donation may support include:
• Medical care following an attack
• Safe spaces for organizers and their families who must go into hiding
• Legal assistance
• Transportation
• Awareness-raising activities regarding attacks on worker rights
• Replacement of belongings stolen during assaults
Your receipt for supporting Bangladesh organizers and activists will indicate The Solidarity Center Education Fund. The Fund is a tax-exempt charitable organization under section 501(c)(3) of the Internal Revenue Code. Your contribution is tax deductible to the extent allowed by governing laws. In addition, pursuant to the Internal Revenue Code requirement stated in Internal Revenue Service publication 1771, no goods or services were provided in return for this contribution.