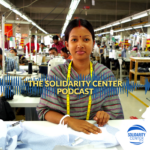 As the 16 Days of Activism Against Gender-Based Violence campaign gets underway, women trade unionists worldwide are building on their momentum to end sexual harassment and gender violence at the workplace.
In Georgia, for instance, the Georgian Trade Union Confederation (GTUC) "pays huge attention to awareness-raising activities on gender-based violence and harassment in the workplace," says Raisa Liparteliani, GTUC deputy chairperson.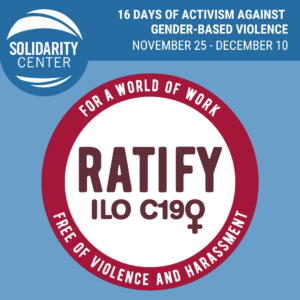 A key GTUC focus is pushing for government ratification of Convention 190, the International Labor Organization (ILO) treaty addressing GBVH. Over the past year, GTUC, a Solidarity Center partner, created an accessible brochure explaining C190 and distributed it among workers and employers. Together with the Infrastructure Construction Companies' Association, the confederation developed a GBVH train-the-trainer program for managers and human relations specialists in the industry.
GTUC's work in strengthening national anti-discrimination clauses and more clearly defining sexual harassment in the country's labor code has resulted in a big step forward for government ratification of C190, which now is in a high-level action plan.
"GTUC will continue a large-scale campaign for ratification C190, which is an efficient tool to reduce existing gender inequalities in the Georgian labor market and ensure access to equal, decent working conditions for all workers in Georgia, including those working informally," says Liparteliani.
The annual 16 Days campaign, launched in 1991 by the Center for Women's Global Leadership (CWGL), is now an internationally recognized time to highlight gender-based violence and starts November 25. It culminates on December 10, International Human Rights Day. (Check out the organization's Action Menu for 16 Days campaign.)
Union Activist Mobilize Around C190
Since ILO adoption of C190 in 2019, union leaders have conducted extensive education and awareness training among members, a process that has mobilized members to confront GBVH at their workplaces through collective bargaining and champion ratification of C190. The convention must be ratified by individual governments to be in force in each country. So far, 22 countries have ratified it, including Albania, Argentina, Nigeria and South Africa.
The ILO, which includes representatives of workers, governments and employers, adopted C190 after women trade unionists and feminist activists worked for more than a decade for its passage in a campaign led by the International Trade Union Confederation (ITUC), the Solidarity Center and other labor allies.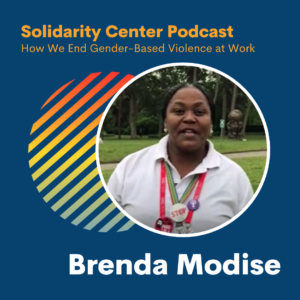 "With this convention, we're trying to address violence that is geared toward workers," says Brenda Modise. "It doesn't matter whether you are a man, a woman, old, young, LGBTQ community or anyone, but we are addressing violence and harassment in the world of work against all workers." Modise, a social justice officer with the domestic workers union, Federation of Unions of South Africa (FEDUSA), spoke with Solidarity Center Executive Director Shawna Bader-Blau on the latest Solidarity Center Podcast. The episode also features authors of a new book, "Stopping Gender-Based Violence and Harassment at Work: The Campaign for an ILO Convention."
On the Solidarity Center Podcast, co-authors Jane Pillinger and Robin Runge share how union women who work at factories, on farms, in restaurants, taxis and offices successfully campaigned for C190 and describe the powerful movement they created with human rights organizations, feminist organizations, disability rights organizations and others around the world. The episode includes a clip from an earlier interview with Modise, who describes her experiences on the front lines of the campaign.
Workers in Informal Economy Most Vulnerable
While comprehensive analyses on the prevalence of gender-based violence and harassment are needed, individual studies consistently show a high rate of GBVH at work. In a recent survey in Ghana, seven out of 10 Ghanaians say they have experienced at least one form of violence or harassment at the workplace.
The survey, commissioned by the country's Ministry of Employment and Labor Relations, found the majority of violence and harassment at work occurs in the informal sector, where women workers are especially vulnerable, working in homes as domestic workers, in markets as vendors and in agriculture.
Recent union campaigns by Solidarity Center partners among agricultural workers in Jordan, Morocco and Tunisia are seeking to end the rampant sexual harassment and violence women experience in crowded and unsafe trucks and other forms of transport they must take to reach the fields.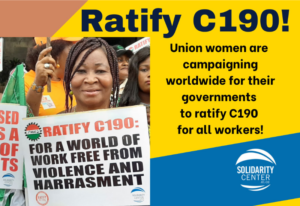 During the COVID-19 pandemic, women, particularly those in the informal economy, were especially vulnerable to GBVH at the workplace. At the recent ITUC Congress, the Solidarity Center convened a panel of union activists who discussed how the pandemic affected women in the world of work and discussed strategies to increase social protections and expand them to workers who have not previously been covered, especially marginalized groups.
Speaking on the panel, Liparteliani said that in 2022, the GTUC "developed research with the support of Solidarity Center on impact of the pandemic on women in three sectors: textile, service and health care," recommending social protection with a special focus on gender-based violence and harassment.
Caroline Khamati Mugalla, executive director of the East African Trade Union Confederation (EATUC) and Rosana Fernandes, leader of the Chemical Workers Union of São Paulo, Brazil also spoke on the panel, A New Social Contract for an Inclusive, Equitable Recovery.