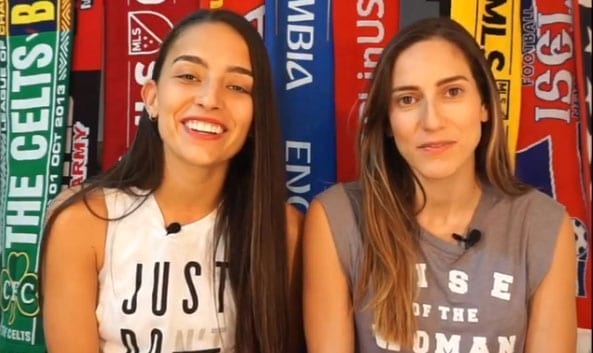 Vanessa Cordoba, a goalkeeper on Colombia's women's national soccer team, is familiar with tough challenges. But when she debated whether to join some of her teammates' high-profile campaign to end gender discrimination in the women's soccer league, she had to confront a barrier many women in her position face: fear of losing her job.
"There is a point in life where you choose," she said in a recent interview at the Solidarity Center. "And I decided I'm going to do it."
Cordoba and other women soccer players are now pursuing an industry-wide collective bargaining agreement that includes the men's teams.
"That's the only way we can change things in soccer, says Cordoba. "We have more power if we bargain for the entire sector."
Training Equipment: Two Medicine Balls and Beat-up Boxes
Colombia's professional female soccer team, launched in 1998, played in the 2011 and 2015 World Cup as well as at the Olympic Games in the same years. The professional women's league was created in 2017, and in the following year, Colombia's Atlético Huila won the Copa Libertadores, South America's most important club-level tournament.
Yet women players are paid less than the men and only get three-month contracts, while men play on multiyear contracts. The men train in state-of-the-art gyms; women players' equipment consists of two medicine balls and beat-up boxes to practice jumping. The Colombia Football Federation (FCF) even eliminated their $20 a day training stipend. A video on social media in December shows the Atlético Huila women's soccer players forced to sleep on the airport floor following their championship win.
Their marginalization was compounded, says Cordoba, when Adidas used star player James Rodríguez to represent the men's team for unveiling new jerseys, but recruited a former Miss Universe, Paulina Vega Dieppa, to promote the women's jerseys. Cordoba expressed her displeasure about the move on social media.
"I understand that for publicity's sake, they preferred to give the jersey to Paulina Vega, but in terms of respect and merit, THE PLAYERS count as well," she Tweeted, a message the media quickly twisted into a Soccer Player v. Miss Universe narrative. Reflecting on her comments today she says, "If we are talking about marketing, development of the women's league is a big part of the overall goal."
In retaliation for some women speaking up about their treatment, the FCF cancelled the women's soccer season in 2018.
'We're Not Afraid Anymore. We're Here to Speak Up'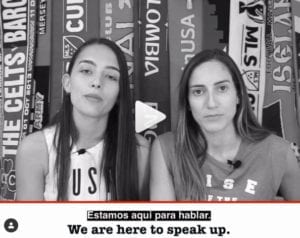 The longstanding gender discrimination against women players burst into the public in February, when former professional soccer players and Colombia national team players Isabella Echeverri and Melissa Ortiz released a video to highlight the disparities with their male counterparts, stating, "We're not afraid anymore. We're here to speak up."
The video went viral, setting off a national dialogue at a time when the top-ranked U.S. women's soccer team filed a lawsuit against U.S. Soccer alleging discrimination, and Latin America's #NiUnaMenos (Not One More) movement campaigned for an end to sexual harassment and gender-based violence.
A handful of women soccer players gathered for a press conference in March to publicly back up Ortiz and Echeverri. Cordoba was among them.
"I figured my career would end after the press conference," she said.
The women players were attacked by employers and a member of Congress, but their bold move also encouraged women and men players in some of Colombia's many soccer leagues to speak up about sexual harassment they experienced, and at least one coach has been fired as a result.
"These things have been going on for a while, but what we did opened the door for a lot of things to come out into the public eye," says Cordoba.
And while the FCF said it would rather shut down women's soccer than act against coaches and staff allegedly implicated in the scandals, the women players, supported by the men's teams and backed by the public and high-level government officials, succeeded in pressuring the FCF to resume the games this past summer. Cordoba and all the women who stood with her at the press conference were among the players.
One Union, One Contract
Members of the all-male FCF Executive Committee refused for months to meet with the women represented by the National Association of Professional Soccer Players union, ACOLFUTPRO, about their demands for equal treatment, but have since come to the table. The Solidarity Center is supporting the women players in their efforts and is assisting ACOLFUTPRO in preparing a proposal for negotiations with the Colombian Soccer Federation, and another to establish a sectorwide bargaining policy with the labor ministry.
Additionally, the Solidarity Center helped the union engage the national Ombudsman's Office, which filed a constitutional complaint for gender discrimination against the employers of the individual soccer clubs and the federation. The Solidarity Center documented players' testimonies and contributed legal arguments that form the basis of the complaint. In August 2019, Colombia's Constitutional Court ruled in favor of the women players, ordering both the employers and ACOLFUTPRO to present plans for gender equality.
Cordoba, who graduated from Ohio University with a degree in communications, also works at Caracol, one of Bogatá's top radio stations. Her father, Oscar Cordoba, a former star soccer player, at first sought to protect her from the controversy, but ultimately supports her efforts.
"I'm very passionate about gender equality," she says. "Women's soccer was able to open the door to change soccer in Colombia."