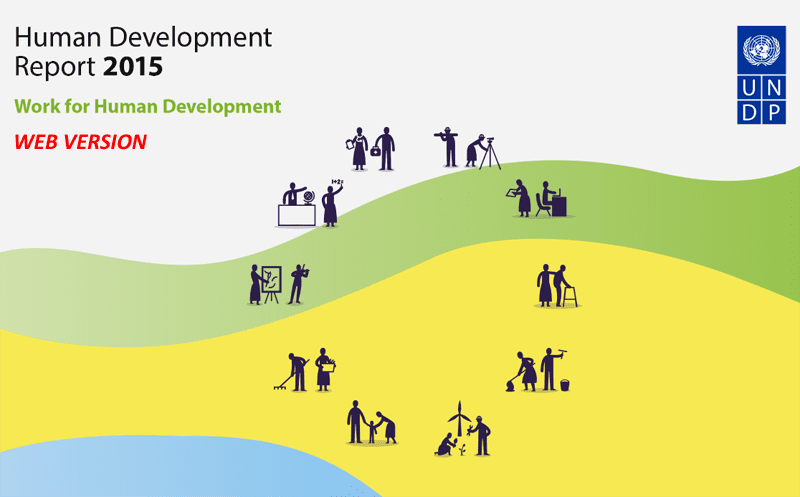 Equitable and decent work for all and strategies such as promoting collective action, trade unionism and other worker rights are essential to achieve worker well-being, according to a report by the United Nations Development Program (UNDP) released today.
"People are the real wealth of nations, and human development focuses on enlarging people's choices," according to the 2015: Work for Human Development report, which notes that rapid technological progress, deepening globalization, aging societies and environmental challenges are rapidly transforming what work means today and how it is performed.
On the positive side, the report finds that between 1990 and 2015, the number of  people in extreme poverty worldwide fell from 1.9 billion to 836 million and significant strides were made in reducing child mortality and improving access to drinking water and sanitation, even as the world's population rose from 5.3 billion to 7.3 billion.
Yet in 2012, some 21 million people worldwide were in forced labor, trafficked for labor and sexual exploitation or held in slavery-like conditions, the majority of whom are women and girls, according to the report. Forced labor is thought to generate around $150 billion a year in illegal profits.
Further, key findings also include:
Some 80 percent of the world's people have only 6 percent of the world's wealth. The share of the richest 1 percent is likely to be more than 50 percent by 2016.
Wages lag behind productivity, and workers' shares in income have been falling.
Women are disadvantaged in both paid and unpaid work.
Income Inequality, Gender Inequality 'Not Sustainable'
"Inequality is the developmental, political and social challenge of our time. Inequality is an issue of democracy," said Selim Jahan, director of the UNDP's Human Development Report Office. "When 1 percent of the people own 48 percent of the world's wealth, that's not sustainable, Jahan said, speaking earlier this year at a Labor and Employment Relations Association meeting in Washington, D.C.
Given that millions of workers support their families by cleaning homes, selling goods in outdoor markets and hire on as day laborers, Jahan also asked whether "we need a new social contract, one that includes informal-sector workers."
The report's findings on women are especially scathing. Although women account for the majority of global work—contributing 52 percent compared with 48 percent for men—women earned 24 percent less than men, the report finds. Further, women carry out three of every four hours of unpaid work. In contrast, men account for two of every three hours of paid work.
"Women's employment is not an abstract question," said Jahan. "It has implications for the community."
Enlarging child care options, enhancing maternal and paternal leave policies and legislative action to reduce inequalities between women and men in the workplace are some of the report's recommendations for balancing care and paid work, making work sustainable and addressing youth unemployment.
The report, accessible in multiple languages, also for the first time is available in an interactive online version.