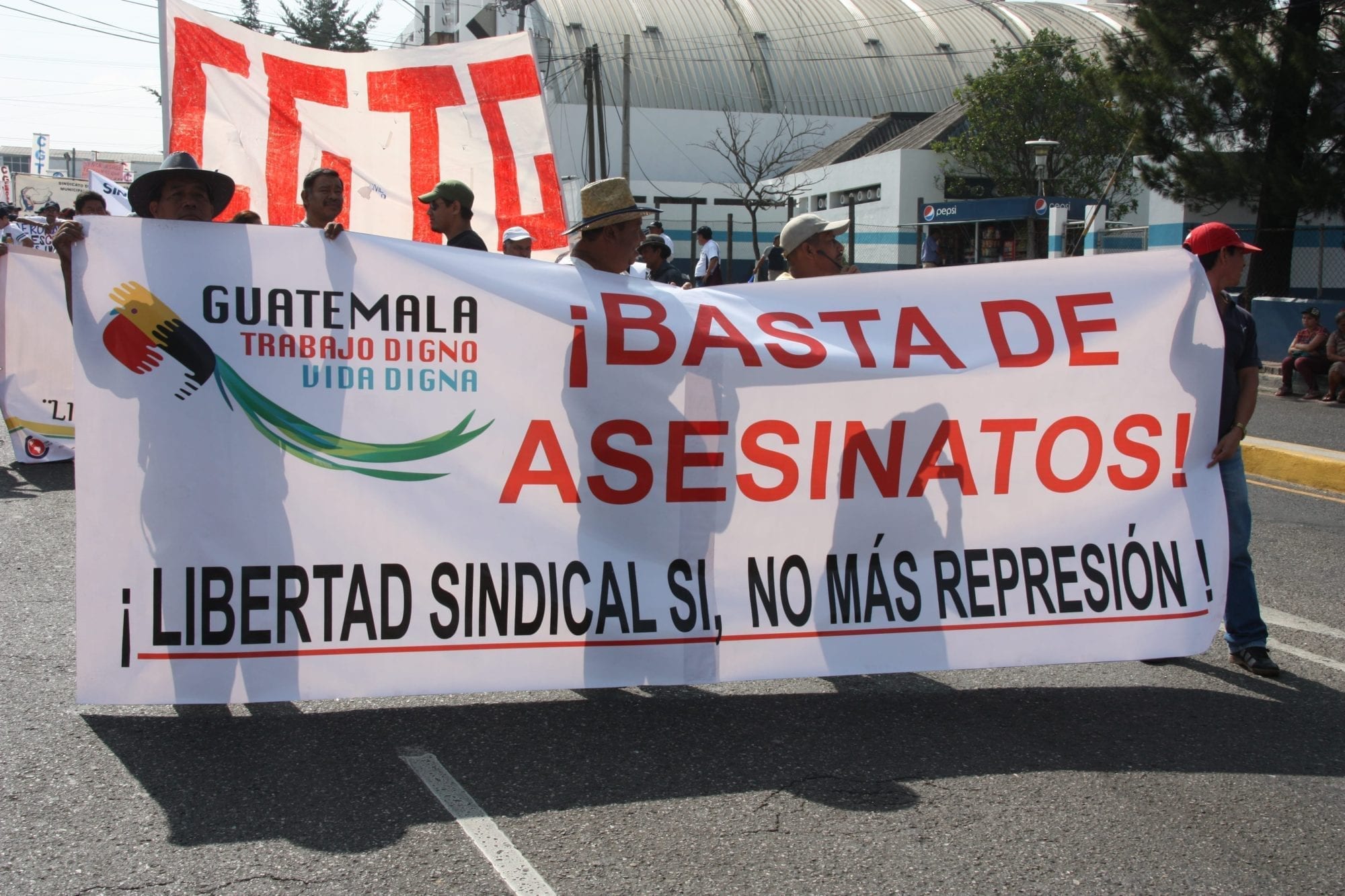 Mynor Rolando Ramos Castillo, a municipal worker in Jalapa, a city in southeast Guatemala, was shot and killed in front of his home over the weekend. His family detained the killer and turned him into the police. The killer confessed to accepting the hit for 1,500 quetzales (roughly $195).
Ramos Castillo was a union activist with the Sindicato de Trabajadores de la Municipalidad de Jalapa (SITRAMJ), the city workers' union, and was among 183 workers disputing illegal termination who had won a labor court's order of reinstatement. Ramos Castillo had been laid off, reinstated to his job and laid off again within the past two years, and was waiting for the city's mayor to comply with the order to reinstate the workers and pay them back wages. Union leaders say Ramos Castillo and other laid-off city workers were targeted and harassed by city officials because they were active union members. He is the sixth member of his union to be assassinated.
70 Union Members Killed Since 2007
Ramos Castillo is the first union activist murdered this year in Guatemala, where some 70 worker activists have been killed since 2007. Last year, transport union leader Luis Arnoldo Lόpez Esteban was murdered in Jutiapa in May. Marlon Dagoberto Vásqez Lόpez, 19, a member of the young trade unionists' network and the construction workers' union, a Solidarity Center ally, was murdered in January 2014.
This year, Guatemalans waged months of public demonstrations, turning out in nearly unprecedented numbers to demand transparency, democracy, accountability and access to justice. As a result, in September, President Otto Perez Molina was forced to step down and arrested, and more than 15 high-ranking government officials have been implicated in a widening corruption scandal. At local government levels, municipal workers say pervasive corruption results in routine wage theft, harassment of workers organizing to improve their workplaces and illegal terminations and reprisals.
Despite ongoing violence against union members—murder, torture, kidnappings, break-ins and death threats—few perpetrators are brought to justice. In an unprecedented move, the U.S. government last year agreed to take Guatemala to international arbitration for violating worker rights under the U.S.-Central American Free Trade Agreement (CAFTA).
The action was the first time that a country has sought international arbitration against another for a violation of labor standards and followed Guatemala's failure to implement an 18-point enforcement plan to address worker rights violations. The case first arose in 2008, when six Guatemalan unions and the AFL-CIO filed a complaint with the U.S. Office of Trade.
Guatemala, Honduras Not Complying with Trade Provisions
Similarly in Honduras, where this year one union leader was murdered, another forcibly disappeared and presumed dead, and several others threatened and harassed, union activists say their government is not complying with CAFTA provisions. In March 2012, the AFL-CIO and 26 Honduran unions and civil society organizations filed a complaint under CAFTA's labor chapter, which the U.S. Department of Labor's Office of Trade and Labor Affairs accepted in 2014. In a February 2015 report, the U.S. Trade and Labor Affairs office said Honduras has made virtually no progress since then.
In denouncing Ramos Castillo's murder, the Confederaciόn de Unidad Sindical de Guatemala (CUSG) said it would submit the case to the International Labor Organization (ILO)'s Administrative Tribunal. The tribunal is meeting in November to discuss charges that Guatemala is not complying with ILO standards the country ratified, including Convention 87, the Freedom of Association and Protection of the Right to Organize.
The CUSG also echoed the International Trade Union Confederation call for creation of an ILO Commission of Inquiry to "help to open up needed space for debate and consultation" because "the government has no effective preventative mechanisms in place to protect workers from acts of violence or to credibly and effectively investigate and prosecute those responsible." The ILO sets up an Inquiry Commission when a member state is accused of committing persistent and serious violations and repeatedly has refused to address them.