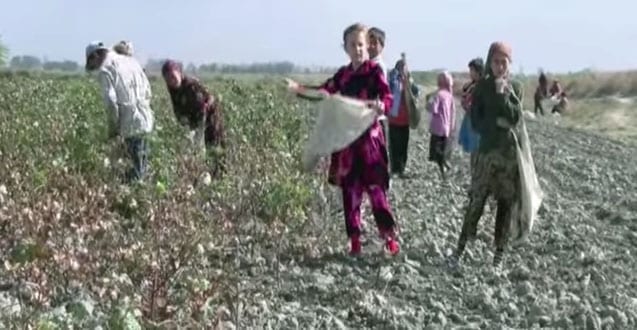 The U.S. State Department boosted the ranking of Uzbekistan in its Trafficking in Persons report, while keeping Turkmenistan at a higher ranking than human rights activists believe is warranted.
Earlier this year, the Solidarity Center was among 30 global unions, business associations and nonprofit networks urging the U.S. State Department to ensure its Trafficking in Persons report accurately reflect the serious, ongoing and government-sponsored forced labor in Turkmenistan and Uzbekistan.
Uzbekistan is now on the "Tier 2 Watchlist," which means the State Department claims its government does not fully comply with the U.S. Trafficking Victims and Protection Act (TVPA) standards but is making significant efforts to become compliant. In its 2014 report, the State Department ranked Uzbekistan as "Tier 3," a designation that means it does not fully comply with the minimum TVPA standards. Turkmenistan remains on the Tier 2 Watch List.
Noting that in 2014, Uzbekistan "forced more than a million citizens to harvest cotton and farmers to grow cotton, all under threat of penalty," the nonprofit Cotton Campaign said in a statement that "the Uzbek government continues to operate one of the largest state-orchestrated systems of forced labor in the world."
"Further, authorities suppress any attempts by citizens to report on these abuses and continue to publicly deny the use of forced labor."
Last month, an Uzbek human rights monitor says she was arrested and assaulted as she sought to document the Uzbek government's forced mobilization of teachers and doctors to clear weeds from cotton fields outside Tashkent, the capital.
In Turkmenistan, tens of thousands of teachers, doctors and other public employees were forced, under the threat of dismissal, to spend four months in the cotton fields, according to a 2014 report by Alternative Turkmenistan News. "The working and living conditions of the forced laborers were abysmal, with people often having to sleep in the open air, drink ditch water and bathe in irrigation channels."
"The Turkmen government has maintained a dark cloud of secrecy over its human rights abuses for far too long," says Ruslan Myatiev, editor at Alternative Turkmenistan News. "Turkmenistan may be a small country, but it is the world's seventh-largest cotton exporter and manufactures garments in-country for major Western brands."