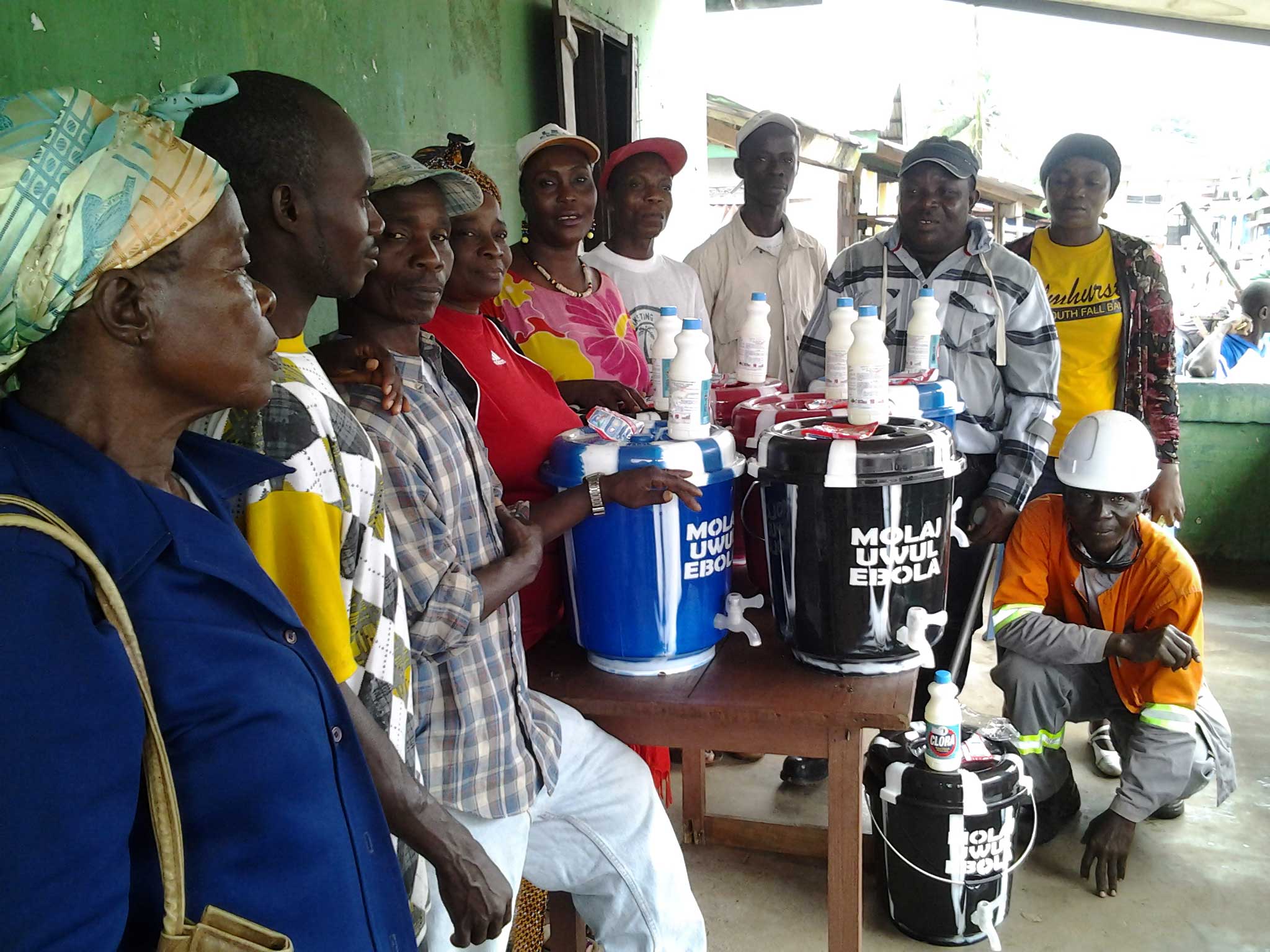 Union members across Liberia have taken the lead in Ebola education and prevention among workers and their families, holding awareness trainings for thousands of workers and supplying them with hand-washing buckets and sanitation cleansers donated in part through the Solidarity Center West Africa Ebola Fund.
At the Firestone Natural Rubber Plantation in Margibi County, where more than 11,000 full-time and precarious workers labor, and where 75,000 people live in 125 Firestone camps and in nearby communities, the Firestone Agricultural Workers Union (FAWUL) leaders and shop-stewards have so far reached 1,337 people in eight camps with protective equipment and information. FAWUL is a longtime Solidarity Center ally.
Working with the Movement for Labor Rights & Justice (MOLAJ), a nongovernmental organization, FAWUL has distributed 191 chlorine-filled hand-washing buckets. FAWUL members living in the area are closely monitoring use of the buckets, are teaching community members how to mix the water and chlorine, and encouraging them to replenish the chlorine when it runs out. The buckets are placed where people frequently gather, such as at community water pumps, and distributed to households with more than eight occupants.
Among workers at ArcelorMittal Liberia (AML), the United Workers' Union of Liberia (UWUL) and UWUL Local 4, together with MOLAJ, reached 750 people through labor's Ebola awareness and preventive measures campaign, providing 50 hand-washing buckets in communities in the Buchanan area, where a majority of AML workers live. UWUL, also a Solidarity Center ally, reached 21 disabled workers and 35 sight-impaired workers with awareness and prevention training, providing hand-washing buckets and $100 from the local union to replenish the chlorine.
Elsewhere, the Dockworkers Union (DOWUL) is reaching out to workers in Monrovia's port; the General Agricultural and Allied Workers' Union of Liberia (GAAWUL) has held education trainings for nearly 1,000 workers and their families living in camps at the Sime Darby Rubber and Oil Palm Plantations; and UWUL also is engaging workers at the Putu Iron Ore Mining company.
Liberia accounts for more than half of all the official Ebola deaths, nearly 2,500, and some reports indicate that figure is much higher. Women in Liberia—because of their roles as caregivers and their work in precarious informal economy jobs and as health care workers—are overwhelmingly affected: Up to 75 percent of people killed by Ebola have been women. Children orphaned by the disease often are left alone to survive in the street.