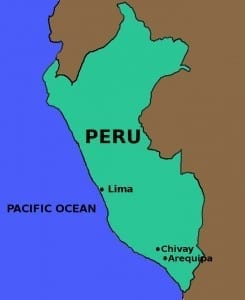 Thousands of Peruvians marched in Lima, the capital, yesterday in a strong show of support for an end to organized crime and related violence in Peru's booming construction sector.
Unions and civil society leaders called for a systemic solution to the phenomenon of false "unions" that extort construction firms and turn building sites into battlefields across Peru. Violence related to worksite conflicts has resulted in the death of six construction worker union activists over the last three years and significant economic losses that affect construction projects, workers and their families.
Leaders of the march include the General Confederation of Workers of Peru  (CGTP), the Construction Workers Federation, the Peruvian Human Rights Commission, the mayor of Lima, regional lawmakers and the Peruvian Chamber of Construction.