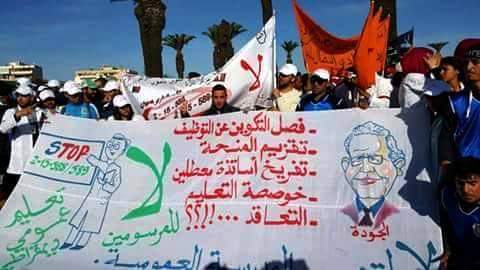 Thousands of teacher trainees, holding banners reading "Marching for dignity and justice," and chanting "We're prepared to go to prison," marched through the streets of Morocco's capital, Rabat, this week to denounce two government decrees to cut scholarships and jobs.
The protest followed a meeting between representatives of the teacher trainees and the government, which refused to annul the two decrees but agreed to recruit an additional 3,000 teacher trainers not covered by the 2016 fiscal year budget.
The workers, who have been on strike for two months, took to the streets despite government threats against unauthorized marches. At a rally earlier this month, several teacher trainees were beaten by police. Primarily in the their 20s and 30s, teacher trainees say the government's decrees will further fuel the country's already high youth unemployment rate, which, at more than 20 percent, is double the nation's overall unemployment rate.
Morocco's head of government, Abdelilah Benkirane, asserted that he will not "repeal the government decrees," regarding teacher trainees.
Earlier this month, some 4,000 workers staged a sit-in outside the parliament in Rabat to protest worker cutbacks in pensions and ongoing worker rights violations, including the attacks on the teacher trainees.