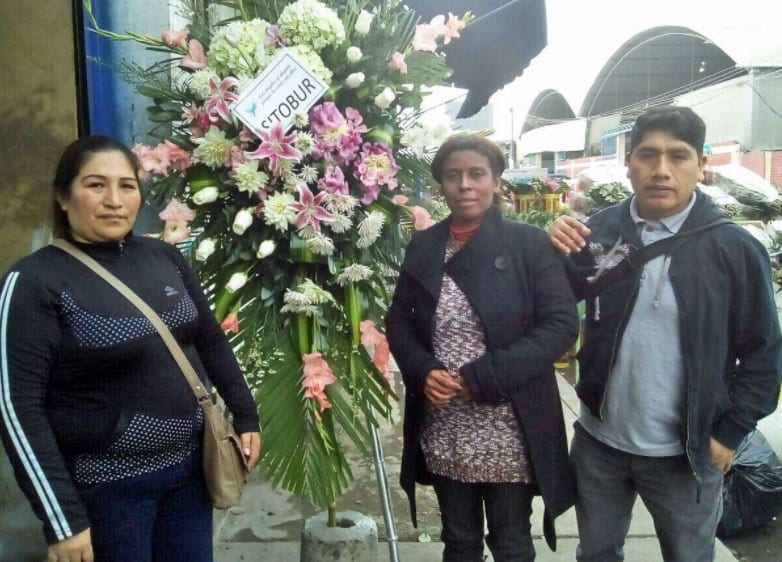 At a funeral service in Lima, Peru, dozens of street cleaners yesterday mourned the death of their colleague, Rosa Mamani Apaza, a street cleaner who was killed on the job August 29 by stray gunfire as bullets flew nearby during an apparent late morning robbery. Several other bystanders were injured.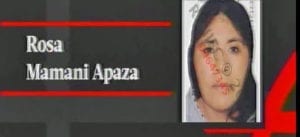 Mamani, 44, worked for more than 30 years at a company that had been contracted by the city of Lima, cleaning sidewalks and streets in the city's historic Jirón de la Union, where she was killed, one block from presidential palace.
She supported her two children, ages 12 and 17, and had migrated to Lima from Puno, a town in southeastern Peru, for better job opportunities.
Mamani "was a woman who always fought for her rights," says Raúl Oviedo, secretary general of SITOBUR, the union that represents service workers at Innova Ambiental, the company where Mamani worked. "She always looked to improve working conditions."
Oviedo discussed the importance of her work, which helped "maintain public health for the inhabitants of Lima." Yet union leaders say the company, which employs 1,200 workers, the vast majority of whom are women, has not taken steps to secure the safety of its employees, who are on temporary contracts even though the country's labor laws stipulate they should be permanent.
Even as mourners gathered at Mamani's funeral, Innova fired six cleaners. Innova is owned by Brazilian Grupo Solvi, which owns 30 cleaning companies in Brazil.
Further, the city of Lima does not have a contract with Innova, a situation that further increases the workers' precarity.
Street Workers Want Company to Address Harsh Working Conditions
Apaza Ordóñez, president of Peru's congressional Labor Commission, decried the poor working conditions of the public-sector street cleaners and demanded the company detail the security measures it provides workers.
"There are responsibilities and measures that should be taken immediately," he said in a statement.
Public-sector cleaners like Mamani are exposed to daily hazards on the job, including sexual harassment and long exposure to harsh weather, and must handle dangerous equipment, such as trash compactors. SITOBUR, which tweets about the conditions workers face, was recently blocked by the city from its Twitter feed.
In July, workers waged a brief strike, demanding the company provide safe and functional tools and protective equipment, as well as access to bathrooms for women cleaners and access to lunchrooms. Workers also say they have difficulty taking sick leave.
The Solidarity Center is conducting a research project with SITOBUR to document the most common forms of gender-based violence street cleaners face on the job. This data, along with strategies for women workers facing gender-based violence in the export-oriented agriculture and health sectors, will inform recommendations for improving national-level policies to strengthen prevention and penalties and integrate best practices in workplaces.