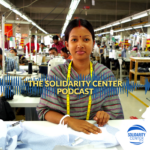 Myrtle Witbooi, a fierce advocate of domestic worker rights who recently passed away, is remembered in this Solidarity Center Podcast episode by Solidarity Center Domestic Worker Global Lead Alexis De Simone. We also hear from Myrtle herself, as she accepted the AFL-CIO's Human Rights award on behalf of the International Domestic Worker Federation, which she helped form and led. 
"Her deep conviction that when women, when the working poor, when 
women of color, when workers in the Global South, when union sisters and brothers decide to join forces, decide that they are in it together, there is no option but victory," says  says De Simone.
"That is so much of Myrtle's legacy."
Download Recent Episodes!
This episode is a re-broadcast from the podcast, Labor History Today, produced by the Metro Washington Labor Council.