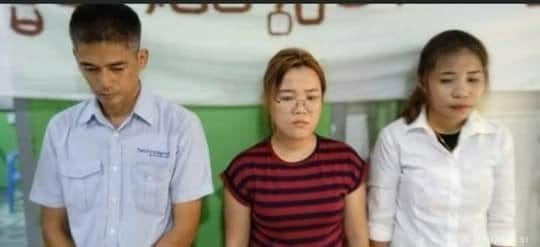 Two women unionist activists in Myanmar were assaulted and arrested late last week after the taxi they were traveling in was rammed by a military vehicle in eastern Yangon. According to eyewitnesses at the scene, six soldiers exited a military vehicle after ramming the taxi and assaulted the unionists before loading them and the taxi driver into their vehicle and driving away.
Along with 18 others, the two union activists had participated in a march to protest the ongoing assault on civic freedoms by the military junta, which seized power from the elected government in February 2021. The Confederation of Trade Unions Myanmar (CTUM), the Myanmar Labor Alliance (MLA) and the Industrial Workers Federation of Myanmar (IWFM) organized the protest. (Support Myanmar workers under attack here.)
Khaing Thinzar, CTUM communications director, and Ei Phyu Phyu Myint, a member of the Glory Fashion Factory Union, were arrested and taken to an interrogation center in Shwepyithar, according to CTUM. Under the junta, physical torture, including sexual assault, is widespread weapon against dissent.
Military authorities are pressuring landlords to evict the families of those arrested by the end of the month. CTUM is calling on international partners to protest the arrests and assist in providing them legal representation.
Thousands of people have been killed and many more imprisoned since the coup. The military has especially targeted union leaders, arresting dozens, and many have fled the country or are in hiding. The military has pledged to "annihilate" those who oppose the regime.
Workers–women in particular–took an early lead in the protests, with the country's 450,000 garment workers especially active in organizing civil disobedience actions and shutting down factories. They have asked multinational fashion brands to cease doing business in Myanmar until democracy is restored.
Since the coup, workers have risked their lives and livelihoods to stand up for a return to democratic governance.
"We are facing a bloody crackdown, but all people protect each other," says CTUM Assistant General Secretary Phyo Sandar Soe.
"We are finding solutions to fight back."
(Listen as Phyo Sandar Soe, speaking on The Solidarity Center Podcast from a safe house, describes what's it like for workers and their unions on the front-lines of the fight for democracy.)