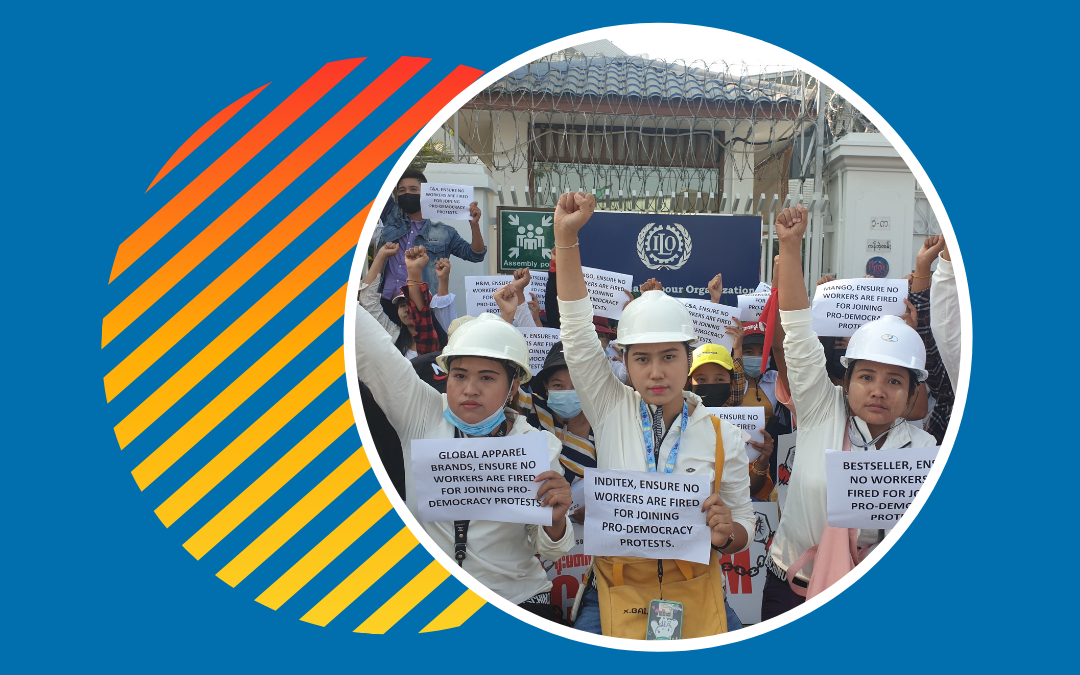 After the military overthrew Myanmar's democratically elected government in February, the country's garment workers, most of them young women, were the first to stand up to defend their right to a free and peaceful society. Since then, workers have led peaceful protests for a return to democracy—often met with violent repression, evictions, arrest warrants and prison.
Nearly 1,000 people have been killed and at least 5,000 arrested, most tortured in prison, forcing many workers and union leaders to flee. Because of their important role in standing for democracy, the government banned unions.
In a special Solidarity Center summer podcast episode, host Shawna Bader-Blau, Solidarity Center executive director, talks with Phyo Sandar Soe, assistant general secretary of the Confederation of Trade Unions-Myanmar.
Speaking from a safe house, Sandar, a former garment worker, tells Bader-Blau that as multinationals begin to reopen in Myanmar, workers have no rights on the job without unions—including to be paid. The international community can truly help workers fighting for their rights by staying out of the country, she says. (Listen to the full interview.)
"If you invest in Myanmar, your investment money will go to the military regime," Sandar says. "And then the military regime, with your money, they will keep controlling the country and they will buy guns and weapons, and then they will kill us."
Like many union leaders, Sandar has her passport revoked to prevent them from leaving the country while they are being hunted by the regime. Despite the repression and personal danger, Sandar says when workers join together, they are strong.
"We are facing a bloody crackdown, but all people protect each other. We are finding solutions to fight back. That's why I want to tell our brothers and sisters to endure this duration because we have very high motivation to fight back against the junta."
Support Workers in Myanmar!
• Donate to a fund set up by the U.S.-based Asian Pacific American Labor Alliance. Your donation will go to those who have lost jobs and are struggling to survive because they stood up for a peaceful return to democracy. The link is available in the podcast notes for this episode.
• The International Trade Union Confederation is sponsoring a strike fund for workers in Myanmar.
Download Season One Episodes
The Solidarity Center Podcast, "Billions of Us, One Just Future," highlights conversations with workers (and other smart people) worldwide shaping the workplace for the better.
Check out the full first season of The Solidarity Center Podcast and stay tuned for season two this fall!
This podcast was made possible by the Ford Foundation and the generous support of the American people through the U.S. Agency for International Development (USAID) under Cooperative Agreement No.AID-OAA-L-16-00001 and the opinions expressed herein are those of the participant(s) and do not necessarily reflect the views of USAID/USG.