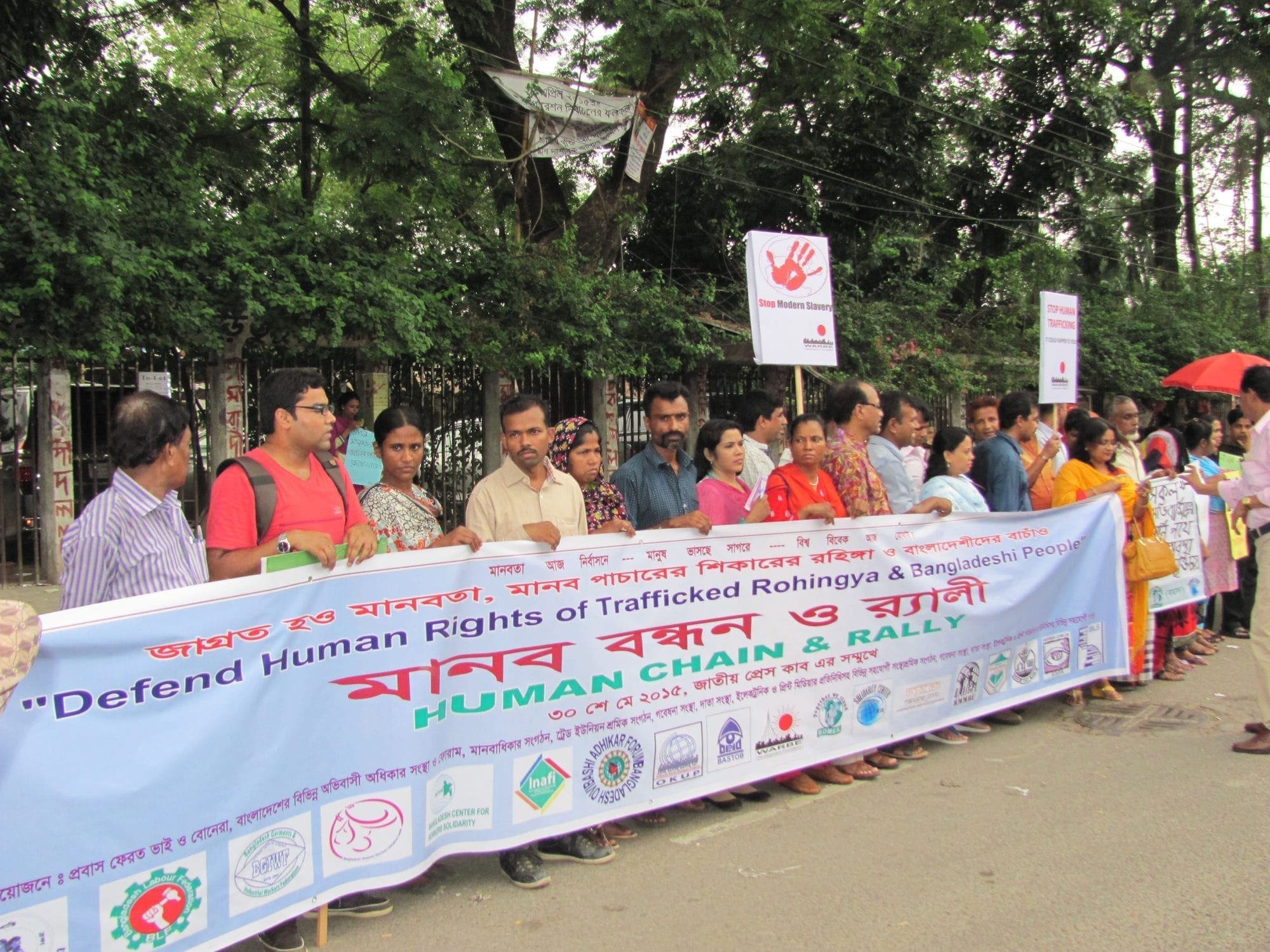 Selina Begum, 60, traveled from Bangladesh's northeast Narshindi district to Dhaka, the capital, for one reason, she says: "I want to know the whereabouts of my son."
Selina's son, Taizul Islam Rakib, 22, is among the thousands of workers and their families who have migrated overseas to find jobs. Selina says she glimpsed her son in a television news story on the plight of migrants abandoned on boats, but has not heard from him.
Over the weekend, Selina joined dozens of those with missing loved ones in a human chain in downtown Dhaka, where they carried signs, "Punish the trafficking traders," and held a press conference demanding the government take action. They were joined by repatriated victims of human trafficking like Abdur Rahman, 40, who was rescued from Malaysia and returned to Bangladesh.
"I did not get anything to eat for 22 days and just survived by eating tree leaves," Abdur said, describing his journey to Malaysia." "I never thought I would survive."
Fulmoti, 35, has been waiting for a phone call from her husband Faruk Hossain, 40, who set out for Malaysia by sea on April 14. "My morning starts with the hope that my husband would phone me, but every night I go to bed feeling hopeless," says Fulmoti, a mother of two.
The event was organized by 19 labor and human rights organizations, including the Solidarity Center and its allies, the Bangladesh Center for Workers Solidarity (BCWS), the Bangladesh Garment and Industrial Workers Federation (BGIWF) and the Bangladesh Independent Garment Workers Union Federation (BIGUF). The coalition issued a joint statement urging governments in origin and destination countries to take immediate action to repatriate migrants and punish traffickers.
Speaking at the event, Syed Saiful Haque, chairman of WARBE Development Foundation, a Bangladesh emigrant rights group, said that the immediate repatriation of trafficking victims should be governments' first priority. In addition, said Syed Sultan Uddin Ahmmed, assistant executive director of the Bangladesh Institute of Labor Studies, the government must take action against the leaders of trafficking chains.
The event stems from a decision by members of WARBE, the Bangladeshi Ovhibashi Mohila Sramik Association (BOMSA) and Solidarity Center to work together in raising the issue of  trafficked migrants. The group is asking the Bangladesh government to take steps to repatriate trafficking victims and rehabilitate them; demanding prosecution of traffickers; and urging the government to work with other concerned governments to prevent stop criminal trafficking.