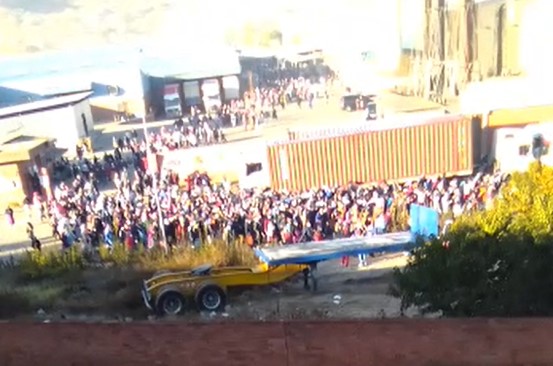 In a demonstration of Lesotho's widely reported troubled human rights record, peacefully protesting garment workers rallying since Friday for two promised, but indefinitely delayed, minimum wage increases were met on Monday in the capital, Maseru, and surrounding areas with police violence and intimidation.
"Eight workers today were hospitalized after being shot at with rubber bullets and—in one instance—live rounds," reported National Clothing Textile and Allied Workers Union (NACTWU) General Secretary Sam Mokhele to the Solidarity Center.
Unions say the government deployed special forces, with police shooting 12 people—including two children, ages 7 and 9—in Maputsoe and Maseru, and beating and arresting others.
"Our garment worker members, with whom we are already addressing rampant gender-based violence in their factories, want the world to know that their peaceful rallies in support of scheduled wage increases were met with outsize police violence," says Independent Democratic Union of Lesotho (IDUL) Deputy General Secretary May Rathakan.
Lesotho's unions, including garment workers, are imploring the government to make good on two missed incremental minimum wage increases—for 2020/2021 and 2021/2022—that were due to be implemented by government gazette publication on April 1 but have been delayed indefinitely.
"These acts had exposed the workers to absolute poverty because their current salaries cannot address their needs," says United Textile Employees (UNITE) General Secretary Solong Senohe in a media statement.
Six private-sector Lesotho unions warned almost two weeks ago of a possible work stoppage starting last Friday should promised minimum wage increases continue to be delayed. In addition to IDUL, NACTWU and UNITE, the Construction, Mining and Quarry Trade Union (CMQ), Lentsoe La Sechaba Trade Union (LESWA) and the Lesotho Workers Association (LEWA) also protested.
Lesotho has a long history of human rights violations against political and labor activists, including police violence against peacefully striking factory workers rallying for fair wages last year. The 45th annual United States Department of State, Bureau of Democracy, Human Rights and Labor Human Rights report on Lesotho found that members of the Lesotho Mounted Police Service and Lesotho Defense Force last year committed numerous human rights abuses, including "unlawful or arbitrary killings; torture and cases of cruel, inhuman, or degrading treatment or punishment; harsh and life-threatening prison conditions [and] arbitrary arrest or detention."
Solidarity Center Africa Regional Program Director Christopher Johnson says: "State violence in response to garment workers' legitimate and peaceful demands for a livable minimum wage flies in the face of human rights norms."
The right to strike has been enshrined in the constitutions of at least 90 countries and "has in effect become customary international law," said UN rights expert and former UN Special Rapporteur on the rights to freedom of peaceful assembly and of association Maina Kiai in 2017, citing global and regional instruments that include ILO Convention No. 87 (Articles 3, 8 and 10), the International Covenant on Economic, Social and Cultural Rights (Article 8), the International Covenant on Civil and Political Rights (Article 22), the European Convention on Human Rights (Article 11), and the American Convention on Human Rights (Article 16).