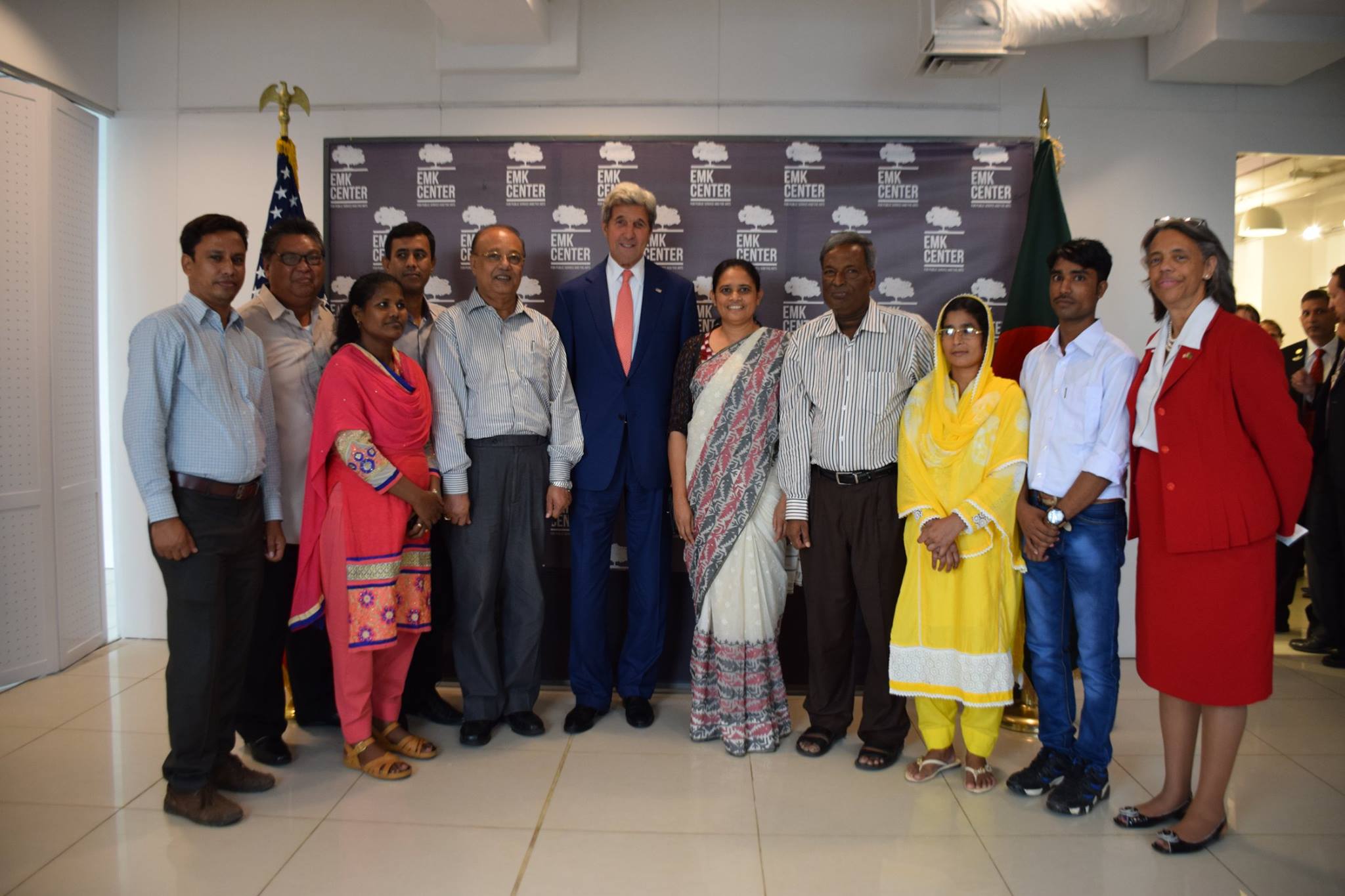 U.S. Secretary of State John Kerry met with leaders of Bangladesh garment unions recently in Dhaka, where he emphasized workers' ability to freely form unions as key to workplace safety.
"Enhancing worker safety has to be paired with strengthening workers' rights," he told a group of 60 garment workers and allies.
"The fact is garment factories across Bangladesh actually could benefit enormously from empowering laborers, allowing them to form labor unions, affording them full collective bargaining rights, because no one should ever be compelled to work in hazardous or exploitative conditions. It's really that simple."
Worker Prosperity Possible with Worker Rights
At the event, which took place at the Edward M. Kennedy center in Dhaka, the capital, Kerry drew parallels between the efforts of Bangladesh garment union leaders to empower workers and Sen. Edward Kennedy's strong support for working men and women.
"Bangladesh cannot truly meet the aspirations of its people and share prosperity if its workers are not safe and their rights are not ensured.
Kerry noted how "the $28 billion garment industry has played a uniquely important role" in the rise of Bangladesh's economy. But he cautioned, "Growth on its own—growth just for its own sake—is not our only goal. You can grow and grow and grow and grow, but you can be growing with the wrong values, you can be growing with the wrong outcomes, you can be growing with people not gaining in their rights or in their income or in their ability to get an education."
Kerry met with six garment worker union federation leaders: Babul Akter from the Bangladesh Garment and Industrial Workers Federation (BGIWF); Amirul Amin from the National Garment Workers Federation (NGWF); Nazma Akter, Sommilito Garments Sramik Federation (SGSF); Sritee Akter, Garment Workers Solidarity Federation (GWSF); Roy Ramesh, United Federation of Garment Workers (UFGW); and Raju from the Bangladesh Independent Garment Union Federation (BIGUF). Two factory union leaders affiliated with BGIWF, Munna and Rina, also attended.