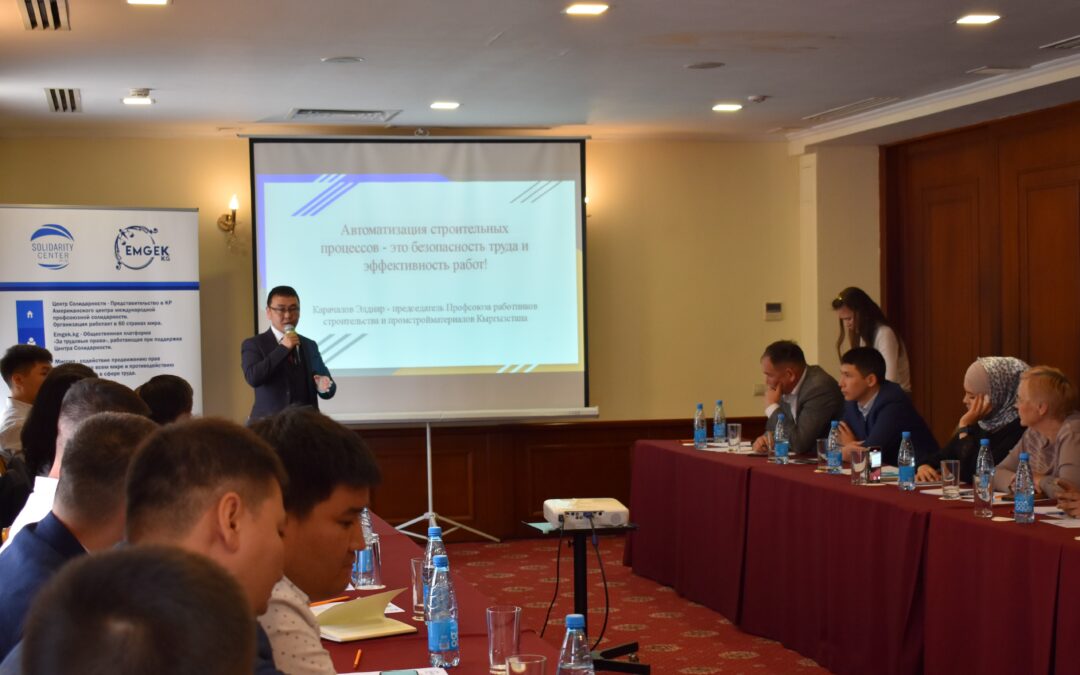 To raise awareness of the Kyrgyzstan's responsibility to improve workplace safety and strengthen workplace inspections,  the Solidarity Center last year launched a program to increase the visibility of the country's Labor Inspectorate among workers and employers through education seminars and other consultative fora.  
Significant progress has been made. Kyrgyzstan's Labor Inspectorate is reporting that in 2022, as compared to the year prior:
The number of identified violations increased from 18 to 1,402
The value of fines imposed on employers increased from $598 to $13,126
The amount of compensation paid to workers killed or injured in workplace accidents increased from $176,723 to $380,501
The value of wages collected by sickened or injured workers increased from $4,023 to $103,039
The number of employers trained on Kyrgyzstan's safety standards increased from none to 74.
The right to a safe and healthy work environment place is a fundamental right of every worker. Developing partnership between Kyrgyzstan's unions, government and employers is yielding results by better capturing and addressing safety violations, and ensuring compensation and wages to those who are sickened or injured on the job.
"The tripartite platform proved to be an exceedingly effective tool in ensuring that the voices of workers were heard by both employers and the government," says Trade Union of Construction and Building Materials Workers Republican Committee Chair Eldiyar Karachalov.
To mark April 28, World Day for Safety and Health at Work, and in collaboration with unions, the Labor Inspectorate conducted a high-profile campaign to educate the public about issues surrounding safety at work and publicize the Labor Inspectorate's new website and online form for reporting worker rights violations. Unions, with Solidarity Center support, contributed success stories, including on video for state television and social network distribution.  
"[The Labor Inspectorate] helped me get the pay I was owed," reports primary school teacher N.A. Usubalieva.   
At its 110th Session in June 2022, the International Labor Conference decided to amend paragraph two of the ILO Declaration on Fundamental Principles and Rights at Work  (1998) to include "a safe and healthy working environment" as a fundamental principle and right at work, and to make consequential amendments to the ILO Declaration on Social Justice for a Fair Globalization  (2008) and the Global Jobs Pact  (2009).