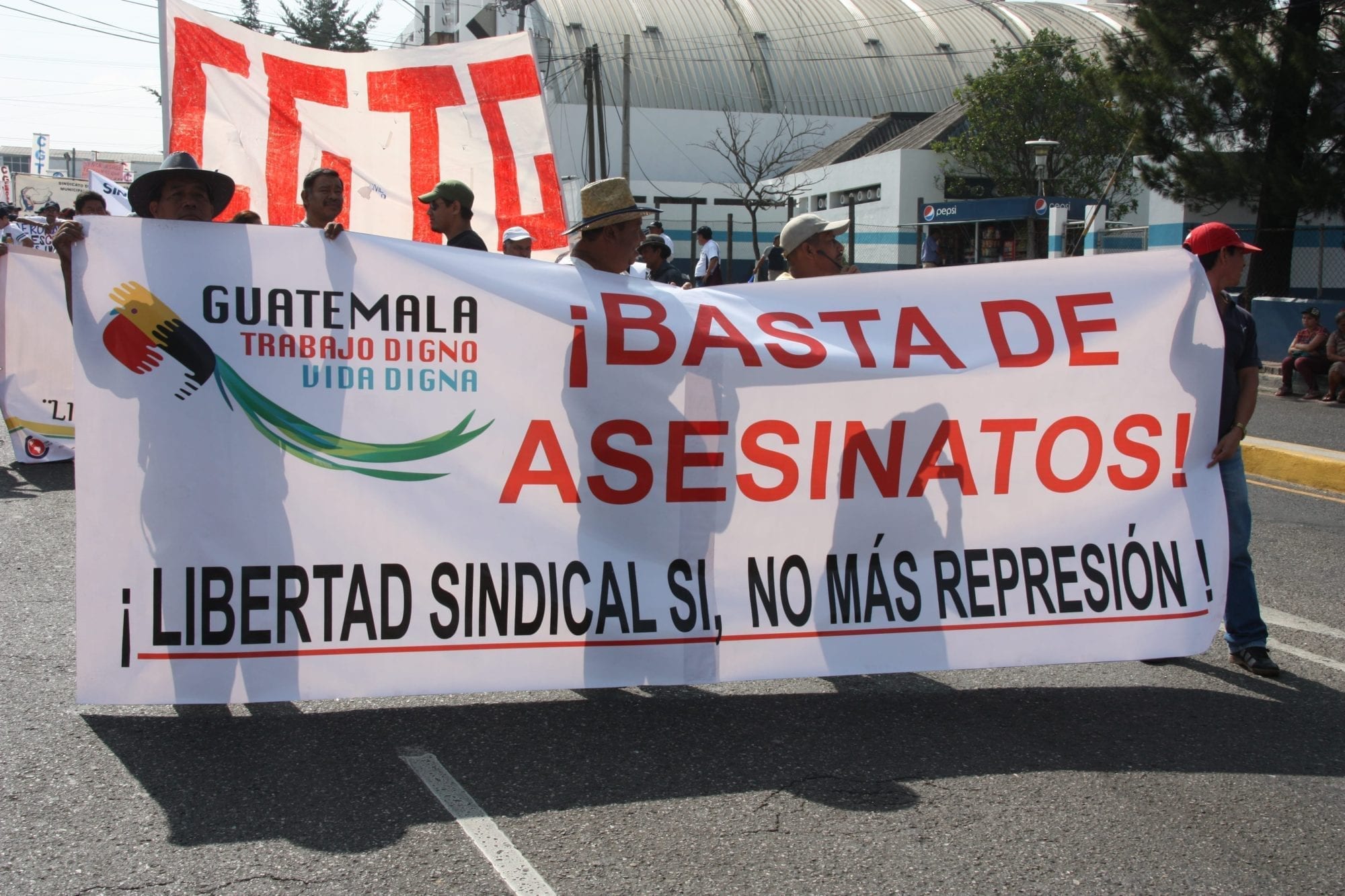 Guatemala is still one of the most dangerous places in the world for worker rights activists, with 14 incidents of anti-union violence documented and verified in 2015, according to a report issued today by the Worker Rights Defenders Network of Guatemala.
The incidents—including the October 2015 murder of Mynor Rolando Ramos Castillo, a municipal worker in southeastern Guatemala, and the sixth member of his union to be assassinated—were tracked by the Protection Unit of Human Rights Defenders-Guatemala (UDEFEGUA) and the Worker Rights Defenders Network in their "Annual Report on Anti-Union Violence." The group also documented the arbitrary and illegal detention of a trade unionist, anonymous death threats received by activists, and illegal firings and intimidation, including surveillance of the home of one trade unionist. Half of the cases involved public-sector workers.
Between 2004 and 2013, 70 trade unionists were assassinated in Guatemala, most with impunity. Only 18 cases from that period were investigated and successfully brought to trial. In November 2015, the Guatemala government reported to the International Labor Organization that the 52 other cases were still open.
The lack of credible police probes into harassment, threats and violence—including murder—against workers attempting to improve their working conditions, treatment and wages, and exercise their legal right to join a union has a dampening effect on workers' voice. According to the report, when perpetrators of violence escape justice, human rights are denied and the right to freedom of association is co-opted, weakened, attacked and destroyed.
The Worker Rights Defenders Network of Guatemala was formed in 2014 to ensure observance and promotion of human rights in Guatemala. Its sister organization, the Network against Anti-Union Violence in Honduras, released its annual accounting of anti-union violence. Both organizations are Solidarity Center allies and received support to produce their reports.