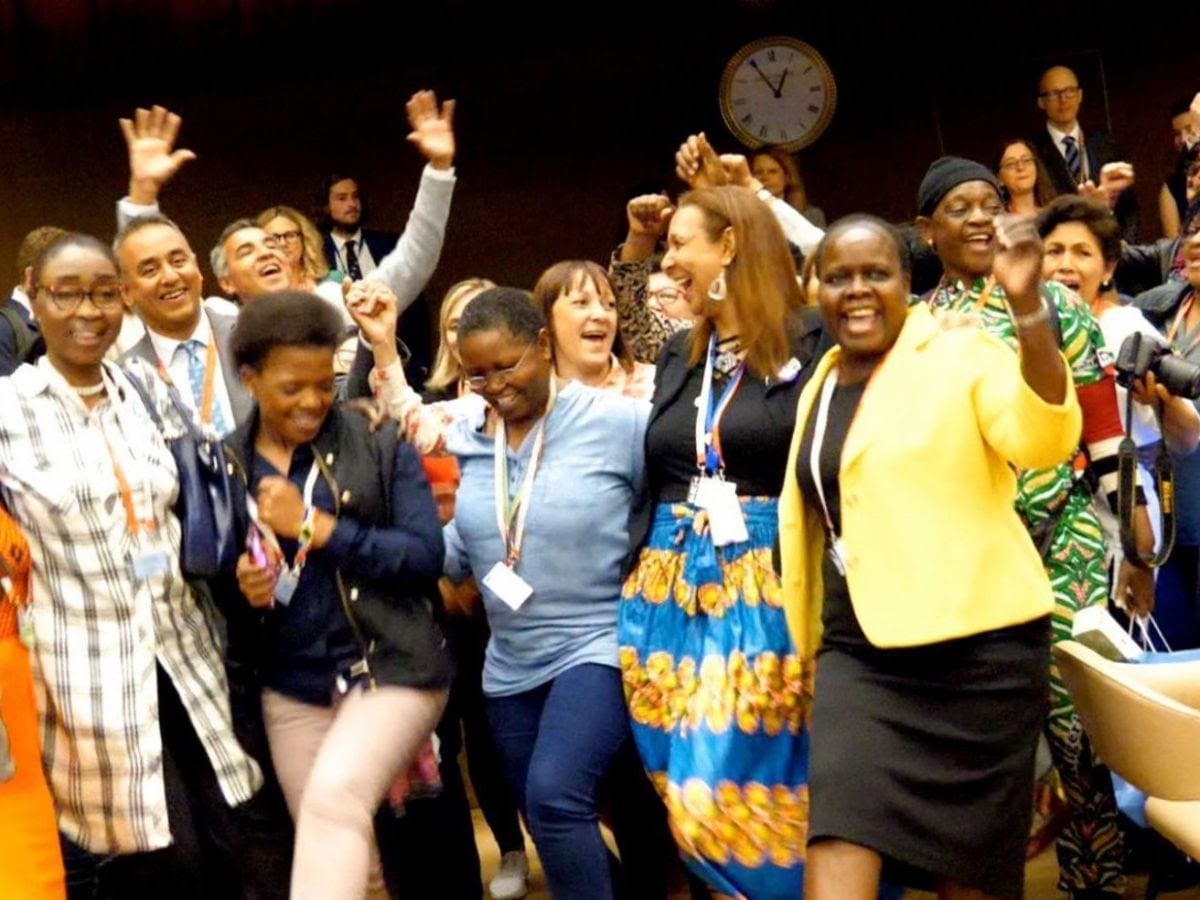 Women union leaders around the world have launched campaigns urging their governments to ratify Convention 190, a new global International Labor Organization (ILO) treaty to prevent and address violence and harassment in the world of work that includes gender-based violence and harassment.
"We have to look to our future, beyond winning this convention, to what it means to implement it in our countries and protect workers' lives, human rights and dignity," says Touriya Lahrech, a women union leader of the Democratic Labor Confederation (CDT) in Morocco and delegate to the final negotiations of Convention 190 (C190) at the International Labor Conference (ILC) in June 2019.
As with all international conventions, C190 must be ratified by individual governments before it becomes effective. The ILO requires that two countries ratify the convention before it becomes binding on all member states. In campaigning for ratification, union women leaders are advocating for changes in law and policy to address and prevent gender-based violence and harassment (GBVH).
Women Trade Union Leaders Mobilize Across Africa
Less than two months after the ILO adopted C190, women union leaders in South Africa, together with the country's Employment and Labor Office and ILO representatives, successfully advocated for inclusion of C190's ratification in Parliament's policy agenda. South African union leaders are aiming for South Africa to be the first country to ratify the convention—by December 2019—a target set by Brenda Modise, social justice officer at the Federation of Unions of South Africa (FEDUSA).
"It will happen by December 2019 because of all the work we have done," she says.
The rapid pace with which lawmakers agreed to debate the proposal reflects years of strategic, unwavering work by FEDUSA and the Congress of South African Trade Unions (COSATU) and their dozens of affiliates to address gender-based violence and harassment at the workplace, in their unions and through legislation.
In July, a coalition that included COSATU, FEDUSA and the National Council of Trade Unions (NACTU) created an advocacy roadmap, identifying government offices with which to hold discussions around the importance of ratifying C190. Women union leaders are working closely with women's rights groups and other allies, who have joined the legislative push and broadened public outreach.
Over the last year, women across South Africa have waged protests and marches to demand the government take action to address gender-based violence, including through the #TotalShutdown campaign, a nationwide grassroots effort in which women labor leaders played a key role.
Much of the focus in South Africa, as elsewhere, is centered on domestic violence, and women union leaders are educating lawmakers and the public on the impact of domestic violence on the workplace, and the responsibility of employers and governments to address it, in line with C190.
In addition, they have been working in coalition to increase awareness of the prevalence of GBVH at work and the need for policy and legislative responses that include the "world of work," such as when workers are commuting for work or attending work-related functions outside the workplace.
The Nigeria Labor Congress, which ensured its ILC delegation included an equal percentage of women and men, and a woman in C190 negotiations, has prioritized working with the Nigerian government and its allies to ensure ratification, says NLC President Ayuba Wabba, who also serves as president of the International Trade Union Confederation (ITUC).
In September, the Central Organization of Trade Unions-Kenya (COTU-K) hosted members of the Organization of African Trade Union Unity (OATUU) and representatives from the Federation of Kenya Employers and the Kenya Ministry of Labor to discuss the convention and plans for moving toward ratification in OATUU's 18 member countries. Employer and government representatives also heard from women workers who described how they have been harassed and assaulted at work because of their gender, and why governments need to ratify ILO 190 to remedy and prevent the abuse.
Uruguay Moves for Ratification
The South Africans will have some competition to be first to ratify. Uruguay's executive branch this week sent a request to the General Assembly that it ratify both C190 and the International Labor Recommendation on violence and harassment (No. 206). The Uruguayan Ministers of Labor and Social Development signed a commitment to C190 on Friday.
Unions in Bahrain and Palestine Rally for Ratification
In Bahrain and Palestine, the countries' major union federations have thrown their full support behind achieving government ratification.
In July 2019, one month after the ILC, the Palestinian General Federation of Trade Unions (PGFTU) launched a campaign in coalition with the union of Palestinian women and labor ministries to ensure C190's adoption. At a packed union press conference in Ramallah, the minister of women and the labor ministry representative indicated their intent to draft legislation to move ratification.
PGFTU Secretary General Shaher Saad said that in addition to campaigning for ratification, the federation will pursue efforts to amend Palestinian labor law to achieve equality for everyone in the workplace and noted its team of inspectors also enforce the Palestinian labor law, including combating and preventing harassment and violence in the workplace.
The General Federation of Bahrain Trade Unions (GBFTU) hails the government's recent initiative to amend the country's labor code, with penalties for harassment at the workplace, (which doubles if the perpetrator is the workers' supervisor), and is urging the government to build on the move by ratifying Convention 190. The federation also is connecting the campaign for passage of C190 with its efforts to urge the government to sign ILO conventions covering freedom of association (Convention 87) and the right to form unions and bargain collectively with employers (Convention 98).
Standing Up to Fierce Employer Opposition in Central America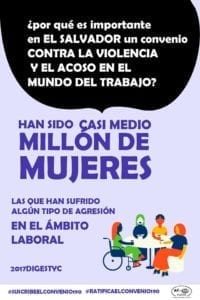 In Central America and the Caribbean, where employer groups from Costa Rica, Dominican Republic, El Salvador, Guatemala, Honduras, Nicaragua and Panama have combined forces to oppose C190, union activists condemned the move and remain committed to advocating for ratification by their governments. In Honduras, the Anti-Union Violence Network already has presented petitions signed by union leaders and members to the Honduran government and Ministry of Labor advocating for ratification, and in coalition with unions, will campaign for its passage.
The FEASIES federation of El Salvador, representing maquila and domestic workers, has joined forces with women's rights and LGBTQI organizations to condemn employers' opposition to ending violence and harassment at work and to advocate for ratification of C190. Four major unions in Guatemala—FESTRAS, CUSG, CGTG and UNSITRAGUA—are advocating for the adoption of the convention, after the Network in Defense of Labor Rights in Guatemala engaged the unions in the campaign to end gender-based violence at work. The network also is building alliances with LGBTQI and women's rights organizations to further strengthen the campaign for passage.
The domestic workers' union federation FETRADOMOV in Nicaragua is lobbying the government and holding member trainings around the convention along with its affiliate, SITRADOTRANS, a union of transgender domestic workers that has helped elevate the specific vulnerabilities to gender-based violence and harassment faced by transgender and gender non-conforming workers in the informal economy.
Documenting GBV to Support Ratification of Convention 190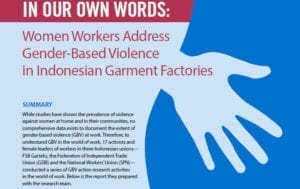 In Indonesia, where a recent report found 71 percent of 75 women workers said they had been subjected to gender-based violence at work, unions are building on their education and awareness raising about gender-based violence at work to advocate for ratification of C190.
The National Union of Workers (SPN), which partnered with some 50 organizations and unions in a nationwide campaign seeking government support for ILO adoption of the convention in 2017 and 2019, has shifted its energy to campaigning for ratification, says Izzah Inzamliyah, Solidarity Center program officer in Indonesia.
In May 2019, women trade union leaders in Indonesia and Cambodia released reports documenting sexual harassment, including sexual violence and verbal abuse based on gender as well as other forms of GVBH against women in garment factories. The women led the studies and wrote the reports after taking part in awareness-raising and information-sharing workshops hosted by the Solidarity Center. They will use the information and recommendations to educate lawmakers and others about the need to adopt laws and policies to prevent and address gender-based violence and harassment at work, including C190 ratification.
Union women leaders and their allies around the world who have launched campaigns advocating for ratification of Convention 190 recognize it offers the best opportunity for changing structural systems that feed sexual harassment and other forms of gender-based violence in the world of work.
Says Rose Omamo, general secretary of the Amalgamated Union of Kenya Metal Workers who was a key worker representative throughout discussions on the convention:
"Gender-based violence is a disease that cannot be treated without an international standard that sets rules and regulations for making sure countries can adopt laws on gender-based violence in the world of work."
The Relentless Campaign to Establish C190
At the end of two weeks of intense negotiations at the June 2019 ILC, an overwhelming majority of employer, government and worker representatives from around the world approved adoption of ILO Convention 190, the first binding global convention to prevent and address violence and harassment, including gender-based violence and harassment, at work.
With Solidarity Center support, trade union women leaders from Brazil, Cambodia, Georgia, Guatemala, Honduras, Indonesia, Kenya, Mexico, Morocco, Nicaragua, Nigeria, Palestine, South Africa, Swaziland, Tunisia and Zimbabwe participated in the ILC. Several took lead roles in the negotiations as part of the workers' group to ensure the experiences of women workers remained central to the negotiations, along with the need for gender-specific, structural responses to address the impact of violence and harassment.
The adoption of Convention 190 culminated a decade of tireless leadership and advocacy by women trade union leaders around the world who raised awareness about the scope and incidences of gender-based violence and harassment at work and its impact as one of the most prevalent and oppressive forms of abuse.
Through cross-movement coalition building with anti-gender-based violence organizations and participatory research on the experiences of women workers in diverse workplaces, women union activists led the successful campaign that incorporated their experiences in developing definitions of key terms, such as gender-based violence and harassment, and ensuring that the convention covers all workers and the entire world of work, including informal workers, the majority of whom are women.