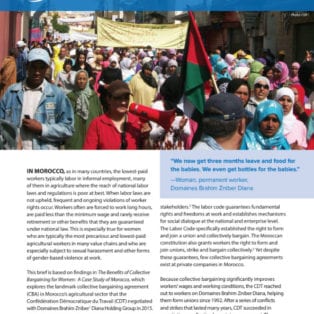 Download here in English.
Download here in Arabic.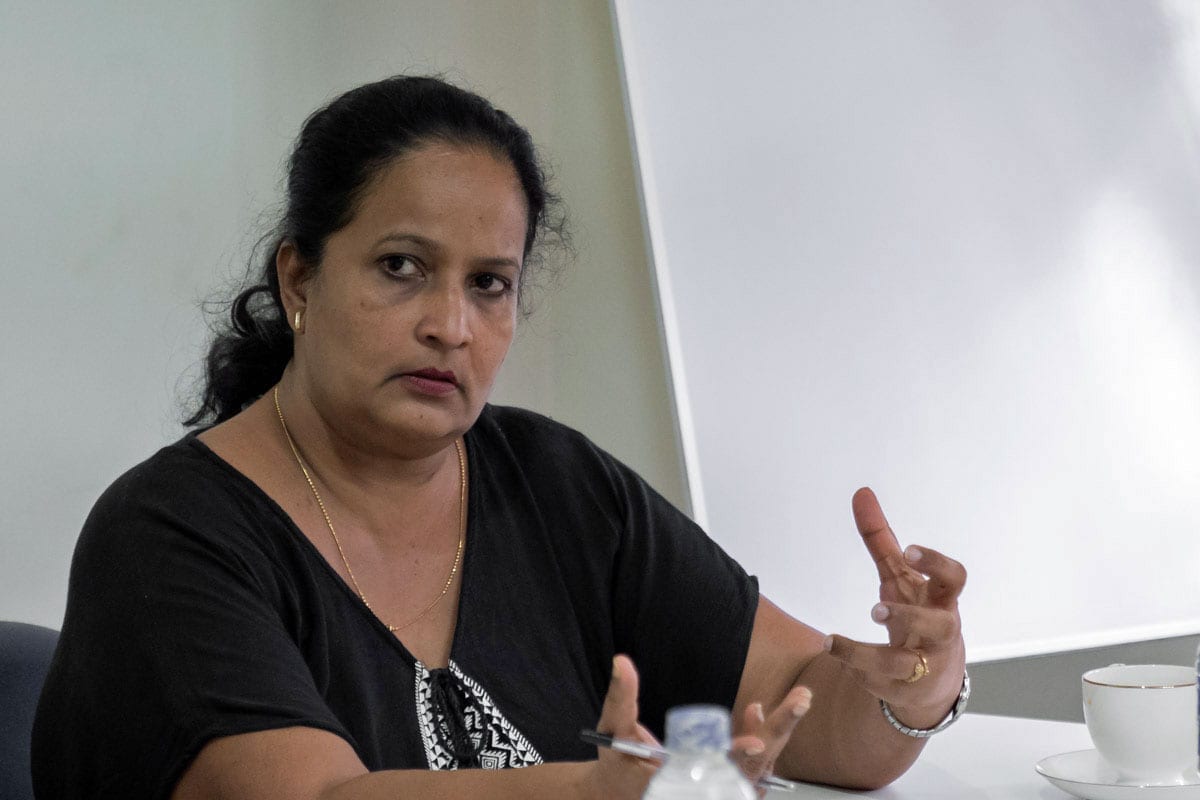 Just outside Sri Lanka's Bandaranaike International Airport, where more than 2 million tourists start their vacations each year, a different reality unfolds in the Katunayake export processing zone (EPZ).
There, thousands of garment workers take their places in factories guarded by electrified fencing to begin long days for little pay, forced to endure grueling production cycles with managers refusing to grant even unpaid sick leave. Sexual harassment and other forms of gender-based violence are a daily part of the job, they say, often with economic repercussions.
"Women are made to stand and work and when engineers fix machines, they touch the women," says PK Chamila Thushari, program coordinator for the Dabindu Collective union. "When they complain, engineers don't fix the machines, which means they can't meet their quota. The only they way they can earn a good living is to hit the targets set by the bonus," she says, speaking through a translator.
Garment workers are paid a bare $84 a month—or less, if they are employed outside the EPZs—yet apparel exports generated $4.8 billion for Sri Lanka in 2017, a 3 percent increase compared with the previous year. At 47 percent of total exports in 2016, apparel and textiles are the backbone of the country's trade.
Yet only 2.8 percent of the revenue comes to the garment workers who cut, sew and package clothes for international brands, says Thushari, and most are malnourished, suffer from anemia, and struggle to feed and educate their children. The cost of living for a family of four—without rent—is $549 a month in urban areas like Colombo, near the Katunayake EPZ.
Workers Fear Reporting Gender-Based Violence at Work
Dabindu (drops of sweat in Sinhalese), launched in 1984 as a local organization to advocate and promote women workers' rights, transitioned to become a union last year at the request of its members, says Thushari, who has been with the organization for 22 years. In addition to advocating for improved wages, the union is focused on educating women about their rights to a workplace free of gender-based violence.
As is the case at workplaces around the world, Dabindu has found one of the biggest hurdles to addressing sexual harassment and other forms of gender-based violence is women's fear of reporting it.
Also, "because this happens so often in garment factories, people have kind of become numb to it," says Thushari. Dabindu creates awareness programs and trains workers to become leaders on the issue. Because workers are fearful of speaking to employers or the police about abusive incidents, the worker-leaders share their experiences with the union, which takes the information to factory management, multinational brands and others so they may address the problem.
Importantly, it took time for Dabindu to develop trust among the workers so they would feel comfortable sharing their experiences with the union, says Thushari.
Connecting Garment Workers Across the Country
Since the end of the country's 26-year civil war in 2009, which claimed roughly 100,000 lives, Tamil women, many widowed, have journeyed from the north for employment in garment factories at Katunayake and other southern areas with Sinhala majorities. Many experience difficulties because they do not understand the language, and garment factories often require Tamil women to meet higher targets, says Thushari.
Dabindu is working to foster better understanding between the Sinhala and Tamil garment workers by holding daylong "youth camps," bringing the women together in a relaxed setting, and also is sponsoring trips for garment workers to war-torn northern Sri Lanka to enable women see the difficult living conditions there that are driving Tamil women to seek employment far from their homes. The union is expanding its program to offer women in the north a chance to travel to the south.
"Sometimes, workers are in tears when they see the difficult living conditions, and that brings them closer to each other," says Thushari.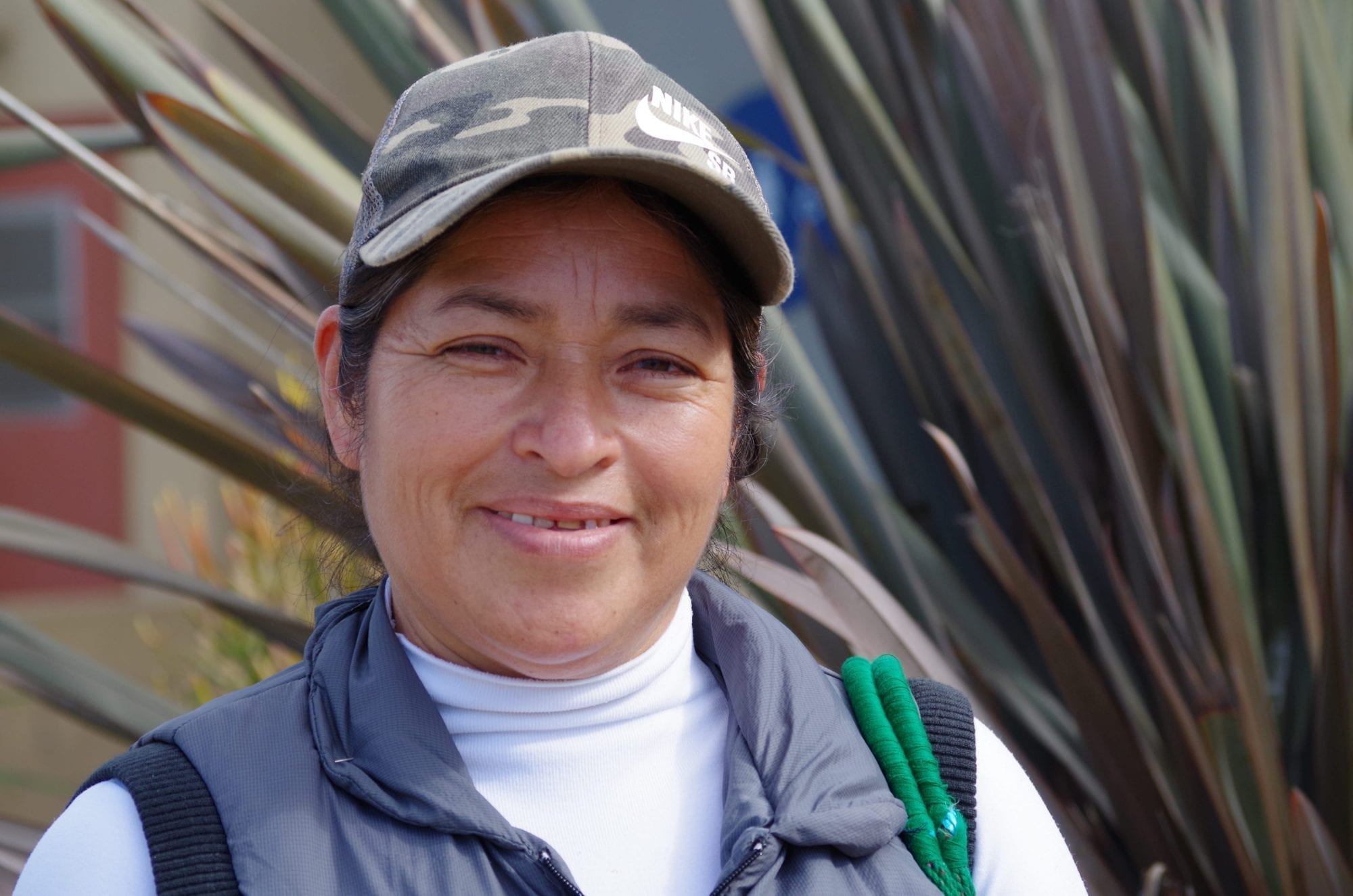 When thousands of farmworkers from Mexico's coastal state of Baja California waged a 12-week strike in 2015 to protest poverty wages—roughly $4 a day—and poor working conditions like lack of access to water, Abelina Ramírez saw her chance to ensure women's concerns, such as sexual harassment in the fields, were addressed.
"I decided to join the national caravan [in 2017] from San Quintín to Mexico City," says Ramírez. "I joined the coordinating team because neither [of the organizations leading the strike] had a woman leader who could speak to any of these issues, and that's where I got fully involved," she says, speaking through a translator. (Ramírez discusses her work here.)
The strike drew international attention to the conditions of the region's roughly 80,000 workers who pick berries and tomatoes for 160 different agro-industiral companies, and workers ultimately won wage increases, boosting pay from approximately $4 per day to $8-$10.
Ramírez, now alternate secretary of gender equality for the National Independent and Democratic Union of Farmworkers (Sindicato Independiente Nacional Democrático de Jornaleros Agrícolas, SINDJA), was among speakers at the recent Solidarity Center conference in Los Angeles, "Realizing a More Fair Global Food Supply Chain."
In an interview with the Solidarity Center, Ramírez says workers are still fighting for their original 14 core demands, among which is onsite medical facilities. Workers who are injured or fall ill in the fields must be transported long distances to receive care, and some have died in transit, she says.
Further, despite the wage increase, farmworker pay is still comparable to wages paid in much poorer countries, and farmworkers say a national wage category for them should be created, as exists for carpenters and other professional workers.
"What we're fighting for is a professional-level salary because we see the work we do—cutting, picking and packing—as part of a professional category, and we're not being respected," says Ramírez.
Women Farmworkers Struggle to Care for Their Children
Like many women and men in Mexico's southern Oaxaca region, Ramirez saw an opportunity to improve her livelihood when a labor recruiter showed up  promising good wages for picking berries and tomatoes far north, in San Quintín.
"When there are no options because of poverty, we end up migrating," says Ramírez, who has picked berries for 13 years.
Most mothers who migrate for work take their children but, once in the fields, find no public services and no child care, and "that's when you realize this crude reality of what moving has meant—you can't provide for your children and give them an education," she says. Unable to afford decent housing on the low wages they are paid, many farm laborers are forced to live in company or government encampments—each family occupying a space between 9 square feet and 13 square feet, with shared bathrooms and laundry.
"That's why it's important for us to get the message out to workers to join the union, she says. "It's important for them to realize that together, we can join forces and go up against the employers and the government and get a better life for ourselves and our families."
Ramírez holds workshops on labor rights, including gender equality, and now seven women trained by the union meet with women farmworkers to encourage them to take part. She reaches the women by "starting with issues that matter to them: They care about child care, medical attention," says Ramírez.
As she experienced during the 2015 strike, when "everybody joined, my family, my children joined, we got our signs and we went out," Ramirez says "we knew that we could achieve something if we all went out."
And that's why Ramírez sees union organizing as fundamental to improving worker rights.
"Because coming together, through our unity, we're going to achieve the changes we're striving for."