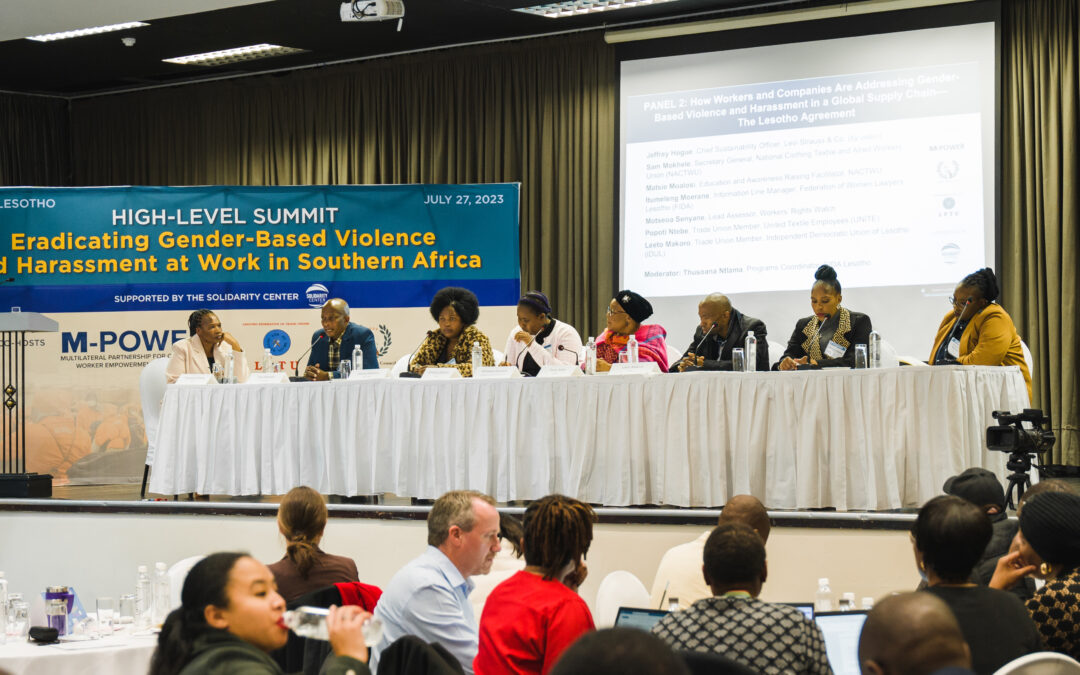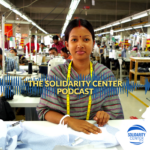 An unprecedented, binding, worker-centered program designed to comprehensively address rampant gender-based violence and harassment in several garment factories in Lesotho is succeeding in creating a safe and dignified workplace in Lesotho, attendees of a high-level summit in the southern African country were told last week.
The July 23 summit, "Eradicating Gender-Based Violence and Harassment at Work in Southern Africa," brought together government, labor and business leaders in Maseru, Lesotho's capital, to highlight advances in ensuring worker rights and civil-society participation—including the program that arose from groundbreaking, anti-GVBH agreements negotiated collaboratively by local unions and women's rights groups, multinational brands sourcing from Lesotho, international worker rights groups and a Taiwanese factory group producing clothing for Western markets. The event was co-hosted by the Multilateral Partnership for Organizing, Worker Empowerment and Rights (M-POWER), the Lesotho Federation of Trade Unions and Lesotho Labor Council, and was supported by the Solidarity Center.
"I experienced so much harassment at the factory before the program at Nien Hsing was established," said garment worker Popoti Ntebe. "Because of the high level of unemployment in our country, workers tend to be harassed because of poverty."
Before the program launched in 2020, Ntebe said a variety of behaviors by supervisors and managers were common, including bullying, verbal and physical abuse, and sexual harassment. The desperation to have a paying job made workers vulnerable to situations where supervisors would demand sex for letting workers past the factory gate, granting overtime work or not terminating a work contract. 
"After you were hired, you were given a 3-month contract. Supervisors threaten to terminate the contract if we don't agree to have sex with them. And workers desperate for work agree," she said.
However, since the program of education and awareness raising for workers and managers, "the rate of GBVH has really decreased. This program is so beneficial to workers," she said.
The program has educated thousands of workers and managers about GBVH and worker rights at Nien Hsing factories in the country. It is the first attempt to end GBVH at work that is binding on the factory to implement the program; enforceable through the economic power of U.S. brands; and grounded in ILO Convention 190 on violence and harassment. And, in another milestone, it established an independent organization, Workers' Rights Watch, to investigate allegations of violence and harassment, and remediate violations–with workers able to report issues to a newly established toll-free information line.  
Other speakers on the panel, "How Workers and Companies are Addressing Gender-Based Violence and Harassment in a Global Supply Chain: Focus on the Lesotho Agreements," were: Jeffrey Hogue, chief sustainability officer, Levi Strauss & Co. (by video); Samuel Mokhele, secretary general, National Clothing Textile and Allied Workers Union (NACTWU); Matsie Moalosi, education and awareness raising facilitator, NACTWU; Itumeleng Moerane, information line manager, Federation of Women Lawyers Lesotho (FIDA); Motseoa Senyane, lead assessor, Workers' Rights Watch;  and Leeto Makoro, shop steward, Independent Democratic Union of Lesotho (IDUL). Thusoana Ntlama, programs coordinator of FIDA Lesotho, moderated the panel.
Samuel Mokhele emphasized the importance of collaboration in addressing GBVH in Lesotho's garment factories. "We came together with international organizations we are working with, namely the Solidarity Center, then we asked what we can do to eliminate the challenges that workers are facing at work," he said. "We learned from other countries what kind of models they had and how we could domesticate that into our country.
"This is where all of us came up with the agreement to have a program on gender-based violence and harassment," Mokhele added. 
Speaking on behalf of educators and facilitators, Matsie Moalosi stressed the importance of addressing the root causes of GBVH and collaboration across cultures in addressing GBVH. "There are root causes to GBVH. So we have to remove them: the abuse of power, disrespect of women's rights and gender equity. We are from different cultures. So we have to know about gender and how it's diverse in order to accommodate LGBTQIA+ because they are people who are most vulnerable in the workplace," Moalosi said.
Itumeleng Moerane and Motseoa Senyane emphasized the importance of the principle of confidentiality throughout the process of gathering workers' reports of GBVH through the information line, then investigating and making determinations on remedies for valid cases, with the express consent of workers. 
To date, Senyane said, Workers' Rights Watch has issued 108 determinations, and five cases are currently under investigation. 
But, more importantly, she said, "This program puts justice in the hands of workers."
The program's power to right injustices has elicited calls from workers in other factories and organizations, panelists said. Currently, the work is limited to factories owned by Nien Hsing, a signatory to the agreements. However, the need is great. 
"Some of our (union) members are interested in the program but it's only at Nien Hsing, as a pilot. It would be helpful to extend it to other factories," said Mokhele.
M-POWER is a historic global initiative focused on ensuring working families thrive in the global economy and elevating the role of trade unions and organized workers as essential to advancing democracy. The government of the United States and the International Trade Union Confederation (ITUC) co-chair M-POWER, joined by steering committee members: the governments of Argentina, Canada and Spain; the International Domestic Worker Federation; the Congress of South African Trade Unions (COSATU); the AFL-CIO; and Funders Organized for Rights in the Global Economy (FORGE). Additional partners include the governments of Germany and South Africa, Business and Human Rights Resource Centre, Global Labor Justice-International Labor Rights Forum, ProDESC, Solidarity Center and Worker Rights Consortium.
Event partners for this M-POWER summit were: the Congress of South African Trade Unions; Federation of Women Lawyers Lesotho; Independent Democratic Union of Lesotho; International Domestic Workers Federation; International Trade Union Confederation-Africa; International Trade Union Confederation; National Clothing, Textile and Allied Workers Union; Southern Africa Trade Union Coordination Council; United Textile Employees, Lesotho; Women and Law in Southern Africa Research and Education Trust; Worker Rights Consortium and Workers' Rights Watch.
View a photo essay covering the summit in full.