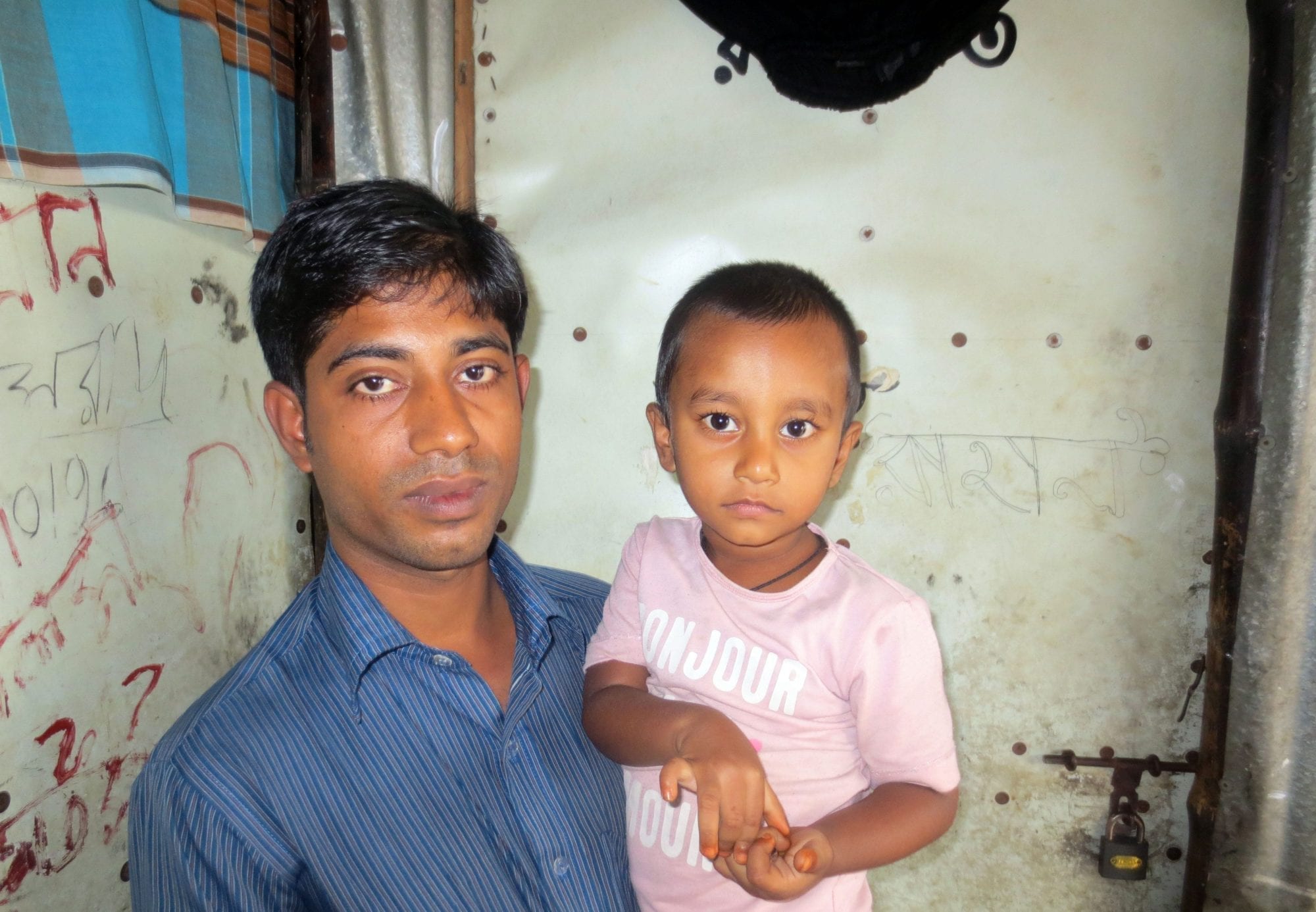 To mark the one-year anniversary of the deadly Tazreen Fashions factory fire in Bangladesh, the Solidarity Center is highlighting stories of survivors and their families.
Mahfuza Khatun, 22, was a sewing machine operator on the fourth floor of the Tazreen Fashions garment factory when the multistory building went up in flames just outside Dhaka, the Bangladesh capital. Some 112 garment workers were killed in the November 24, 2012, tragedy, and Mahfuza was among them, although her body has never been found.
"I did everything to find her dead body. Unfortunately, all my efforts were in vain," said Md. Abdul, Mahfuza's husband.
Abdul and his 2-year-old son live with his parents and Abdul's three siblings. As the eldest son, he must provide nearly all the financial support for his extended family.
"The family used to be supported by the income of me and my wife," said Abdul, also a garment worker. Now, his income alone cannot cover all the family's costs. As a result, he said, "My son often becomes sick, and I cannot take him to the doctor for lack of money."
Mahfuza came to Dhaka in 2009 with her husband. "Despite her desire to continue to study, she started working to financially support my family. Until the last day of her job, she never spent a single penny outside of this family," he said.
"On November 24, 2012, it was lunch time when I talked to her for the last time. In the evening, I heard about the fire at Tazreen Fashions and rushed to see my wife. I looked for my beloved wife in every nook and corner but could not find a trace of her." His sister-in-law also was burned to death at Tazreen. Workers who escaped the blaze did so by jumping out windows because nearly all the stairwell doors were locked.
Neither Abdul nor his son have received any compensation on behalf of Mahfuza—with the exception of $25.64 he got from the Bangladesh  Garment Manufacturers and Exporters Association. He  spent nearly all his savings looking for her body. Property he owned near Tazreen was destroyed in the blaze and now, Abdul says, "I do not have anything for the future of my son."
Survivors and the families of those injured or killed are still suffering a year after the Tazreen blaze, and no one has stepped up to help them survive the devastating financial and emotional loss. "I urge the government to behave responsibly and arrange security for every single citizen," Abdul said. He seeks "enough compensation from BGMEA and the factory owner so that I can survive and educate my son."
Survival is one of many struggles Abdul faces. "What will I say when my son asks about his mother?" he asked. "I will not even be able to show her grave to her son."