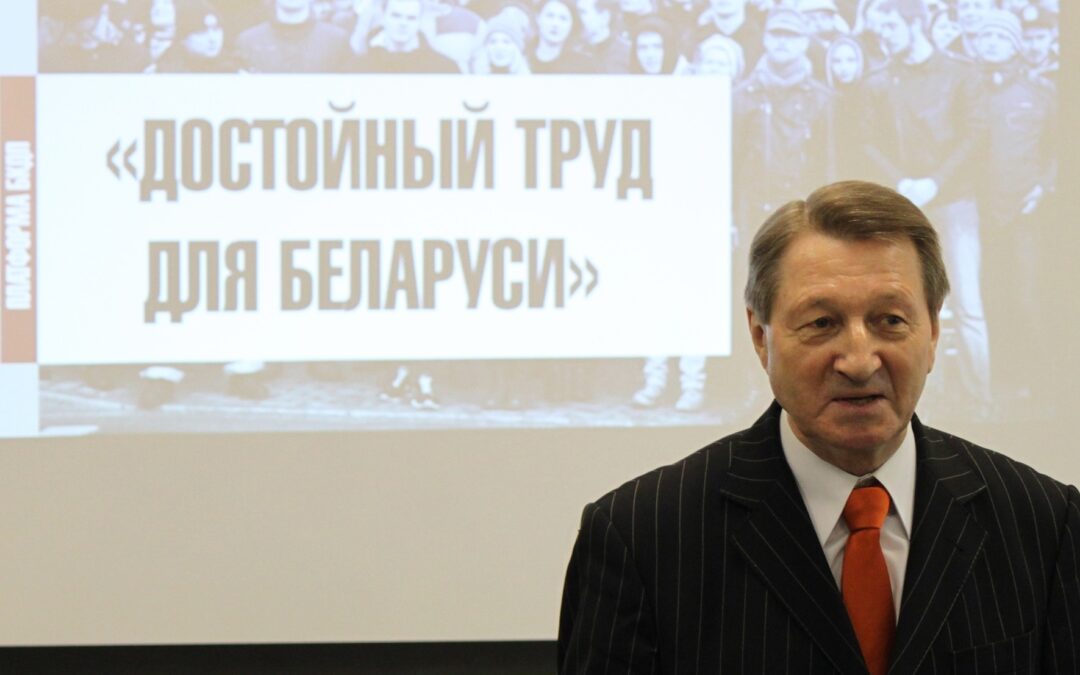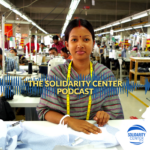 In the wake of a new wave of prison sentences against union leaders and other activists arrested earlier this year, new Belarus worker rights organization Salidarnast is tracking and disseminating updates on union political prisoners' legal cases, and providing other worker rights news.     
Belarusian Congress of Democratic Trade Unions (BKDP) President Aliaksandr Yarashuk, jailed since April and facing 14 years in prison, was elected in absentia to an ITUC vice-presidency at the organization's 5th World Congress last month, reports Salidarnast.
Other updates include:
Extraordinary mistreatment of two jailed union leaders, Leanid Sudalenka and Volha Brytsikava, for which Brytsikava reportedly started a hunger strike on November 8 and was released last week after having spent more than 105 days behind bars this year–including 75 consecutive days in the spring
Continuation of a ten-person trial associated with worker organization Rabochy Rukh for which the accused are facing prison sentences of up to 15 years for high treason, among other charges
Grodno Azot fertilizer factory worker and chairperson of the independent trade union there, Andrei Khanevich, whose phone was tapped by Belarusian special service, sentenced to five years in prison for speaking with a BelSat TV reporter
Belarusian Independent Trade Union (BNP) Vice Chairperson and Chairperson of the Local Trade Union at Belaruskali fertilizer factory, Aliaksandr Mishuk—detained since May—sentenced to two and a half years' imprisonment
Free Trade Union of Metalworkers (SPM) Deputy for Organizational Work Yanina Malash—mother of a minor child and detained since April—sentenced to one and a half years' imprisonment
Vital Chychmarou, a former engineer fired in 2020 for trade union activities and manager of an SPM organization, sentenced to three years of home confinement
Free Trade Union of Metalworkers (SPM) Trade Union Council Secretary Mikhail Hromau—detained since April—sentenced to two and a half years of home confinement
Genadz Bedzeneu, who attempted to start a local union for Polotsk stall market workers, arrested.
Salidarnast is filling an information void created after the Lukashenko government in July forcibly shut down the BDKP and its affiliates, compounded by the detention of dozens of journalists and media workers with other civil society defenders. The number of political prisoners in Belarus stood at almost 1,500 in November, reports the European Federation of Journalists (EFJ); up from 1,000 in February. The Belarus Supreme Court in July dissolved the BKDP and its four affiliates: BNP, the Union of Radio and Electronics Workers (REP), Free Trade Union of Belarus (SPB) and SPM.
Salidarnast on December 1 flagged the arrest of at least five people at the Miory steel plant, warning of imprisonment risk for up to ten thousand people who contributed to the "Black Book of Belarus" which identified riot police.
"Despite the destruction of the independent trade union movement, workers in Belarus remain the force which can resist the dictatorship," says Salidarnast.
The repression and eventual dismantling of the independent Belarus union movement began after hundreds of thousands of people, often led by union members , many of them women, took to the streets in 2020 to protest elections in which President Alexander Lukashenko declared himself winner in a landslide victory amid widespread allegations of fraud. The BKDP—the first Belarus union to be independent of government influence in the post-Soviet era—was founded 29 years ago and has been a member of the International Trade Union Confederation (ITUC) since 2003.
Hear more about workers' fight for freedom by listening to a Solidarity Center podcast interview in which now-imprisoned BDKP Vice President Sergey Antusevich in 2021 spoke passionately about workers taking to the streets in defense of democracy.  Antusevich has been jailed pending trial since April 2022.
(You can support jailed Belarusian union leaders—take action here).